How LGBTQ+ communities helped bring New Orleans bounce to center stage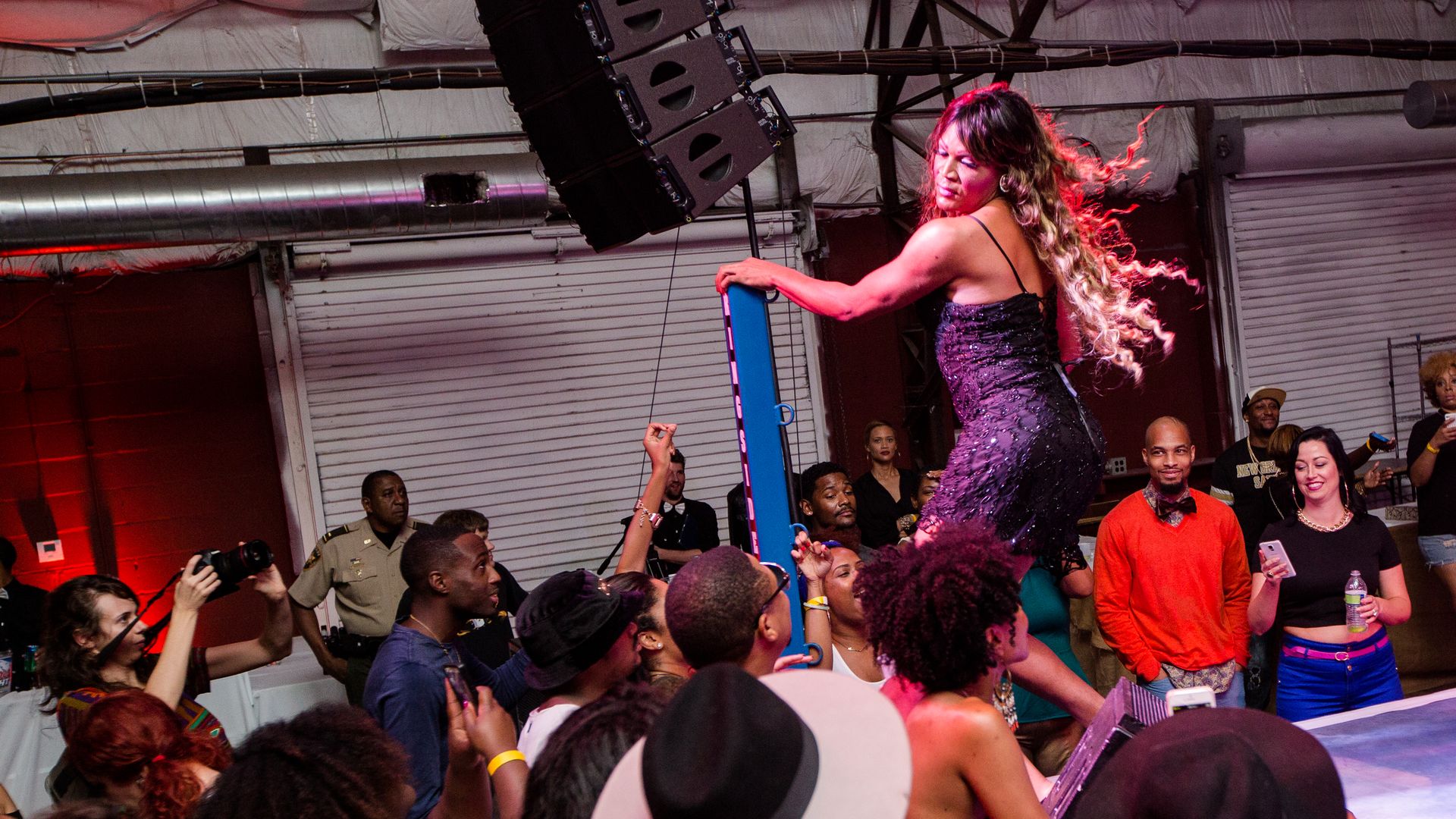 The story of New Orleans hip-hop would be incomplete without bounce.
Why it matters: The genre, which began here in the early 1990s, has influenced stars as big as Beyoncé, Drake and Rihanna, but that wouldn't have been possible without the gay and queer artists who helped solidify its place in the mainstream.
Bounce is "a call-and-response form of hip-hop played over a hyper-fast beat," known as the Triggerman beat, according to bounce star Big Freedia in an Oxford American essay.
"It can sound like rap; it can sound like EDM. But as long as it has the Triggerman beat, it's Bounce!" she wrote.
That beat originated on The Showboys' 1986 track "Drag Rap."
The big picture: Hip-hop and rap are often intertwined with misogyny, but bounce stands apart for its close ties to LBGTQ+ culture.
In New Orleans, those two things aren't necessarily at odds with each other.
"There are a lot of gay artists that do bounce right now but it doesn't bother nobody in the city because it's just a flavorful city," legendary hip-hop producer and artist Mannie Fresh once said. "We embrace everything. We not tripping."
But go beyond the city limits, and things got a little more complicated.
"Queer bounce music is an anomaly to the outside world," says Jay Pennington, aka DJ Rusty Lazer, who as Freedia's then-manager helped steer her early international success. "We think of dance music in other cities like juke in Chicago or Baltimore club, and those are considered subgenres of hip-hop and rap. Bounce and queer bounce is just bounce; the culture itself is just mainstream here."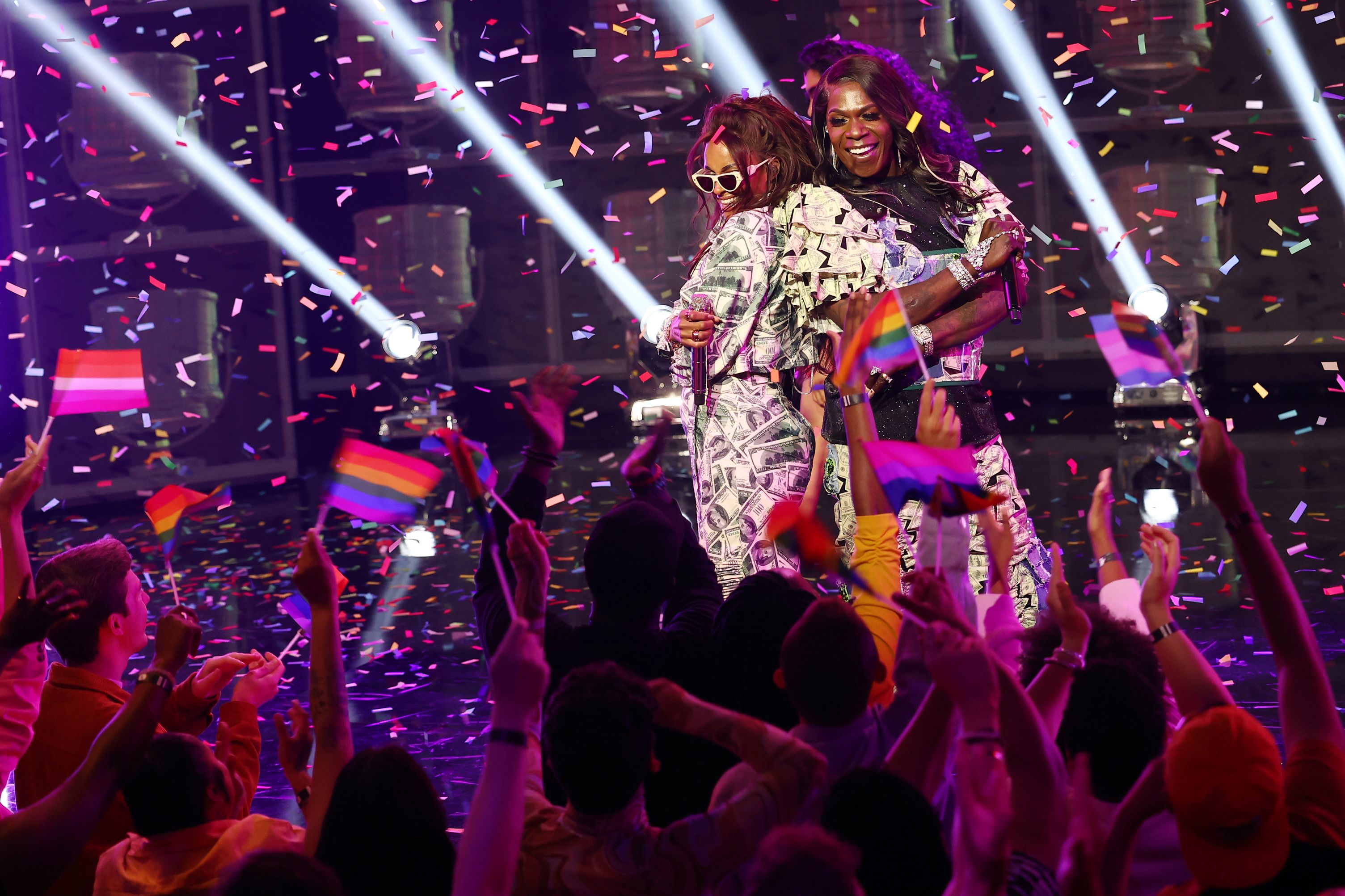 What she's saying: "At first, I was a bit scared," bounce artist Katey Red has said to Vanity Fair. "I know a lot of the boys listening didn't like homosexuals. But I got over my fright. And they liked my music so much, they was like, F--- it."
"I know I influenced the younger generation of bounce music, especially gay," she told The Avant/Garde Diaries in another interview. "They tell me all the time. They walk up to me and say, 'Katey if it wasn't for you, I'd never come out of the closet.'"
Bounce saw early mainstream success with songs like Juvenile's "Back That Azz Up," but it wasn't until Hurricane Katrina that the New Orleans sound became a hip-hop mainstay nationally.
In the storm's wake, local artists saw a new international demand for the city's music.
"Katrina took us to another space," recalls bounce pioneer DJ Jubilee. The evacuation exodus meant New Orleanians were inside clubs in Houston, Atlanta and other major cities requesting to hear the music. And folks in other places liked what they heard. "It started opening doors. … Everybody was fiending for music and healing from music. We took that and never looked back."
That's also when Big Freedia hit the road, twerking across the country as bounce rose to national prominence. And her most reliable tour stops in those early years? Queer and punk clubs.
"Those communities were the backbone of being able to tour," Pennington tells Axios, and that legacy lives on today.
Go deeper: The story of hip-hop is incomplete without New Orleans
More New Orleans stories
No stories could be found
Get a free daily digest of the most important news in your backyard with Axios New Orleans.