Disparities widen in New Orleans power outage increase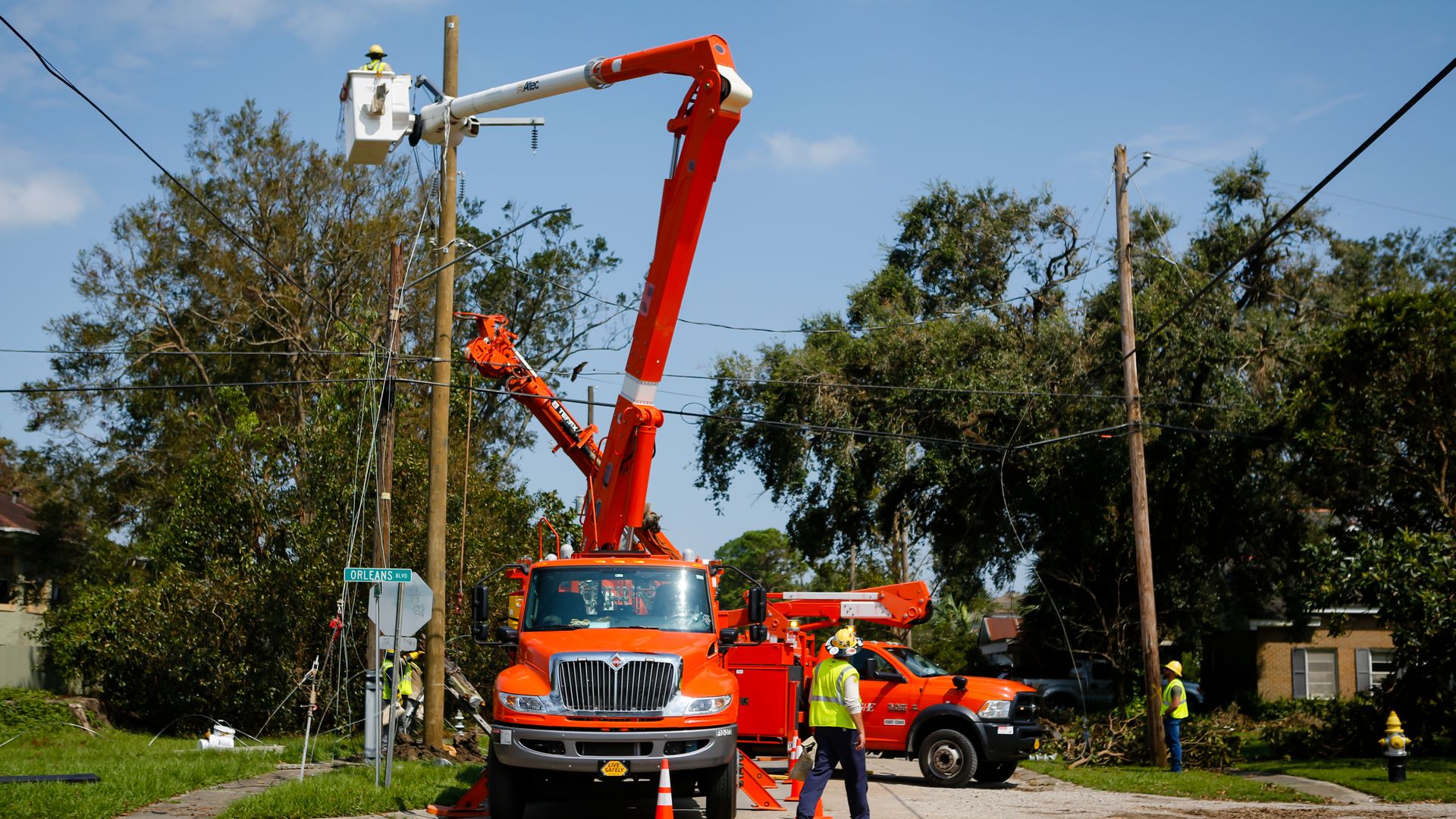 The gravelly hum of generators is becoming a more common sound in New Orleans as power outages happen more frequently — but equitable access to an emergency electric supply remains a struggle.
Why it matters: Power outages are more than an inconvenience. They can mean exposure to dangers associated with extreme temperatures, lost access to medical equipment and financial burdens thanks to job shutdowns and spoiled food.
Yes, but: Backup power isn't cheap.
A standard portable generator typically starts at about $500 to $600, not including the gasoline required to run it. Plus, safely operating it requires square footage many New Orleanians don't have.
Whole-home generators or other options, like installing solar panels and batteries to store the electricity they generate, typically run into the thousands.
Threat level: Researchers have found that Louisiana not only experiences a high frequency of outages, but also is home to a particularly vulnerable population.
The state's residents are more likely to "be living in poverty, of 'racial/ethnic minority status,' and living in mobile homes, making them potentially more vulnerable to disasters and likely in need of more resources to deal with such events," according to a study published this year in Nature.
What they're saying: "The less dependable our grid is and the more dependable people are on providing their own power, the stronger and more potent those divides become" between those who can afford the physical and financial burdens they create and those who can't, says Jackson Voss, the climate policy coordinator for the Alliance for Affordable Energy, a consumer advocacy nonprofit.
Flashback: Power outages in New Orleans in the days after Hurricane Ida in 2021 were some of the worst in recent memory.
Louisiana electric customers experienced on average nearly 100 hours of outages that year, more than 12 times the national average, according to the Energy Information Administration.
The lengthy outages meant some New Orleanians who could afford the extra expense evacuated after the storm. Others weren't so lucky.
By the numbers: But take planned maintenance or named storms out of the data, and outages in New Orleans are still creeping up.
In 2018, the average Entergy New Orleans customer experienced 124 minutes of outages in the year.
By 2022, that number increased to 149 minutes.
What we're watching: The power grid isn't getting a break anytime soon, thanks to the ongoing effects of human-caused climate change, writes Axios' Jacob Knutson, as extreme weather events become more common. That means our infrastructure needs hardening, experts say.
In New Orleans, some organizations are looking for ways to create neighborhood-focused centers that can keep the lights on despite issues with the power grid, like Community Lighthouse.
Another such project, Get Lit Stay Lit, has installed "micro-grids" on four restaurants, including its latest at Grace at the Green Light, with five more in the pipeline.
More New Orleans stories
No stories could be found
Get a free daily digest of the most important news in your backyard with Axios New Orleans.