Democrats see path to a competitive governor's race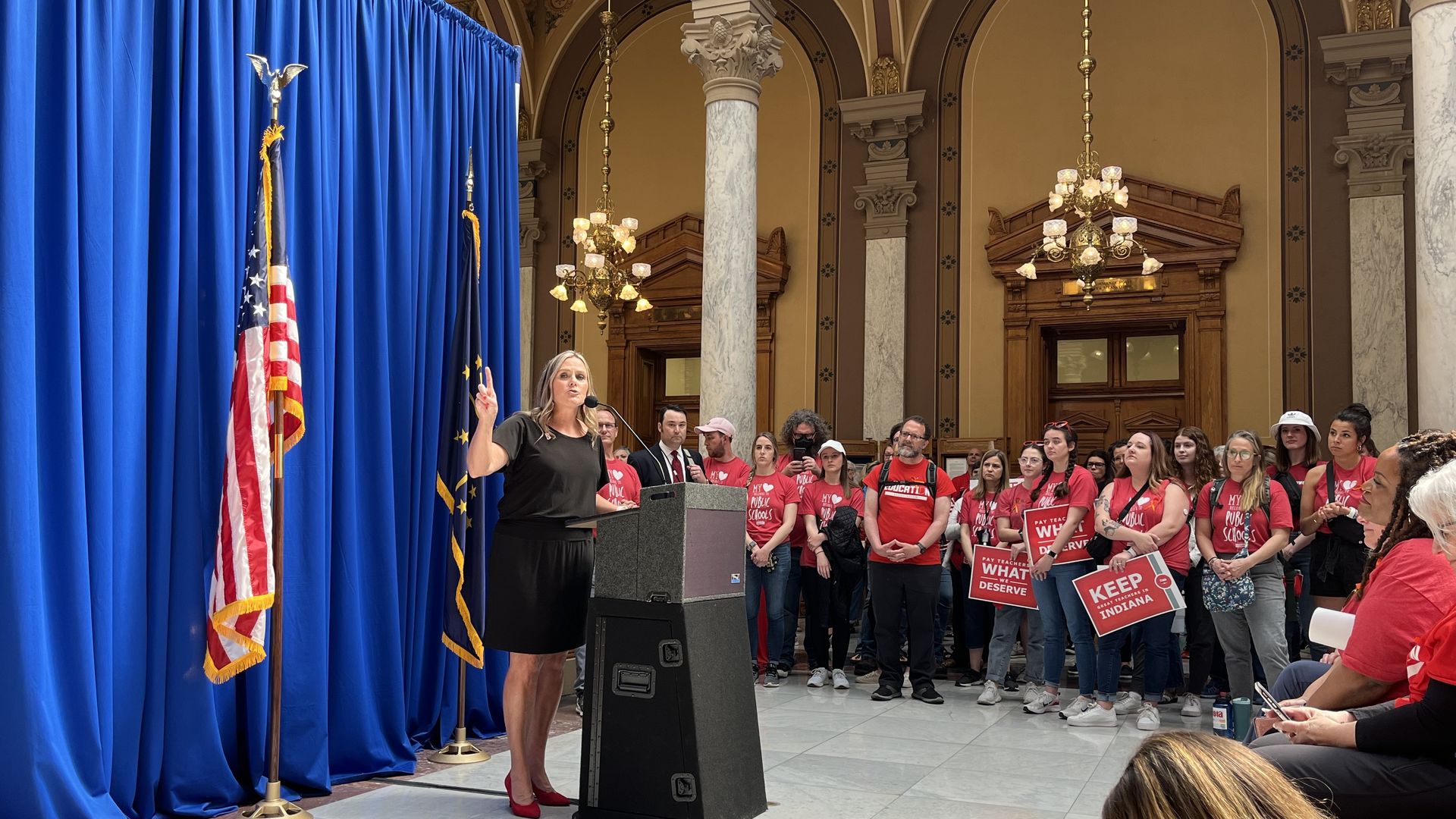 Jennifer McCormick — the former Republican state superintendent of public instruction turned front-runner for the 2024 Democratic gubernatorial nomination — has a steep hill to climb.
She is behind in funding, name recognition and support in conservative state that hasn't elected a Democrat to the office in more than two decades.
Yes, but: Her campaign says new polling shows the race is competitive.
Driving the news: Polling recently conducted on behalf of McCormick's campaign and provided to Axios showed her in tight races with two Republicans and only trailing a third in head-to-head matches.
But the poll results also offer an opening for her to focus messaging on abortion rights — potentially winning over undecided voters.
Why it matters: Most Indiana state agencies are led by gubernatorial appointees, rather than elected officials, so flipping the office could lead to significant shifts in state policy.
Details: On behalf of the campaign, Public Policy Polling surveyed 663 Indiana registered voters from Aug. 15-16.
It found that the majority of those surveyed said the state is "on the wrong track."
The poll only asked about McCormick versus three GOP front-runners: U.S. Sen. Mike Braun, Lt. Gov. Suzanne Crouch and former attorney general Curtis Hill.
It excluded other GOP candidates: Brad Chambers (who hadn't announced he was running when the poll was conducted), Eric Doden and Jamie Reitenour.
The poll also didn't account for third-party candidates, like Libertarian Donald Rainwater, who received 11% of the vote when he ran in 2020.
By the numbers: In a match-up against Braun, McCormick trailed 35% to his 46% with 19% undecided.
Against Crouch, McCormick netted 35% to Crouch's 39% with 28% undecided.
McCormick and Hill tied at 36% in a head-to-head with 28% undecided.
Of note: The survey had a margin of error of plus or minus 3.81 percentage points.
The other side: "The Indiana Republican Party is confident that we will have a strong candidate for the 2024 gubernatorial race," state Republican party Chairwoman Anne Hathaway told Axios in a statement.
She added the party would work to "remind Hoosiers that the Republican Party has delivered on all issues."
Between the lines: McCormick's biggest challenge may be getting her name in front of voters ahead of the election.
The survey found she's still unknown, even to a majority of Democrats.
Well-funded candidates can buy name recognition, but McCormick trails her GOP rivals substantially in fundraising.
McCormick is the presumptive Democratic nominee, but perennial candidate Bob Kern has also filed.
The intrigue: Consistent with other polling in the state, the survey found a majority of voters believe abortion should be legal at least in some cases — and that those views could shape the election.
When voters were asked whether they'd support a generic Democratic candidate who would reverse Senate Bill 1 — Indiana's near-total abortion ban — or a generic Republican candidate who supported it and would enforce it, they were almost evenly split with 20% undecided.
Quick take: Even if she were to win, McCormick wouldn't be able to reverse SB1 without the General Assembly and that support doesn't currently exist in the Republican-controlled Statehouse.
Reality check: All major election rating groups rate the governor's seat as firmly staying red.
Plus: Polls are a snapshot of how a small group of individuals feel at one point in time and should be taken with a big grain of salt.
More Indianapolis stories
No stories could be found
Get a free daily digest of the most important news in your backyard with Axios Indianapolis.