Rising home prices threaten Indy's affordability for teachers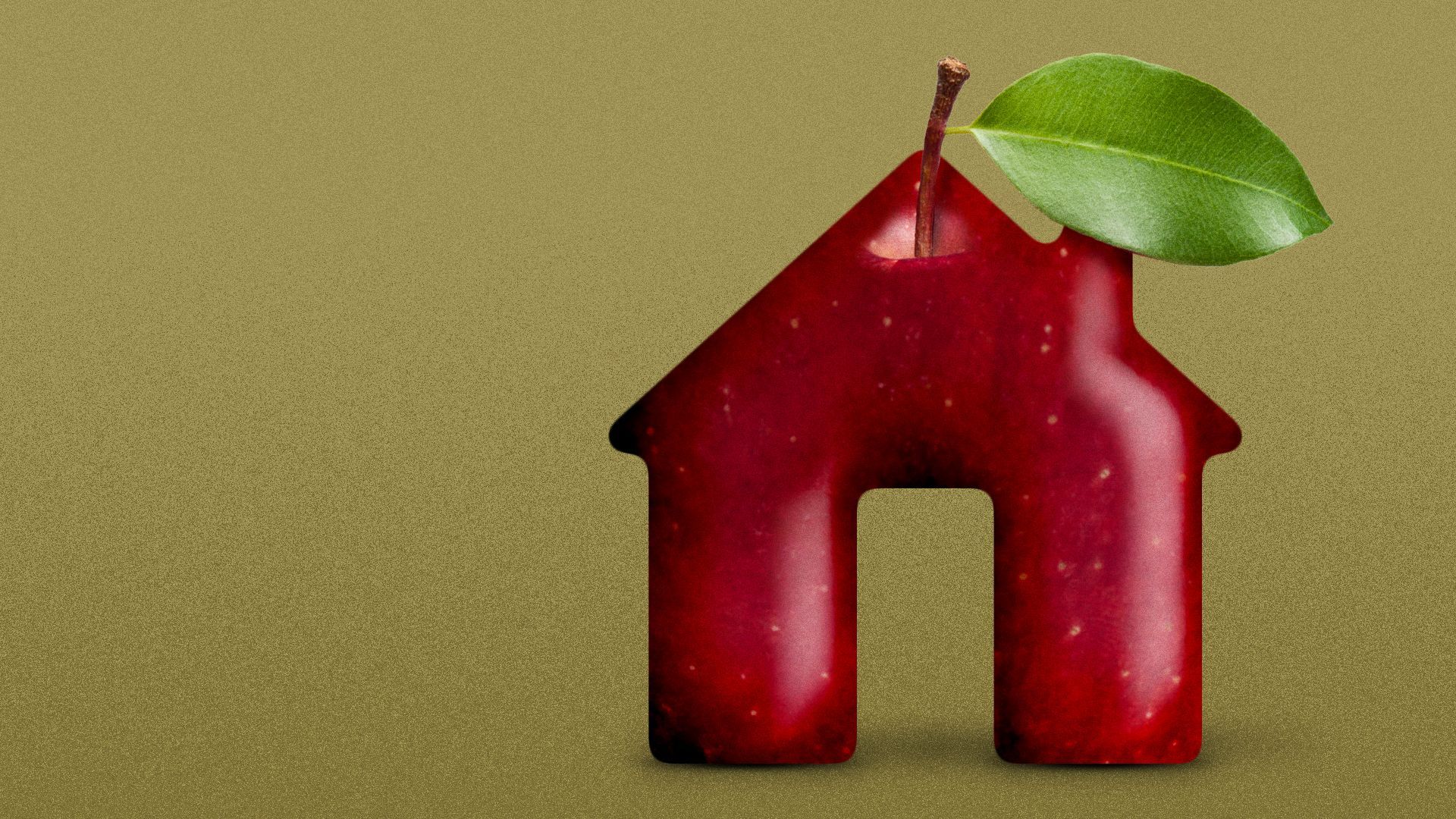 Indianapolis remains one of the most affordable major metropolitan cities for teachers, but home prices and rental rates are rising faster than educators' pay and threatening that status.
Why it matters: When teachers can't afford to live where they work, it can have repercussions on the quality of students' education, Becky Pringle, president of the National Education Association, told Axios' Emma Hurt.
Pringle, a former teacher, said those forced to commute for hours aren't spending as much time with students and are more prone to burnout.
Driving the news: According to the nonprofit National Council on Teacher Quality (NCTQ), in 15 of 69 U.S. cities a starting teacher salary could not affordably cover a one-bedroom rental in 2022.
Since 2017, the average American home price has risen 40%, and the one-bedroom rent in the largest metro areas has increased 22%, per NCTQ.
But starting teacher salaries have only risen 15%.
NCTQ has found teachers need three times as long as the average U.S. household to save for a 20% down payment.
Zoom in: For a first-year teacher, Indianapolis was the 7th most affordable city NCTQ examined.
Average starting pay last school year was just over $50,000, while the average cost of a 1-bedroom was $782, meaning that rent would eat up about 19% of a new teacher's salary.
In 2017, average rent was 17% of a teacher's starting pay.
Meanwhile, the time it would take the average Indianapolis teacher to save for a home is getting longer.
Saving 10% a year, it would have taken a teacher in 2017 four years to save for a 20% down payment on a $80,400 home — the median home value.
By last year, the median home price had jumped to $264,536 and the timeline to save for a down payment was pushed out somewhere between five and 10 years.
Yes, but: In the most expensive cities — places like Seattle, San Diego, L.A. and San Francisco — it would take a teacher 20 or 30 years to save for a down payment.
The big picture: "When teachers can't afford to live in the communities where they teach … that cost can be considerable," NCTQ president Heather Peske told Axios. It "threatens the teacher pipeline" and contributes to turnover, she said.
"If you can increase their salaries, then teachers can afford to get into the housing market," she pointed out. And then, they'll be more likely to stay.
The other side: Districts across the country with affordability problems are betting on various models of constructing housing with below-market rents, often leveraging tax-free, district-owned land.
The first teachers moved into a Los Gatos, California, complex built in partnership with a nonprofit earlier this year.
San Francisco's school district is building one teacher housing project with a nonprofit developer and considering another.
Austin Independent School District is looking for development partners to build and manage two teacher housing complexes on unused district land within the year.
The school superintendent in Bentonville, Arkansas, recently proposed developing 9 acres of district land for housing, Axios Northwest Arkansas reported.
Pojoaque Valley School District near Santa Fe, New Mexico, secured federal funding to build modular homes for teachers, per the Santa Fe New Mexican. Chino Valley north of Phoenix is doing something similar, CNN reported.
The American Federation of Teachers, the nation's second-largest teachers union, last year opened a teacher housing complex in rural West Virginia, its president, Randi Weingarten, told Axios.
"We're not in the business of building housing, but what was clear is that there was no housing," she said.
They're open to doing more projects, she noted, but said fundraising for it was difficult. They were forced to borrow money, take out a mortgage and use tax credits.
Reality check: Although each district's situation is different, the root of the housing problem lies in chronic undercompensation of teachers, said Pringle with the NEA.
According to the Economic Policy Institute, teachers have for decades experienced a "wage penalty" — meaning they consistently make less than their non-teacher college-educated counterparts.
The penalty hit a record high in 2021 at 23.5% less.
Threat level: The affordability problem disproportionately affects teachers of color, who are more likely to have student debt.
Plus, Peske with NCTQ said: "Educators of color often want to go teach in schools or districts that have higher percentages of students of color. And those are typically urban districts, where the cost of housing is less affordable."
The bottom line: Indianapolis' place as an affordable place to be a teacher is at risk if pay doesn't keep up with rising home prices.
More Indianapolis stories
No stories could be found
Get a free daily digest of the most important news in your backyard with Axios Indianapolis.