Meet Robin Shackleford, Indy mayoral candidate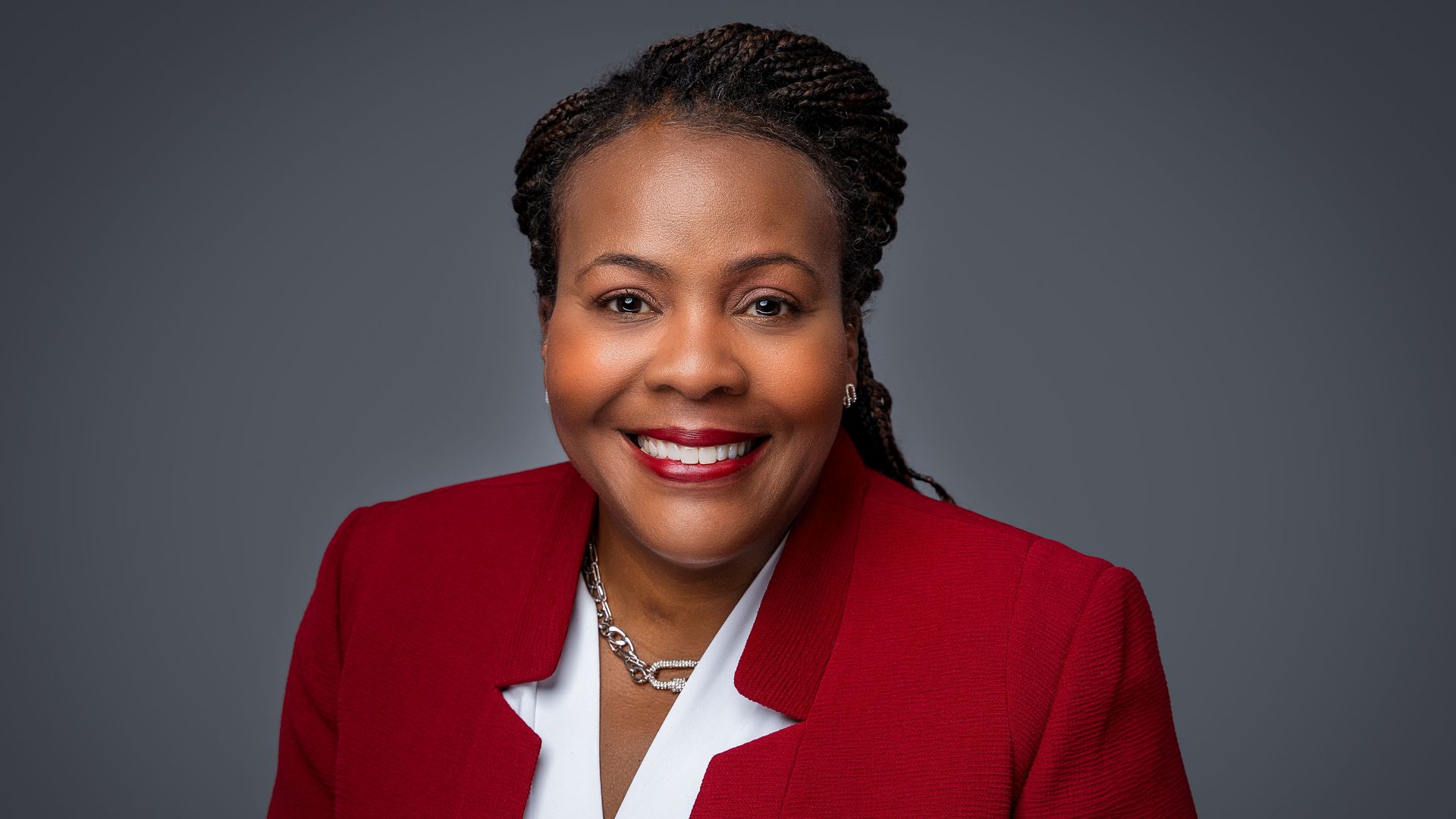 As Indianapolis voters cast ballots in the mayoral primaries between now and May 2, Axios asked leading candidates about their views on crime, economic development and how they'd run the city.
State Rep. Robin Shackleford, a Democrat challenging Mayor Joe Hogsett, has represented District 98 in the Indiana House since 2012 and previously chaired the Black Legislative Caucus.
A diversity affairs director for Indianapolis under former Mayor Bart Peterson, Shackleford works as a life and health insurance broker.
🏠 Which Indianapolis neighborhood(s) have you called home?
I was born in and spent my early years in the Martindale-Brightwood area and was raised in the Mapleton-Fall Creek neighborhood. I attended North Central High School while living in the St. Vincent-Greenbriar neighborhood, lived in Pike Township when I ran for state Senate, and currently live on the Far Eastside.
🍽️ What is your favorite restaurant?
I'm currently loving Jamaican Style Jerk and His Place Eatery.
🛣️ Name one city service that you guarantee would function better at the end of your four-year term.
The Department of Public Works — particularly road repair and construction.
🚨 Is Indianapolis making enough progress toward reducing homicides or is there something new yet to be tried?
No, Indianapolis is not making enough progress toward reducing homicides. We need to completely change how we are preventing physical violence by educating our youth on conflict resolution and addressing root causes, i.e. mental health, family trauma, drug addictions and gangs.
🚔 Has police reform gone too far or not far enough?
I think that police reform has not gone far enough. We need to restore trust and accountability between the community and law enforcement by releasing all body camera video for officer-involved shootings and excessive force claims within 48 hours.
🚧 Does Indianapolis need more money from the state to fix the streets and, if so, what can you do to get it?
Yes. I will advocate relentlessly using my more than 10 years of legislative experience and contacts at the Statehouse to close the billion-dollar infrastructure funding gap and ensure federal transportation funds are distributed efficiently and equitably.
💰 Would you support maxing out the wheel tax to secure more road funding from the state?
When it comes to establishing a long-term funding source to repair and maintain our roads, all options will be on the table. Additionally, all options will be vetted by Marion County residents directly.
🚘 What will you do about rising car crashes and deaths involving automobiles?
I would start by ensuring Indianapolis has representation on the upcoming state Vision Zero Task Force (Senate Bill 233) which will study and make recommendations concerning the reduction and prevention of fatalities on roads and highways. Additionally, allocate more funding to DPW to address high injury network/high crash intersections.
🌇 With remote work taking off and companies downsizing real estate, how does Indianapolis bring more people and activity to downtown?
Downtown Indianapolis has reinvented itself in the past and it's time to do that again — this time as an entertainment capital.
We need to give residents and visitors more reasons to come downtown for recreation by increasing the number of sporting events, festivals, family-friendly attractions and conventions through a concerted effort involving government, nonprofits and for-profit businesses.
🚗 Should Monument Circle go car-free?
Yes, I believe Monument Circle should become a pedestrian-only area utilized more frequently for events such as festivals and art fairs.
💸 How should Indianapolis' use of corporate subsidies and developer incentives change?
We must eliminate the housing gap in Marion County by committing to building 34,000 new affordable housing units in the next five years citywide.
🏟️ Should the city offer incentives to build a 20,000-seat soccer stadium for Indy Eleven?
Yes, the city should offer incentives with built-in conditions that if certain metrics are not met, the incentives are not distributed or are returned to the city.
Editor's note: This story has been corrected to reflect that state Rep. Robin Shackleford is no longer the chair of the Black Legislative Caucus.
More Indianapolis stories
No stories could be found
Get a free daily digest of the most important news in your backyard with Axios Indianapolis.