Late-night food options: We just need Coney Islands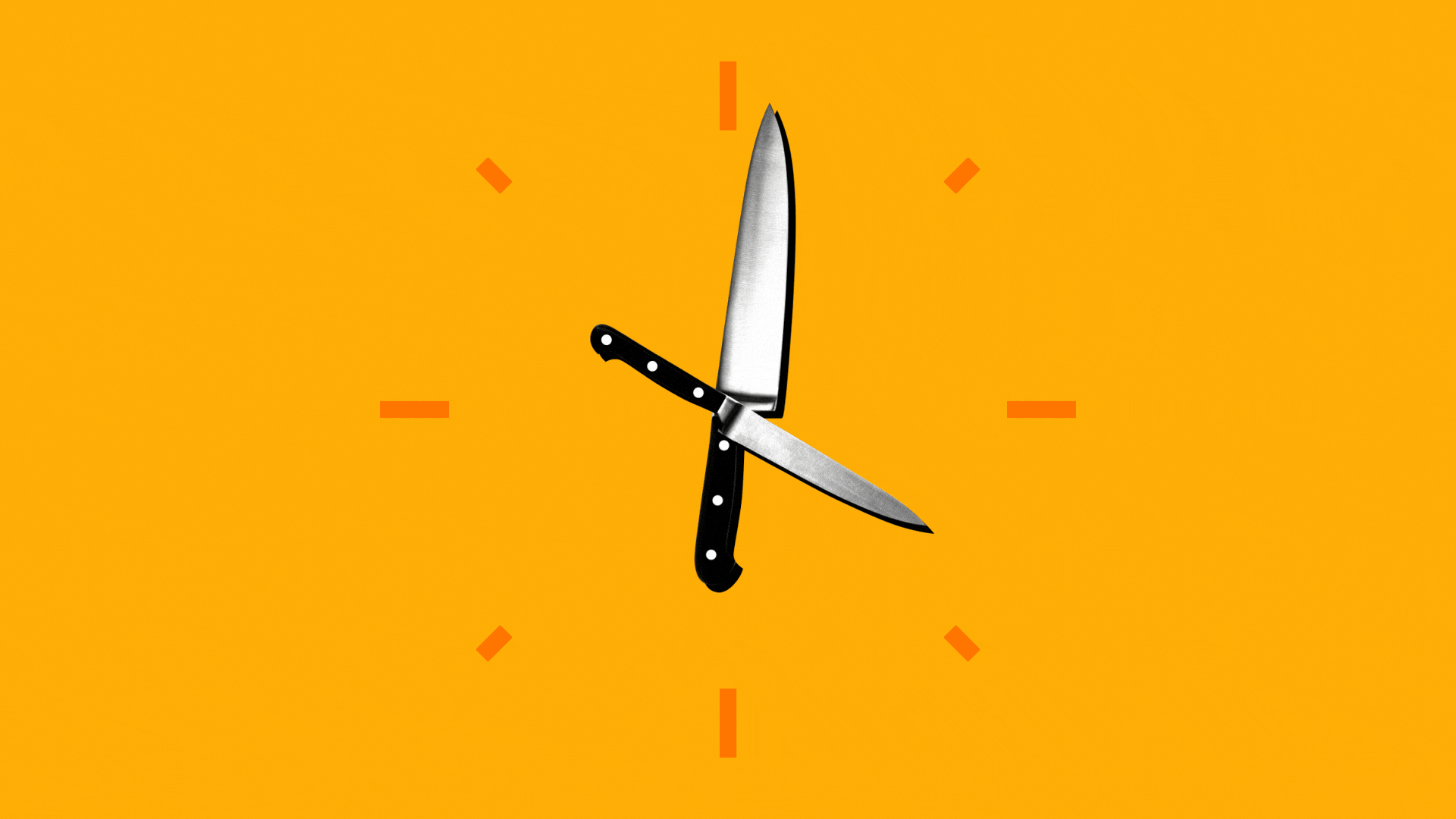 Now that we're at the end of our weeklong dissection of Detroit's limited late-night dining scene, we've entered a state of Zen-like acceptance and embraced a a new viewpoint:
The Coneys are just fine.
Flashback: Our assessment began with the premise that it's hard to find a decent meal after hours if you're not in the mood for Coney Island fare.
🌭 Reality check: For most people, two Coney dogs and a plate of fries is just what the doctor ordered for food after hours.
What they're saying: "It's the right combination of grease and that spongy bun that soaks up the alcohol," Serena Maria Daniels, Eater Detroit's city editor and founder of Tostada Magazine, tells Axios. "If you're a club kid, the tradition is to end the night at a Coney Island."
State of play: Daniels says the current late-night landscape could be floundering for a while.
"After all the volatility in the restaurant industry in the past three years, [late-night food] is not being prioritized in a lot of establishments," she says. "Staffing levels may never return to what they used to be."
The latest: Some new establishments with a nightclub vibe, like Zuzu, are serving food after midnight on some nights.
🗣️ The other side: Despite Coneys' domination, readers weighed in with some of your other favorite late-night places to eat:
A.J.: "We typically would (pre-COVID) hit the coney islands on Lafayette as we live down here. But now, we've been reduced to … WHITE CASTLE!!!" on Michigan Ave. in Corktown.
"Stick with the 1921 burger with cheese sticks, and a WATER. No pop!"
Jason S.: "Travis in St. Clair Shores is a local legendary spot for late night/24-hour grub. Its hours have fluctuated since the pandemic, and it's certainly not healthy, but it has some of the best sliders around."
The bottom line: The city's late-night dining experience definitely could be more balanced, but the local Coney Island is still a great place to feed your hunger.
💭 Our thought bubble: The Axios Detroit team recently visited some of its favorite late-night dining options:
Joseph's Coney Island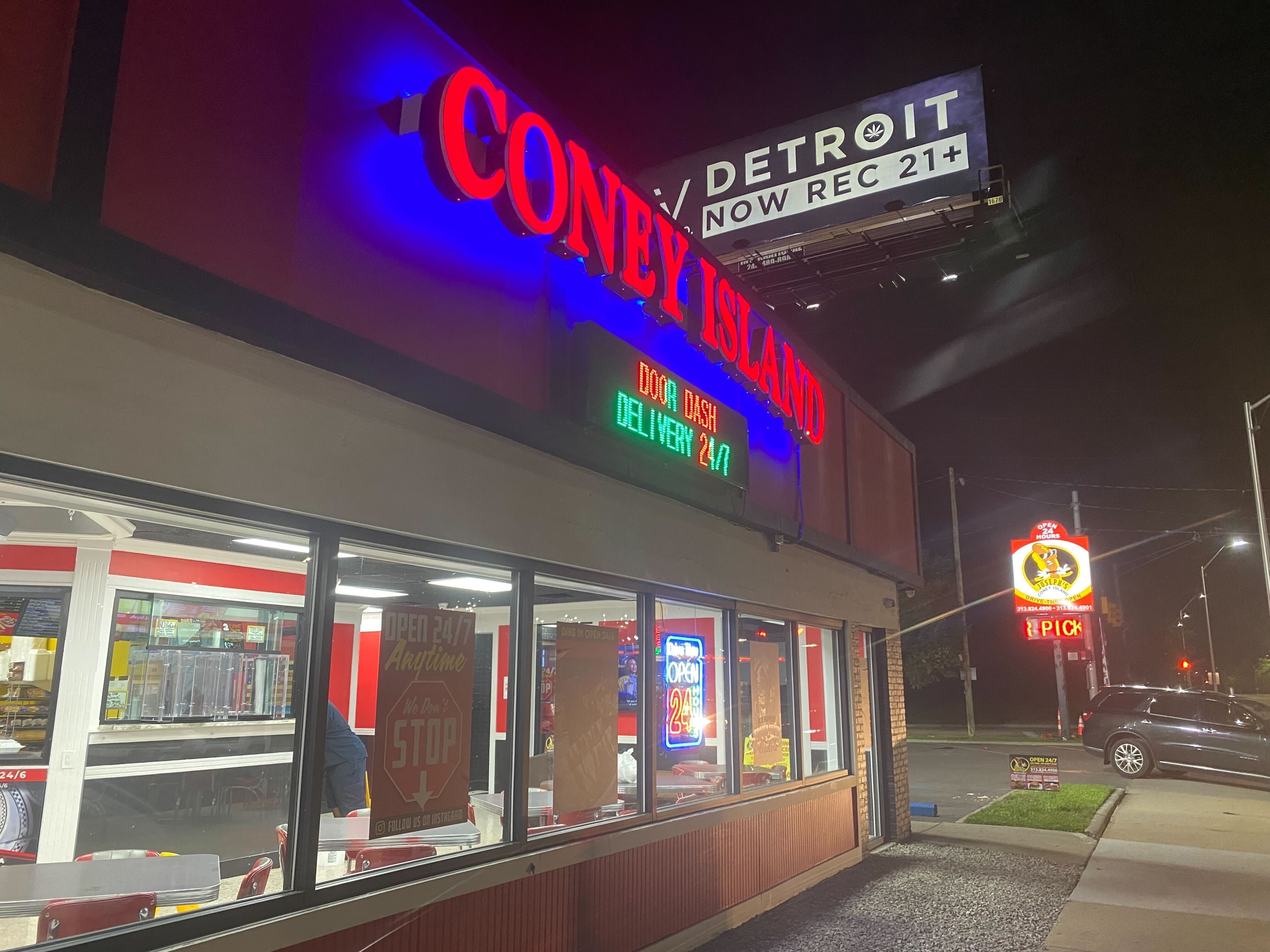 👋 Annalise here. I chose the east side's Joseph's Coney Island, which has been serving the city since 1984, per its Instagram.
Sure, a Coney is the obvious pick. But I'm chuffed about Joseph's particularly intense fervor around the fact that it's always open — its Insta proclaims: "24/7 ANYTIME WE DON'T STOP."
A scrolling sign outside also says, "WE DON'T STOP." I think that makes it a full-on motto, and I'm fine with that.
What we ate: On a recent nighttime visit, a friend chose chili cheese fries — they give you a lot, with a choice of cheddar or squeeze cheese — while my ever-present sweet tooth drove me to a monumental helping of cinnamon roll French toast.
It was about $18.50 total.
O.W.L.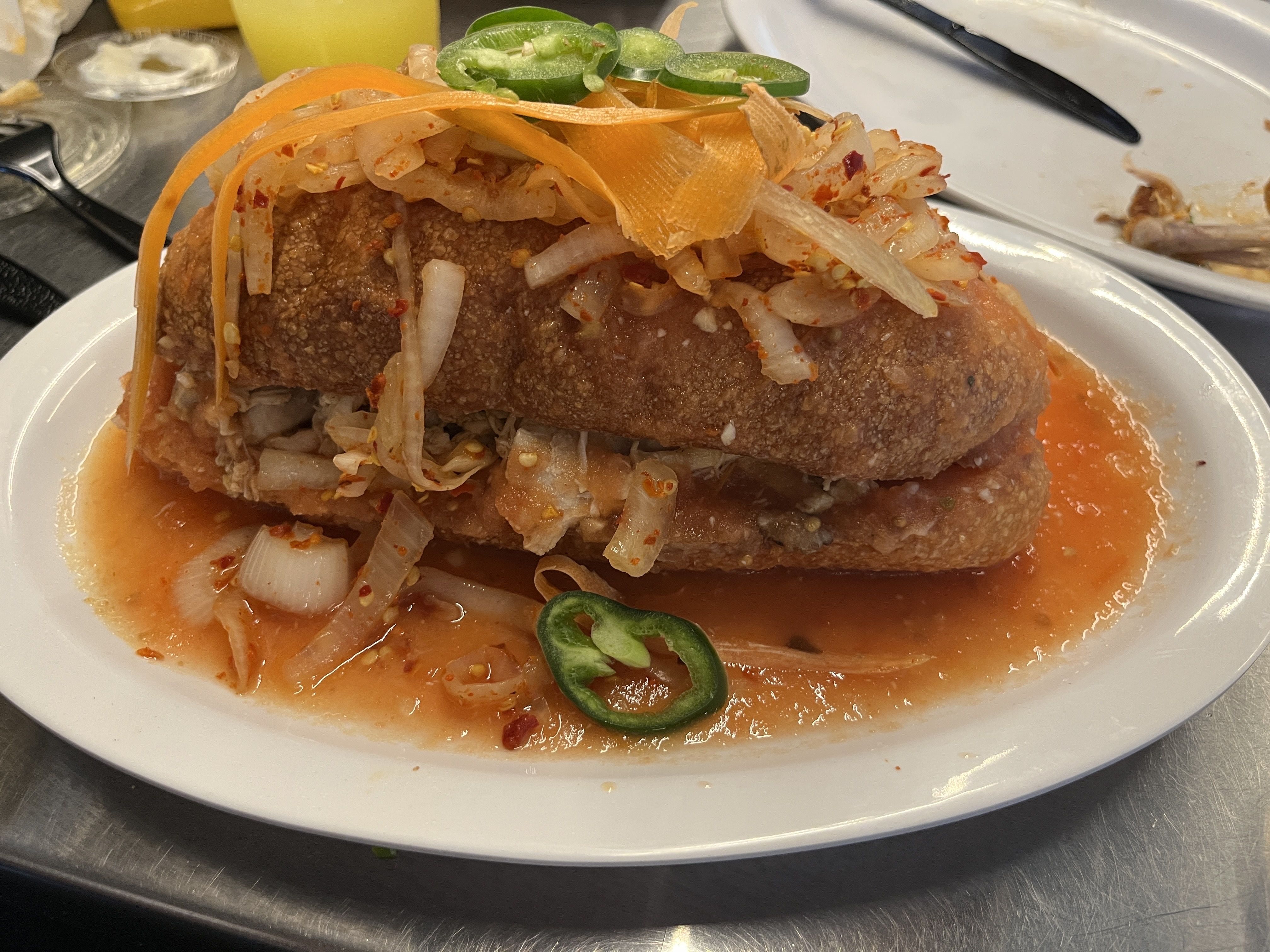 👋 Everett here. I'm a graying millennial who doesn't eat much after midnight anymore, but I can still recommend O.W.L. on Woodward and 11 Mile.
Driving the news: This is technically a diner where you can get food like a burger or hash, but O.W.L.'s Mexican fare is what makes it worth the trip. Tacos and nachos, sure, but also dishes like chili chilaquiles and choco flan.
State of plate: I went for the torta ahogada, a pork sandwich that comes smothered in vegetables and a tasty sauce that admittedly could have been a little spicier.
I also recommend the chicken wings — pay by the wing! — and cinnamon rolls.
If you go: O.W.L is open early and late at 27302 Woodward Ave.
Honest John's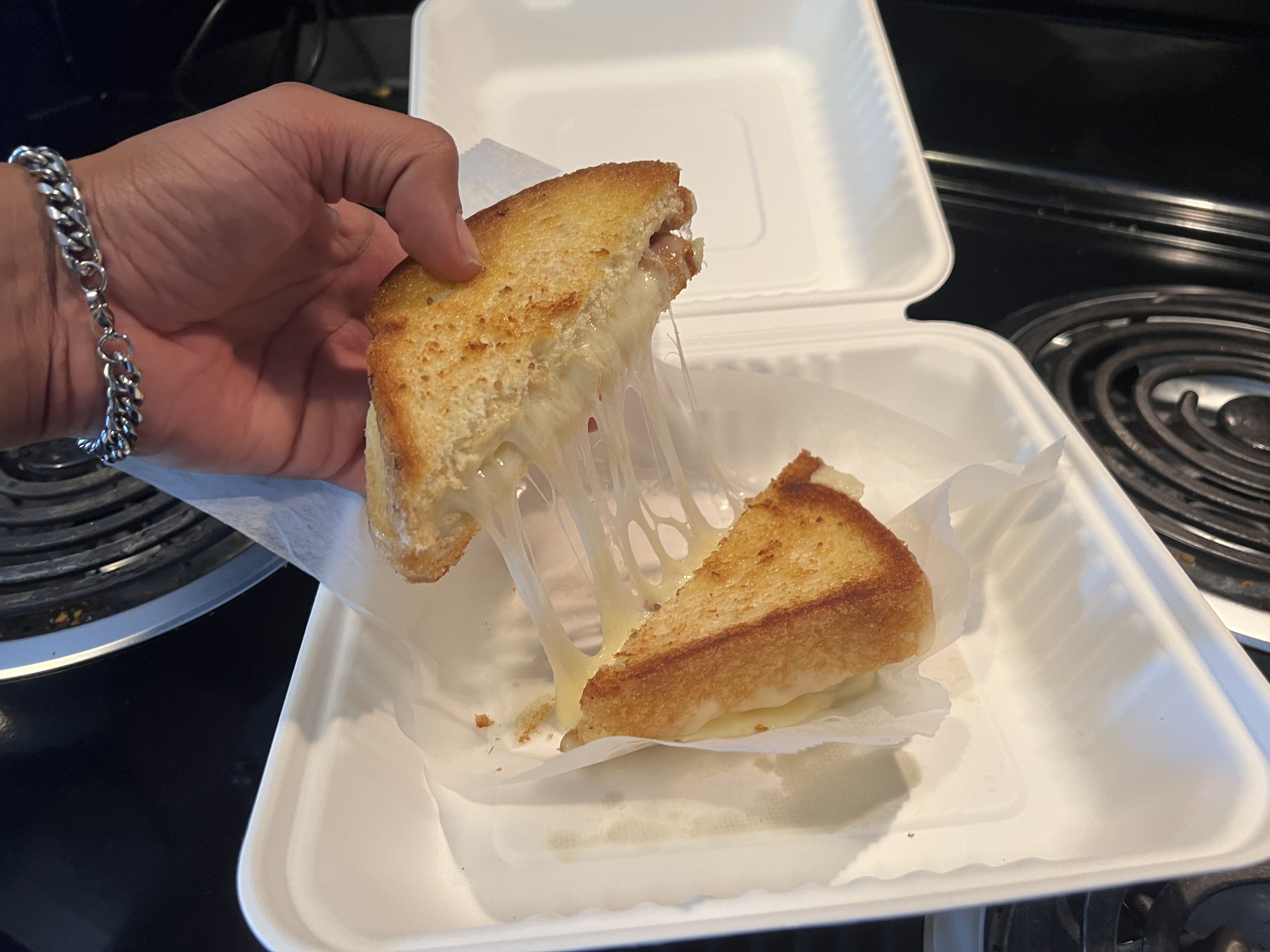 ✌🏼 Sam here. Cass Corridor residents know we have just two late-night food options: Detroit One Coney Island and Honest John's.
The intrigue: Anna highlighted her favorite eastside Coney yesterday, so I'm going all in on Honest John's Texas toast grilled cheese sandwich.
For $4.50, you're not finding a better late-night snack that fills you up.
You can order it with wheat or rye bread, or with American or provolone cheese — but please don't.
Quick take: You must order the grilled cheese with Texas toast and Swiss.
Any other ingredients and you might as well make one at home.
If you go: Honest John's is open from 7am-2am, but its kitchen closes at 12:45am.
Its online ordering system doesn't currently work.
Boostan Cafe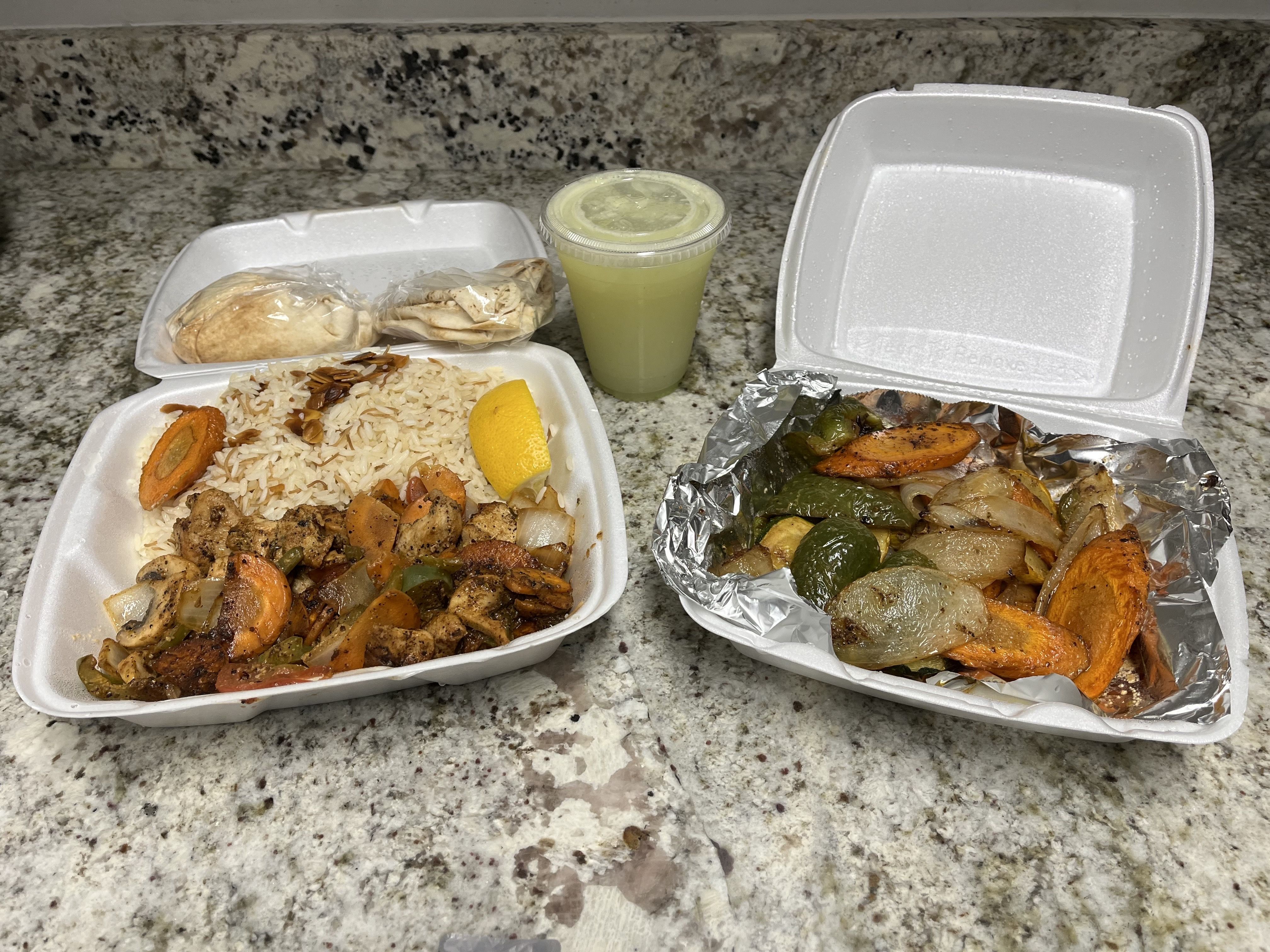 ✌️ Joe here with a culinary dispatch from Hamtramck for our series on late-night eats.
Driving the news: I love Middle Eastern food, and Boostan Cafe is always a reliable option when my usual spot in Ferndale closes at 9pm.
What I ordered: The chicken ghallaba with carrots, mushrooms, onions and tomatoes in a sauce made with house spices ($19.25).
It comes with two sides. I went with rice and grilled vegetables.
Plus lime juice ($4.48).
State of plate: The food was simple, tasty, relatively healthy and there was more than enough for lunch the next day. Mission accomplished.
If you go: 3470 Holbrook Ave.; 9am-midnight Monday-Sunday.
Limited seating.
The well-staffed kitchen focuses more on cranking out food than wiping down the handful of tables. Relax — it's a take-out spot.
More Detroit stories
No stories could be found
Get a free daily digest of the most important news in your backyard with Axios Detroit.