Rebuilding Tigers enter Miggy's last season with low expectations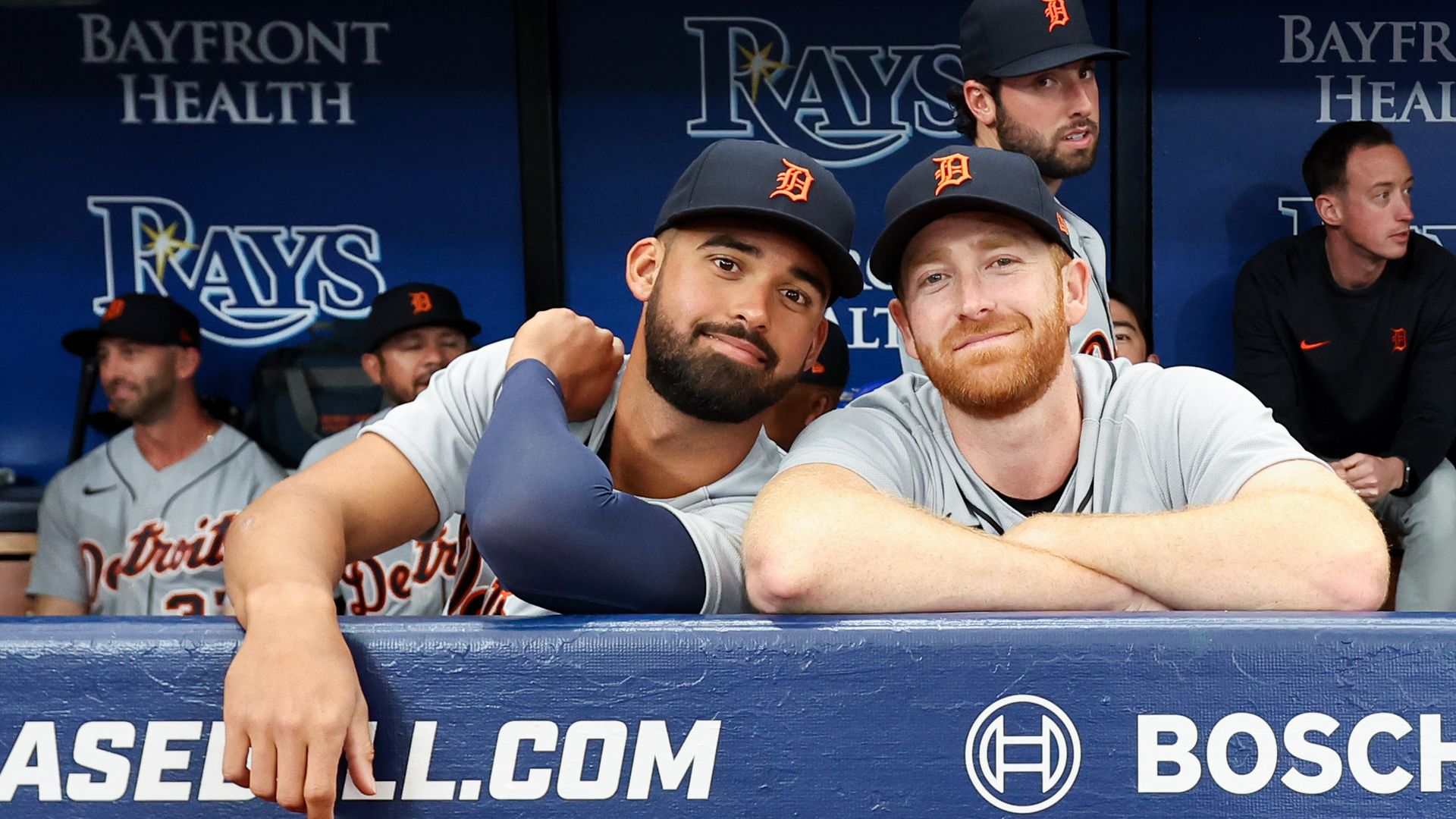 While the Tigers enter the 2023 season with a ton of question marks, there's one we already know the answer to — no, the team probably won't be competing for its first playoff run since 2015.
State of play: We spoke to MLive's Tigers beat writer Evan Woodbery, who predicts Detroit will experience a "repositioning" year as it fields the same core group as last season.
What they're saying: "As far as competing this year, that seems like a pretty far-fetched proposition," Woodbery tells Axios. "The rebuilding really isn't over after all, because the Tigers really didn't do a lot this winter."
In 2021, there was light at the end of the tunnel, as pundits said the Tigers could compete in 2022.
That didn't happen — Detroit finished 66-96 and missed the playoffs for the eighth straight year.
What we're watching: Could 22-year-old center fielder Riley Greene emerge as the new face of the franchise?
Can Austin Meadows return to career norms after a miserable season last year? The outfielder averaged 30 home runs over his last two full seasons in Tampa Bay, but hit zero in just 36 games last year.
And will 2020's No. 1 overall draft pick Spencer Torkelson turn the corner after an underwhelming rookie season?
"If this year is a dud, I think you have to start to consider the possibility that the draft pick is a dud and that's not easy to recover from," Woodbery says.
Between the lines: Woodbery, who started writing about the team during its last bit of relevance in 2016, says he misses covering games that matter "and I'm sure so do the fans."
"To a certain extent, (the team) is not scrutinized as closely and you start looking for more stories that don't necessarily have to do with wins and losses because that starts to be irrelevant."
Bottom line: Best-case scenario is that key players take major steps to become centerpieces of the future, Woodbery says.
Worst case is the team winds up competing in the loss column with the 2003 Tigers — one of the worst in baseball history.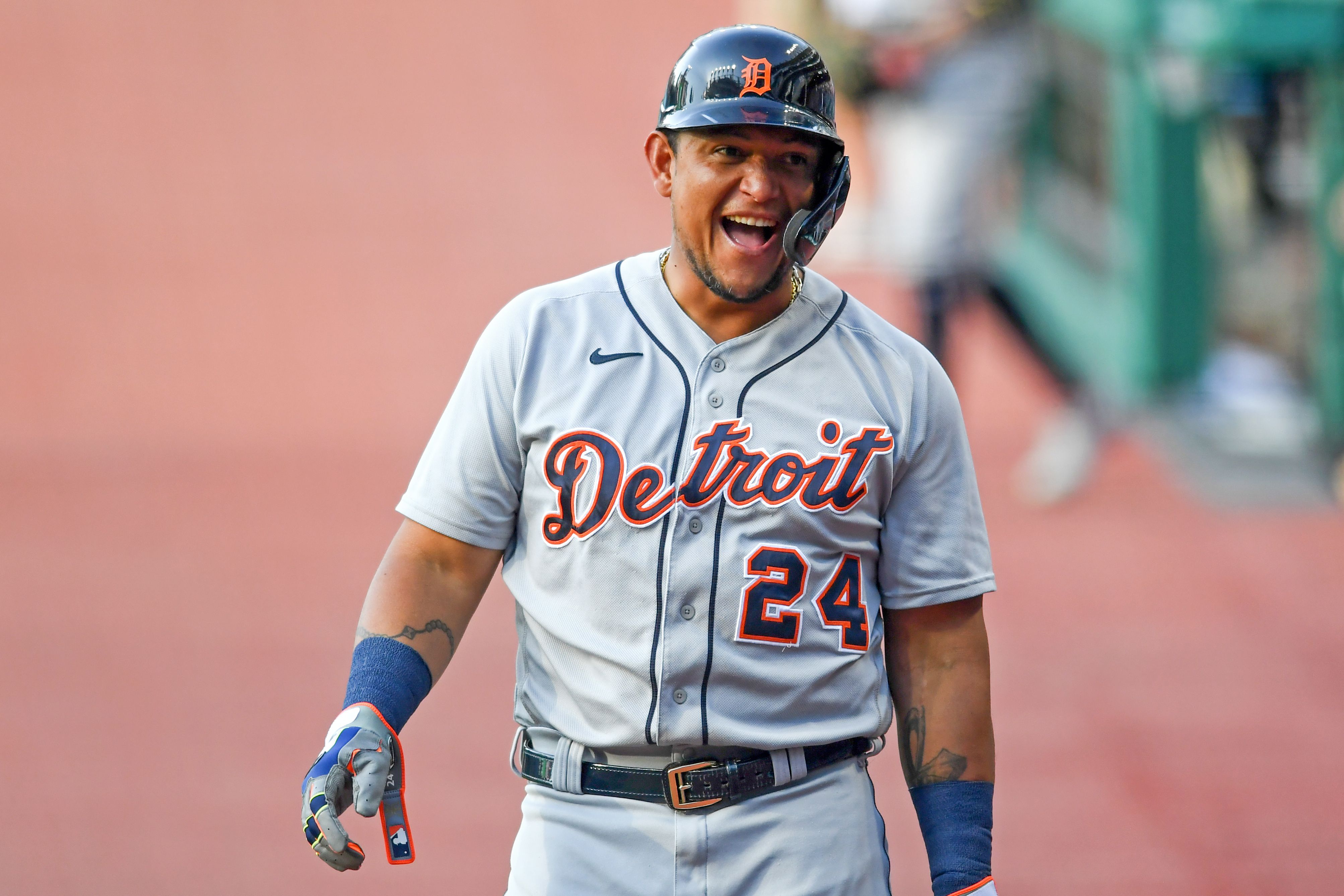 What Miggy's last year means to me
👋🏼 Hey guys, it's Sam. Miguel Cabrera's last season is sentimental for me and thousands of others who grew up watching the Tigers in their 2006-12 glory years.
Why it matters: After starting his career in Florida, Cabrara captivated the game for 16 seasons in a Tigers uniform and will end his career as one of baseball's best-ever right-handed hitters. Consider:
In 2013, he became the first to win MLB's triple crown since 1967
He's been a two-time American League MVP.
And he's a four-time AL batting champion, 12-time All-Star and one of just seven players ever to post 3,000 hits and 500 home runs.
Yes, but: What I'll miss most is Cabrera's childlike antics and demeanor on and off the field.
The intrigue: Cabrera will play this season as long as he's healthy, but expect some major load management this season.
"We'll be as transparent as we can, but it's not always going to be perfect. I realize some fans will be disappointed if they come to a game and he's not starting. It doesn't mean he won't get into it. It's a tough balance," manager A.J. Hinch told reporters Sunday.
The big picture: When I was a kid, I'd spend my summer evenings watching Miggy help Detroit compete for American League championships.
Today, I'm a fair-weather baseball fan — partly due to the weird culture surrounding the most exciting players, but mostly because of all the losing.
So when you're at the ballpark this year, cherish those at bats from No. 24 — we're probably not going to see someone like Miggy again.
More Detroit stories
No stories could be found
Get a free daily digest of the most important news in your backyard with Axios Detroit.