How Adam Frisch plans to win in 3rd District election rematch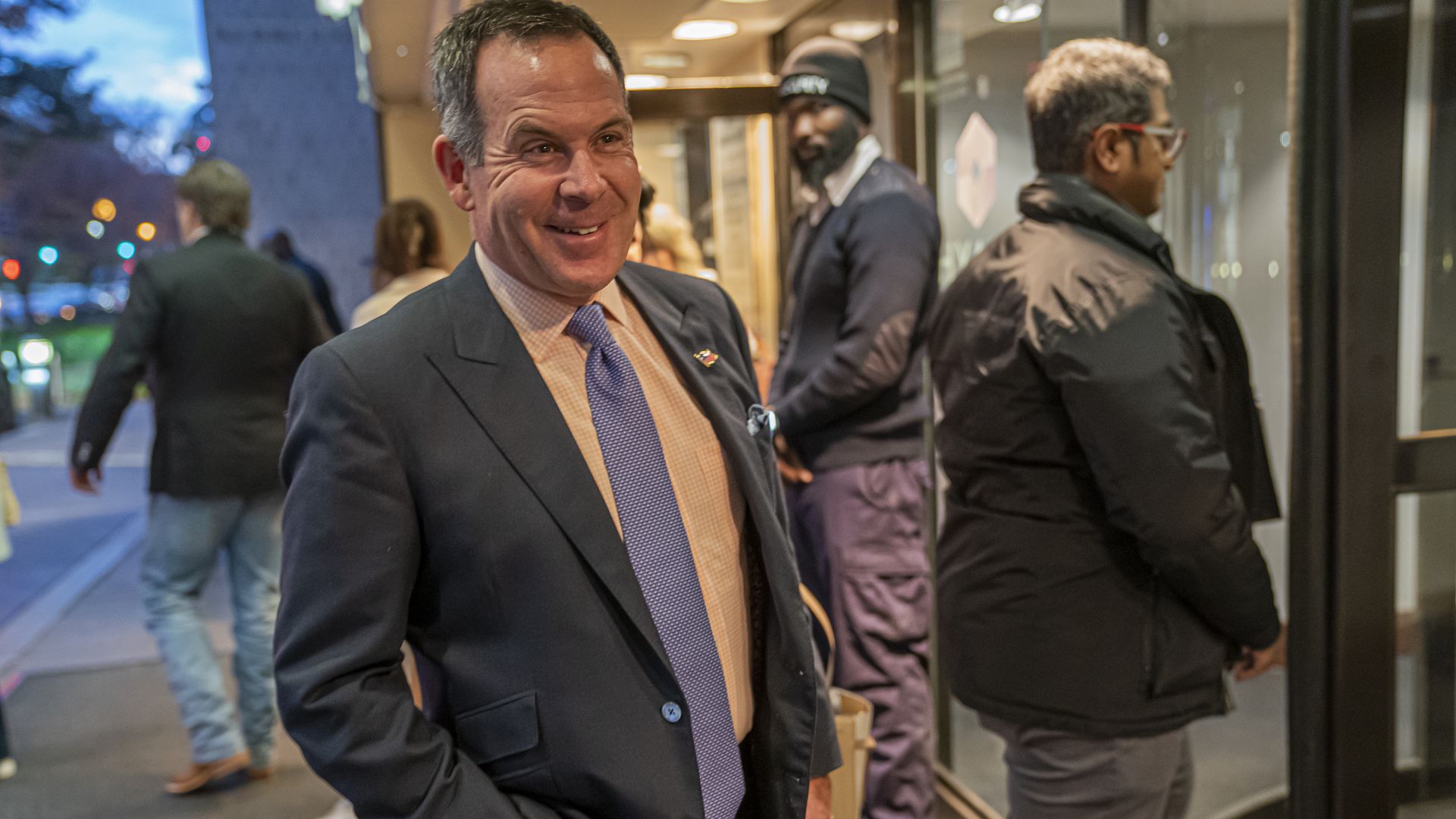 What a difference a year makes for Adam Frisch.
What's happening: A year ago, the Democrat barely registered on the political radar in his bid to unseat Republican Lauren Boebert in Colorado's 3rd Congressional District.
Why it matters: A potential rematch between Boebert and Frisch in the sprawling district that spans the Western Slope eastward into Pueblo is expected to be another nail-biter — and unlike the first round, emerge as one of the top races heading into the 2024 election.
What he's saying: "Being the closest race in the country and the only one that has a name-brand person attached to it, it's going to be a very focused race," Frisch told John between mouthfuls of crispy hashbrowns at Aspen Hickory House, blocks from where he lives.
What's new: This time, Frisch enters the race in a position to win, according to an early poll, buoyed by better name recognition and a presidential election turnout that makes the race favor Republicans a bit less.
A former currency trader and Aspen city councilor, he believes he could have won in 2022 with more time and money, and he's adamant that he'll get more national help this time.
And he contends Boebert's image will only continue to falter as a ringleader of a national political circus that "has only gotten worse" and he can draw more GOP support for his candidacy.
What he's saying: "We have a really, really good success rate of convincing people I'm a safe enough candidate," he said in the recent interview.
Yes, but: His narrow loss to Boebert is only eclipsed by his thin victory in the Democratic primary election a year ago in which he won by 289 votes. And this time Frisch will face a better-positioned party challenger, Grand Junction Mayor Anna Stout.
The intrigue: In addition to siphoning money from his campaign, the race will highlight where he clashes with his own party. Frisch supports drilling for natural gas on federally owned land in Colorado and aligns himself with hunters on Second Amendment issues. He also considers himself a fiscal conservative who wants less government.
Of note: He's particularly critical of his party leaders, President Biden and Gov. Jared Polis, for implementing policies — limiting energy exploration and reintroduction of wolves, respectively — that give "the biggest middle finger and slap in the face" to rural Colorado, as he put it.
The big picture: What makes him weak with Democrats is exactly what the organizers at WelcomePAC, a big-tent Democratic group, see as his asset. The organization considers Frisch a platypus candidate, or political rarity, and wants to see more of his kind run for office as an antidote to the polarized national landscape.
Frisch lists his top three issues as "water, water, water" and bills himself as an advocate for farmers, ranchers and domestically produced energy.
What they're saying: "In 2022, voters knew Boebert was too extreme for their district, and Frisch was independent enough to make the race close," co-founder Lauren Harper told Axios Denver. "Now, the whole country knows there's a 'pro-normal party' option in CO-03."
The other side: In emails to supporters, Boebert suggests Frisch is a phony moderate and aligns him with "liberal elites from New York to San Francisco." Polls show 40% of the district's voters have not formed an opinion of him, giving her room to sway opinions.
The two-term congresswoman also won't be surprised this time. She's raising the stakes and casting a loss in her district as "the vote that swings the House back from red to blue."
More Denver stories
No stories could be found
Get a free daily digest of the most important news in your backyard with Axios Denver.