Intel's "Ohio One" mega chip factory is bigger than you think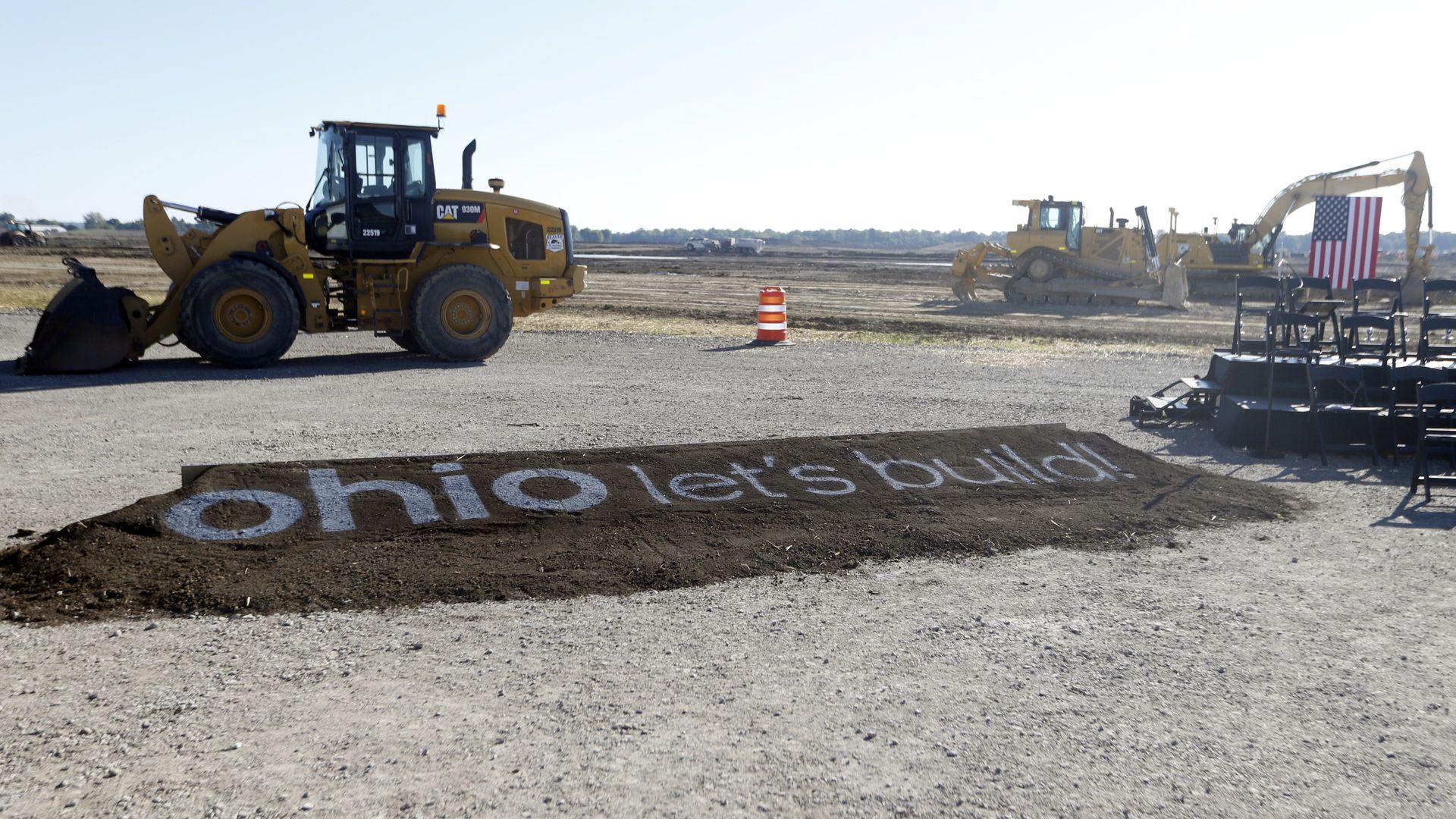 A full year after announcing its $20 billion mega project, Intel offered a construction update on the semiconductor plants now dubbed "Ohio One."
Why it matters: Our area cannot have too many reminders of what a haul this project is and how much it will shape Central Ohio.
Here are some ways to put the massive ongoing construction into perspective:
🚛 Crews have already moved roughly 62,000 dump truck loads of earth.
Lining up those trucks at a modest 15 feet apiece would stretch from COSI to Louisville, Kentucky.
🚜 They've also moved 700,000 tons, or 1.4 billion pounds, of rock and lime.
That's over 3,100 times the weight of the Statue of Liberty.
👷‍♀️ Construction workers have totaled 160,000 hours at the site.
That's 49,230 straight viewings of "Titanic."
It's also the time it would take to continuously walk 109 round trips from Columbus to the Hollywood Sign in California.
💵 Intel is investing $20 billion in the project, with the potential for much more.
That's around four times the current market capitalization of the entire Wendy's fast food chain — for one project.
What they're saying: Jim Evers, an Intel VP and general manager of the construction site, likened the project to the Wright Brothers, John Glenn and Neil Armstrong.
"Ohio One represents a nod to the past and a look to the future of technology innovation for the Midwest and America," Evers wrote in a blog post.
What we're watching: With such a large project comes controversial planning ideas, including the recent floating of a second outerbelt to handle the influx in traffic.
The suggestion faced immediate blowback from local officials and transit experts.
Harvey Miller, director of Ohio State's Center for Urban and Regional Analysis, put it bluntly: "A second outerbelt is climate arson."
More Columbus stories
No stories could be found
Get a free daily digest of the most important news in your backyard with Axios Columbus.