Massachusetts seniors are expanding their horizons with VR vacations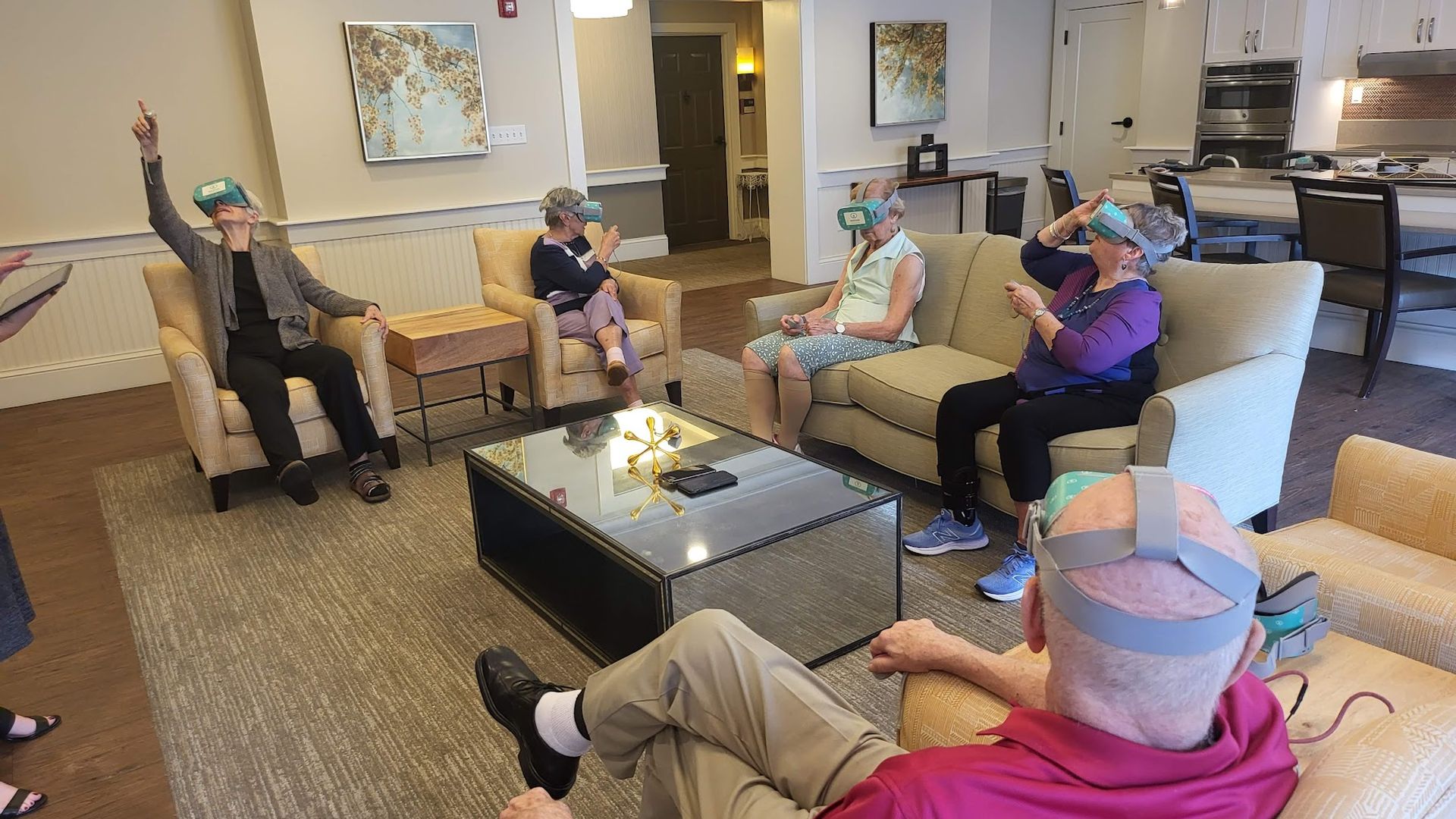 Massachusetts seniors can swim with sea creatures, visit tropical islands and even inspect their childhood homes without leaving the couch thanks to virtual reality.
What's happening: Local senior living communities are using VR headsets and software specially designed for older people to show residents places and scenes they may no longer have the means or ability to visit in the real world.
Why it matters: The population of older Americans is growing faster than it has in over a century.
At the same time, virtual and augmented reality technology is going mainstream, with tech giants like Meta and Apple behind consumer-grade headsets.
How it works: Senior living facilities contract with VR company Rendever for the equipment and training for the staff. Rendever's software allows a staff member to guide groups or individuals through a series of VR experiences meant to entertain or educate.
The wireless headsets show a 360-degree image so users can move their head and take in a full scene that is much more immersive than traditional documentary footage.
As the staffer leads the VR tour, they quiz users about what they're seeing and foster conversation about the scene or subject.
At Maplewood Senior Living in Weston, residents gather in the community's lounge area for regular sessions with the headsets.
There was no hesitation about adopting the new technology among the septua-, octo- and nonagenarians in the group, who were enthusiastic about strapping on the headsets.
The intrigue: After a video that put them underwater among schools of fish, the virtual travelers saw donkeys on Santorini, highland cows in Denmark and quokkas on an island off Australia.
Staff can monitor what they see and narrate along or just let users explore the virtual scene.
What they're saying: "I thought it was great to be right in the place that's usually described to you or you read about. But to actually be there was exciting," 95-year-old Maplewood resident Ginny Burns told Axios.
She said the underwater scene was even more exciting than when she swam with dolphins in real life.
More Boston stories
No stories could be found
Get a free daily digest of the most important news in your backyard with Axios Boston.