Boston teens challenge vaping trends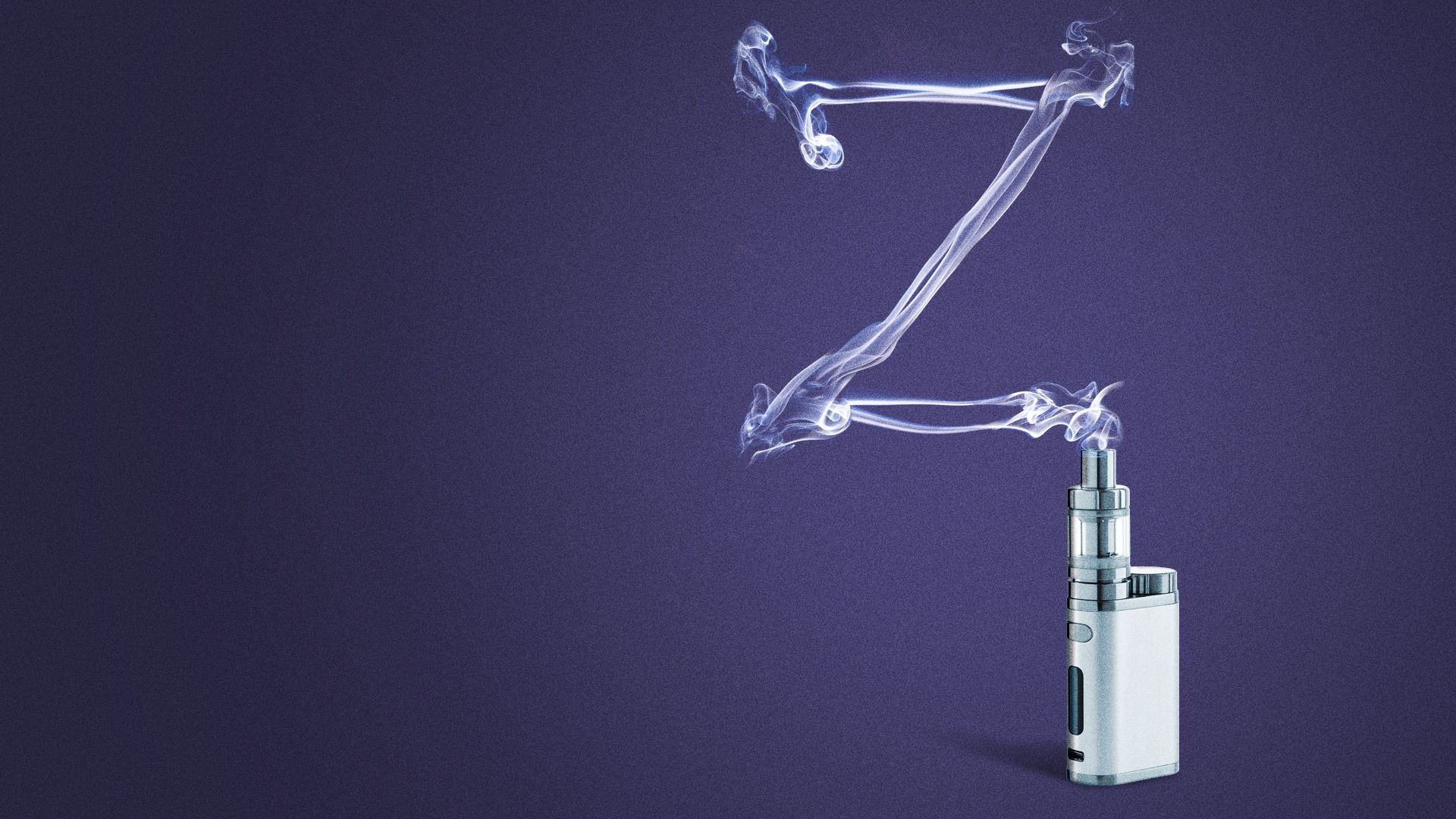 Young people played a huge role in passing a 2019 state law banning flavored vaping products and menthol cigarettes. Now teen advocates behind the scenes are tackling youth vaping through a racial equity lens.
Why it matters: Vaping has driven an increase in underage smoking over the past decade, which health experts and advocates attribute to online marketing and flavored vapes.
Youth vaping appears to be on the decline nearly three years after the flavor ban took effect, according to the Youth Health Survey.
Teens and advocates say they want to limit the number of stores selling tobacco and vaping products, especially those clustered in lower-income communities of color.
Zoom in: Teens across Massachusetts are learning about the risks of tobacco and nicotine at virtual meetings hosted by The 84, a statewide anti-tobacco youth initiative. They learn about how tobacco marketing has historically targeted young people and low-income communities of color, says Carly Caminiti, director of The 84.
Some members have mapped out retail clusters across Massachusetts, finding more tobacco shops in Lynn, Brockton, Worcester and other gateway cities.
At other meetings, coordinators facilitate discussions about racism, mental health and other challenges teens face.
What they're saying: Kristina Pruitt, a member of The 84, said she has noticed several stores advertising tobacco products in her neighborhood of Dorchester.
"There's a lot of areas within walking distance to each other to purchase these products," Pruitt said. "We're trying to figure out ways to remove these businesses and [put] more healthier options in the community."
The big picture: It's not just teens looking at these racial disparities. Health officials in multiple Massachusetts cities and towns have implemented or are considering caps on tobacco retailers.
Health officials in Worcester, which has more than 200 tobacco retailers and smoke lounges, mostly in lower-income and nonwhite neighborhoods, are considering capping retail licenses at 227.
Yes, but: The crackdown on vaping has also raised equity questions. Legal and drug policy experts wrote in a 2021 letter that banning menthol and other tobacco flavors targeted toward Black and brown consumers would lead to more negative interactions with law enforcement.
The letter referenced Eric Garner's killing by New York police officers, who suspected Garner was illegally selling single cigarettes, known as "loosies."
What's next: Teen anti-vaping advocates plan to join their adult peers at the Massachusetts State House on March 30 for "Kick Butts Day," where they'll promote legislative proposals to deter vaping and meet with legislators.
Editor's note: This story has been updated to clarify that The 84 facilitates discussions about mental health, not medical trauma.
More Boston stories
No stories could be found
Get a free daily digest of the most important news in your backyard with Axios Boston.