Spill of the Hill: What's next for Wu's rent control plan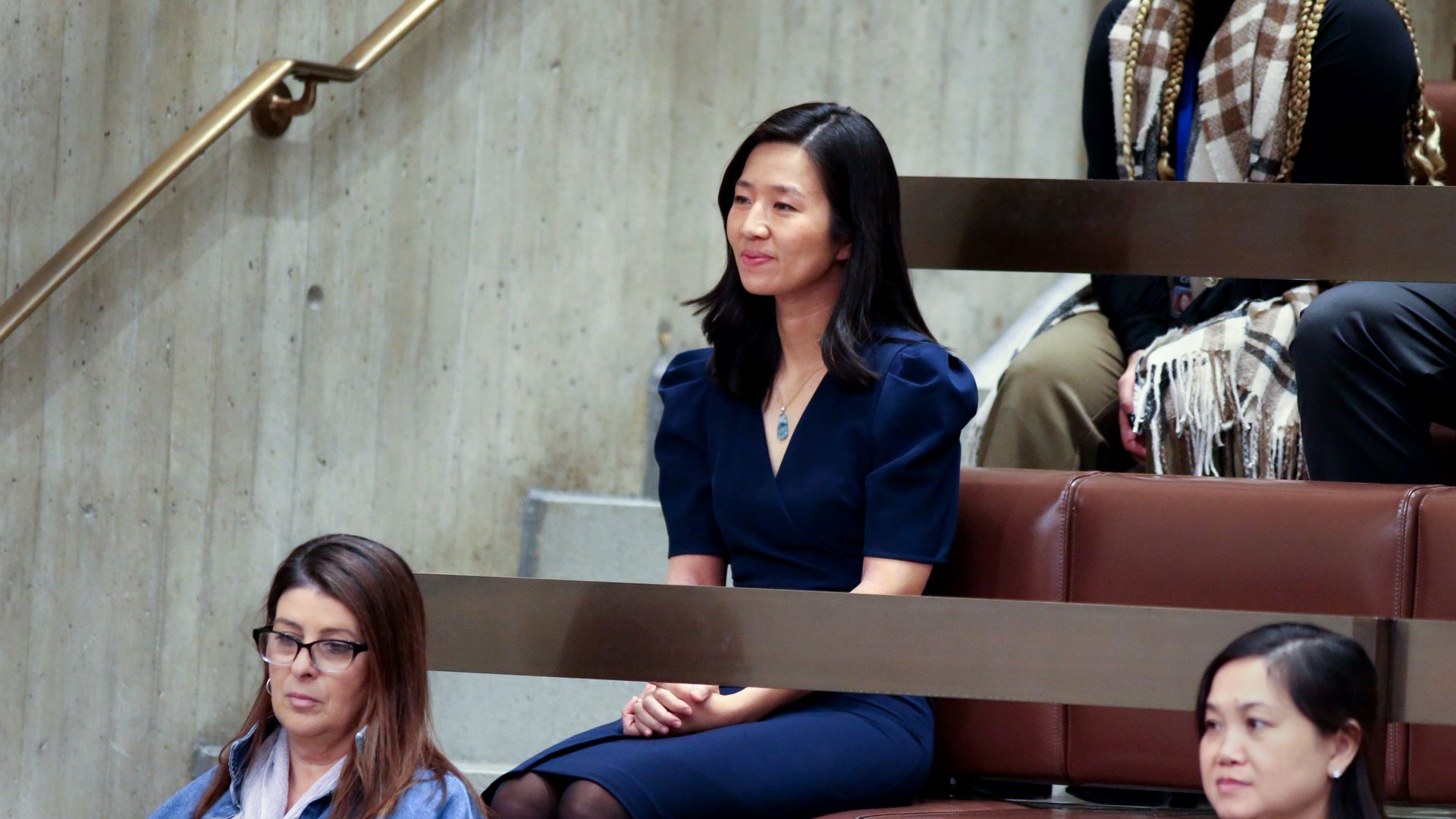 Spill of the Hill is Axios Boston's new column dedicated to the power players behind the politics at the State House and City Hall.
Mayor Wu's attempt to let Boston set an inflation-based rent control system already appeared in critical condition when it got to Beacon Hill last week.
Less than a week later, it's more likely the plan was dead on arrival, State House leaders tell Axios.
The intrigue: The Democrats who run the hill, the Senate President and Speaker of the House, haven't shown any enthusiasm for Wu's plan. And at the State House, that's a death sentence for any major policy proposal.
When asked about Wu's pitch to tie rent stabilization to inflation, Speaker Ron Mariano didn't spout his usual lines about the legislative process or seeing how Democrats feel. Mariano expressed clear skepticism about Wu's plan, a sign to Beacon Hill watchers he and his caucus aren't thrilled about it.
Wu's standing with Senate leaders is less clear.
Even though Senate Housing Committee co-chair Lydia Edwards supports Wu, it's unlikely a rent control bill for Boston could get anywhere in that chamber without Senate President Karen Spilka's explicit sign-off.
If Spilka wants rent control, she certainly hasn't made it clear.
Details: Wu's rent stabilization plan calls for limiting annual rent increases to 10% and would exempt new buildings and owner-occupied buildings with fewer than seven units.
Wu's biggest obstacle may be Gov. Maura Healey, who's working on her own plan to combat housing affordability.
Healey has said rent control is "up to communities to decide" but also that it's not "the solution" to the state's housing woes.
More recently though, her point-person on housing, Lt. Gov. Kim Driscoll, said the administration would be open to rent control if it lands on Healey's desk.
Lawmakers will take cues from the governor — not Boston's mayor — when it comes to what gets voted on in any Beacon Hill housing package.
What's next: Wu's plan for Boston will likely be assigned to the Legislature's Housing Committee, but there's no rush to get it there since lawmakers are still dealing with the state budget and some of Healey's early priorities.
The mayor of Boston's priorities have a way of being ignored by the State House and this one likely won't be any different. (See Marty Walsh's unsuccessful attempts to create a Boston real estate transfer tax.)
What's really next: Wu and supporters of rent control still have one sure-fire way to get around the implacable Legislature … a ballot question.
Progressive activists have relied for years on ballot questions that ask voters to directly approve policies Beacon Hill's moderates don't want to touch.
Going over lawmakers' heads is also a great way to get their attention, just as proponents of raising the minimum wage did in 2017 and might do again later this year.
The big picture: While Beacon Hill is largely set to ignore the Wu plan, other major cities like Somerville and New Bedford are pushing to join Boston in asking for the legal authority to control rent prices.
More cities signing on won't necessarily change the minds of anyone in charge, but it could be another signal that public opinion is growing in favor of rent control.
That could mean stronger campaigns for similar bills in the 2025 or 2027 legislative sessions.
More Boston stories
No stories could be found
Get a free daily digest of the most important news in your backyard with Axios Boston.