Report: Troopers left day jobs for overtime pay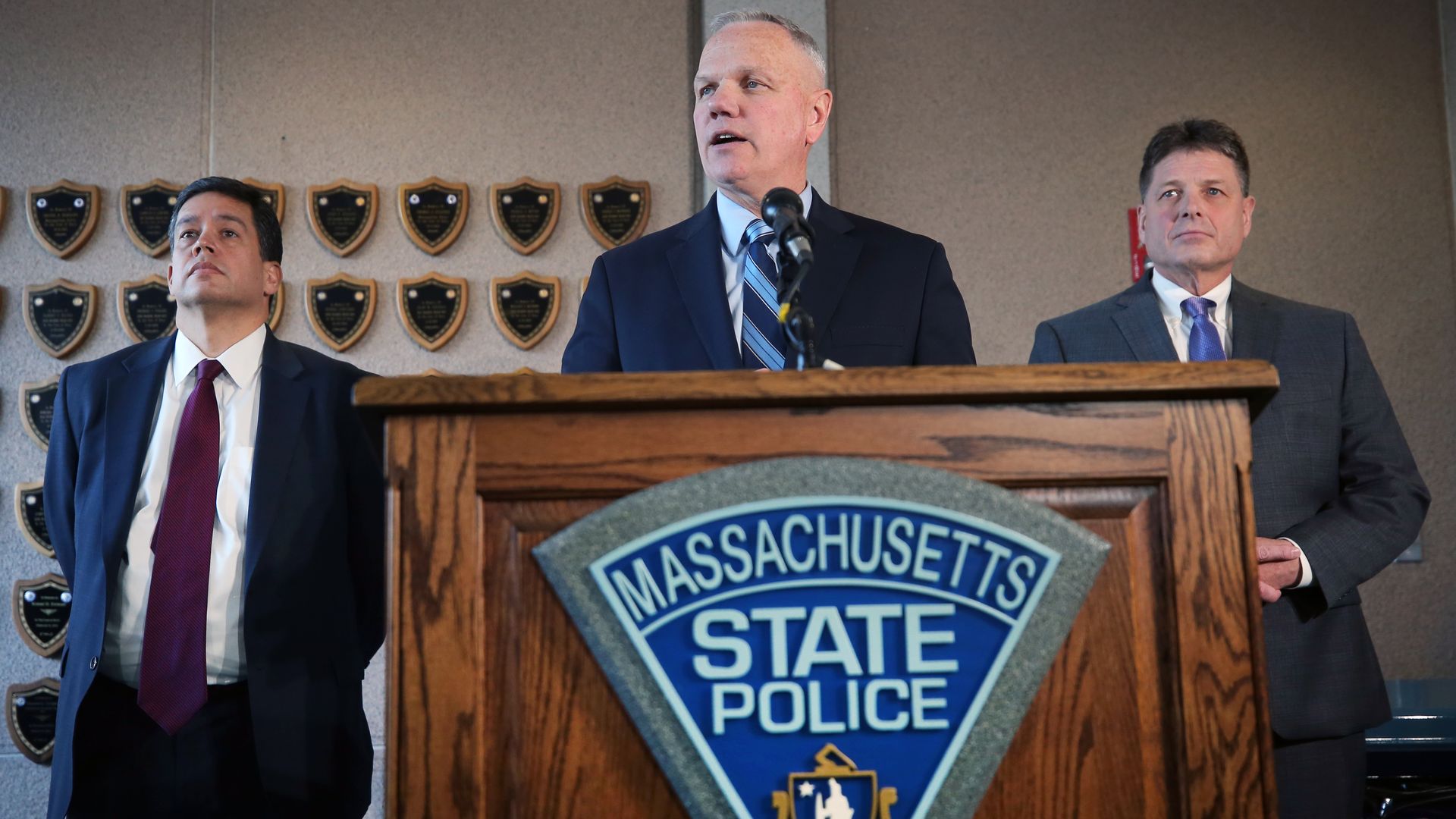 A new report has flagged practices that allow state troopers to rack up overtime while leaving their day jobs.
Several troopers in 2019 left their regular shifts to take optional overtime shifts, claiming personal or vacation time for the hours not worked at their regular posts, per the report.
Why it matters: The state police department continues to face scrutiny five years after an overtime scandal in which dozens of troopers in the now-disbanded Troop E were pocketing taxpayer money for overtime they never worked.
Driving the news: Troopers took optional overtime shifts during their regular shifts hundreds of times in 2019, according to the report.
The report focused on overtime shifts for special highway patrols, like distracted or drunk driving crackdowns. In an analysis of 3,000 of these overtime shifts, at least 8% were taken while troopers were supposed to be working regular hours.
The practice may cause staffing shortages at police stations and lead to a domino effect where other troopers work overtime to fill the gaps, per the report.
It's unclear how often this happened. The report doesn't say whether, or to what extent, the overlaps resulted in staffing shortages.
Flashback: Massachusetts State Police fired at least 22 troopers in the wake of the Troop E scandal, which came to light in 2018. Ten faced state or federal charges with many pleading guilty. Several others retired amid the probes.
The state created the Inspector General's Division of State Police Oversight, which authored the latest report, to audit the beleaguered agency.
Five years later, the oversight division's report says the overlaps between overtime and regular shifts do not rise to the level of abuse seen in Troop E. The division's biggest qualm was that the overtime protocols weren't baked into written policy. But it's not the first time the oversight division has raised concerns.
A report from last year found that troopers were paid for a combined 447.9 overtime hours they didn't work in 2016 because of sloppy record-keeping and union agreements.
Meanwhile, the state is still recovering money from former and current troopers who were implicated in the Troop E scandal. To date, the state has gotten back $263,000.
The other side: The police agency has made changes to rein in overtime spending. According to previous reports, it installed location-tracking technology in cruisers, shifted from using paper traffic tickets (which Troop E officers altered to appear to work shifts they didn't actually work) to electronic traffic tickets and audited employees to prevent fraud.
The agency has also conducted ethics training for troopers.
An MSP spokesperson did not respond to requests for comment on Friday.
What they're saying: Sen. Walter Timilty, Senate chair of the public safety and homeland security committee, said he supports the recommendations made in the report.
"I strongly urge the Massachusetts State Police to implement this recommendation as soon as possible," said Timilty, one of the recipients of the report.
Rep. Carlos Gonzalez, the House chair, did not respond to requests for comment.
Tom Nolan, a former Boston police officer and law enforcement expert, blasted the oversight division's response to finding troopers leaving their day jobs to work higher-paying overtime shifts.
"That's not something that should even be allowable under any circumstances, and they don't raise that issue, as long as it's written down, and everybody understands it," he told Axios.
Nolan also called the 15-page report "a pretty pathetic compilation of a year's worth of work" because it doesn't examine potential inconsistencies in court overtime, and doesn't say how often supervisors paid other troopers overtime to fill the gaps, if at all.
A spokesperson said in a statement that the oversight division "continues to examine MSP operations and recommend improvements and changes based on its findings, which is its statutory mandate."
What's next: The oversight division urged state police to publish written policy restricting optional overtime in cases that could cause staffing shortages elsewhere.
The state police department recently drafted changes to address the oversight division's recommendations, but it's unclear if or when the changes will be implemented.
More Boston stories
No stories could be found
Get a free daily digest of the most important news in your backyard with Axios Boston.