Prosecutors: Brian Walshe Googled "ways to dispose of a body"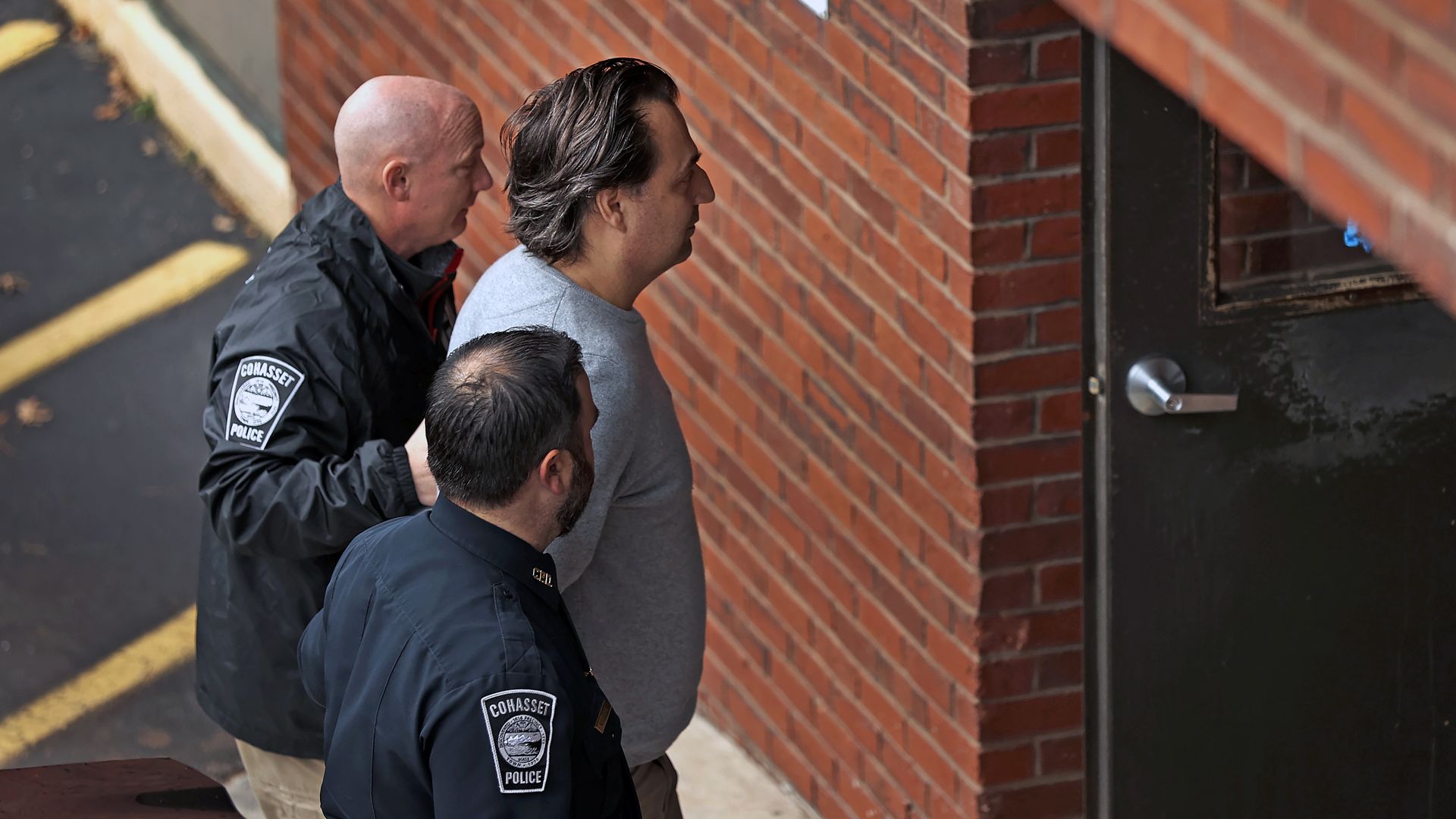 Prosecutors say Brian Walshe's Google searches paint a much different picture about his wife's disappearance than what he first told investigators.
Driving the news: Walshe was arraigned Wednesday in Quincy District Court on charges that he murdered his wife, Ana, who has been missing for two weeks.
Prosecutors unveiled nearly two-dozen Google searches that they believe show the Cohasset man dismembered and planned to hide his wife's body.
The searches range from a question about where to divorce a spouse to questions about dismembering a body and hiding remains.
Why it matters: Prosecutors are using Walshe's alleged digital footprint to build their case against him, an increasingly common tactic in criminal investigations.
"The thing that's important to realize is this evidence does a really good job at speaking to the present mainframe and intentions of the person or the suspect that they're looking at," says Adam Scott Wandt, an assistant professor of public policy at John Jay College of Criminal Justice.
The other side: Walshe's defense attorney Tracy Miner told CNN in a statement she would not comment on the case "because I am going to try this case in the court and not in the media."
The Google searches
Investigators honed in on searches between Dec. 27, days before Ana's disappearance, to Jan. 3 and 4, when investigators say they began to notice Walshe had cleaned the back of his car.
Dec. 27
What's the best state to divorce for a man
Jan. 1
The couple went to bed around 1:30am after celebrating the new year, Walshe told investigators, per CNN.
He said Ana left later that morning to catch a flight to Washington, D.C., to work. She never boarded the plane.
4:55am: How long before a body starts to smell
4:58am: How to stop a body from decomposing
5:47am: 10 ways to dispose of a dead body if you really need to
6:25am: How long for someone to be missing to inherit
6:34am: Can you throw away body parts
9:29am: What does formaldehyde do
9:34am: How long does DNA last
9:59am: Can identification be made on partial remains
11:34am: Dismemberment and the best ways to dispose of a body
11:44am: How to clean blood from wooden floor
11:56am: Luminol to detect blood
1:08pm: What happens when you put body parts in ammonia
1:21pm: Is it better to put crime scene clothes away or wash them
Jan. 2
Walshe went to Home Depot and bought $450 worth of supplies, such as mops, tarps, a hatchet and baking soda.
12:45pm: Hacksaw best tool to dismember
1:10pm: Can you be charged with murder without a body
1:14pm: Can you identify a body with broken teeth
Jan. 3
1:02pm: What happens to hair on a dead body
1:13pm: What is the rate of decomposition of a body found in a plastic bag compared to on a surface in the woods
1:20pm: Can baking soda mask or make a body smell good
The bottom line: The internet is forever, whether you're booking a vacation, making dinner plans or allegedly researching how to dismember someone, says Wandt, the professor.
"It's that exact technology which very often leads digital footprints, which allow investigators to solve major crimes well within the boundaries of the law," Wandt says.
More Boston stories
No stories could be found
Get a free daily digest of the most important news in your backyard with Axios Boston.