Nearly 306,000 Texas children could lose child care as federal funds expire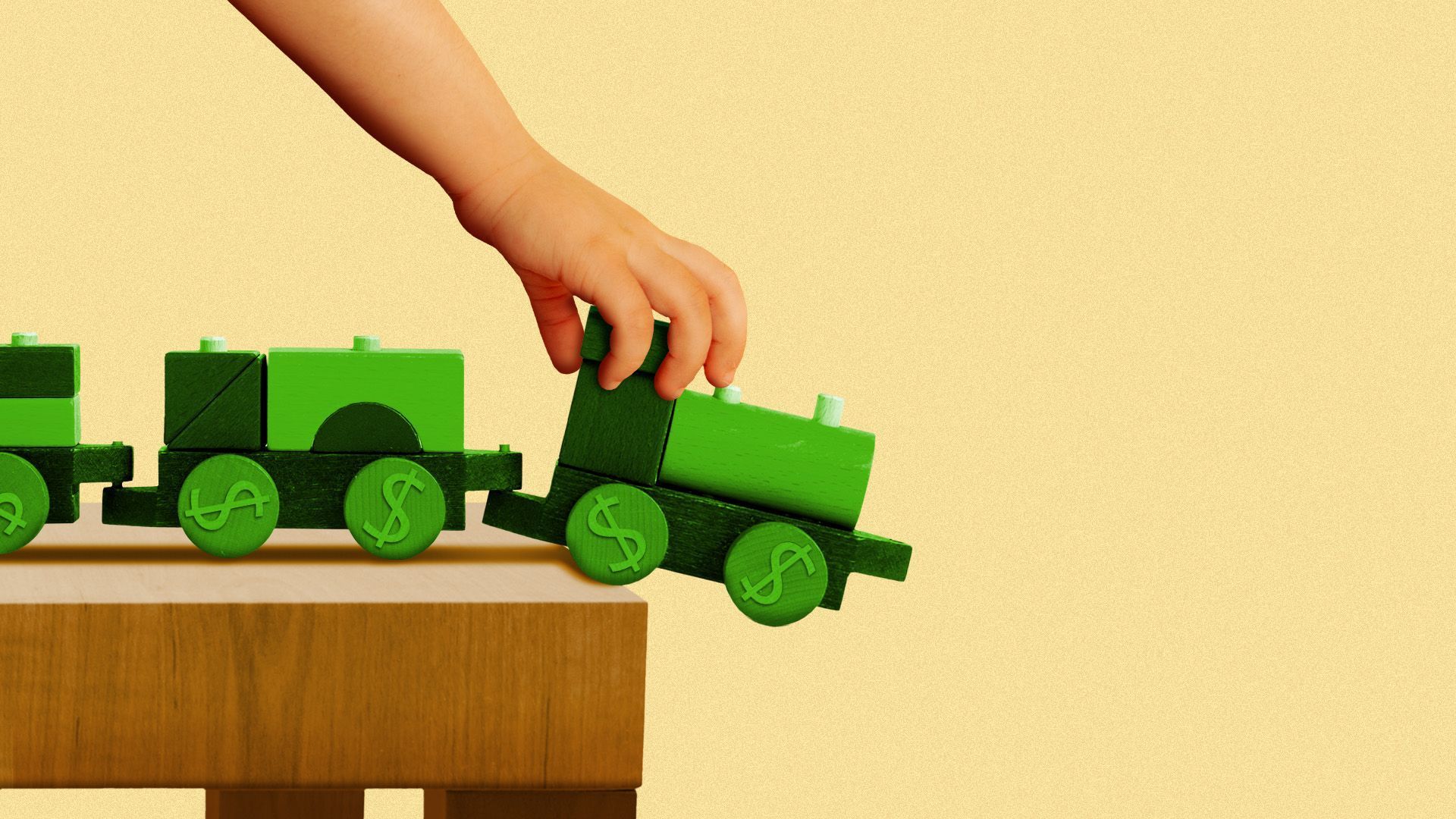 This weekend, Texas will fall off a "child care cliff" when pandemic-era federal relief funding for the industry runs out.
Driving the news: Without intervention, nearly 306,000 Texas children are expected to lose child care — the highest total in the country, according to an analysis by the Century Foundation.
The national think tank estimates nearly 4,000 Texas child care programs could close, which could mean about $775 million in lost earnings from parents forced to cut working hours or exit the workforce as a result.
"There's not going to be mass closures overnight. This is going to be a slow, steady bleed," said Cody Summerville, executive director of the Texas Association for the Education of Young Children (TAEYC).
Why it matters: The federal funding amounted to a $24 billion Band-aid patched over an industry that's long struggled.
"There's going to be a real crisis here," Cathy Creighton, director of Cornell's School of Industrial and Labor Relations Buffalo Co-Lab, who's studying the impact of the additional funding for providers, tells Axios.
Catch up fast: The Texas Workforce Commission distributed nearly $4 billion in federal funds to child care programs over two years, per TAEYC.
Threat level: A TAEYC survey of child care programs last month found 26% of respondents said they're likely to close without more help.
72% of survey respondents said they would have to raise tuition to stay open, and 43% said they would have to cut staff wages or be unable to sustain wage increases.
Yes, but: Even with the federal dollars, the pandemic "really decimated the industry," Summerville said.
Early COVID guidance was difficult to follow, and staffing became a more acute crisis as programs had to compete with higher wages in other industries.
"We're at a place where we just can't anymore," he told Axios.
By the numbers: In March 2020, there were 769 licensed child care centers and family child care homes in Travis County. By September 2023, that number was down to 693.
Statewide, there were more than 18,700 child care programs in March 2020, versus just under 15,000 this month.
Zoom out: As many as 70,000 centers across the country looking after 3.2 million children might close when the funding runs out, according to the Century Foundation.
State of play: This cliff is approaching just as women and mothers are hitting their stride in the U.S. labor market — with workforce participation at new highs and the gender employment gap at record lows.
The rate of new Austin mothers returning to the workforce has bounced back after a COVID-era drop.
Providers are limited in their pricing power because most parents can't pay much for care. To keep costs down, workers make very little — about $12.50 hourly in Texas in 2022 per the Bureau of Labor Statistics — and providers operate on razor-thin margins.
Summerville said about 60-70% of child care program budgets tend to be labor, while most other businesses try to keep labor costs around 30-40%.
What's next: If the dire forecasts prove true, millions of parents — particularly mothers — are going to be left with some hard choices.
Their child care provider could shut down or raise prices past affordable levels — and many parents could exit the job market entirely.
Flashback: The Texas Legislature considered but did not approve a $2.3 billion investment in child care this year.
Summerville said leadership has not prioritized the issue and there's an unwillingness to intervene in what has been a private market.
Plus, the high annual price tag is a "huge pill to swallow" when compared to the under $43 million the state will spend this fiscal year to fulfill match requirements of federal block grants for child care, he said.
"I'm afraid it's going to have to get pretty bad, and it's going to have to have a pretty draining effect on our entire economy in order for elected officials to fully see the value that child care plays within our communities," Summerville said.
Families and business leaders are also going to have to get more involved in the push, he said, as industries will be left with a curtailed workforce.
The big picture: This cliff is new, thanks to the pandemic funding, but the industry in the U.S. has been living on the edge for a long time.
Studies find kids who get high-quality care wind up getting better educations, and better-paying jobs in the long term, but child care is provided by a private market.
Lawmakers at all levels of government need to change their mindset about child care, Summerville said. "We definitely have to treat child care like a public good. We all rely on child care, regardless if we have young children or not."
As Treasury Secretary Janet Yellen put it in 2021: "Child care is a textbook example of a broken market."
More Austin stories
No stories could be found
Get a free daily digest of the most important news in your backyard with Axios Austin.