Detroit City Council passes resolution calling for Gaza ceasefire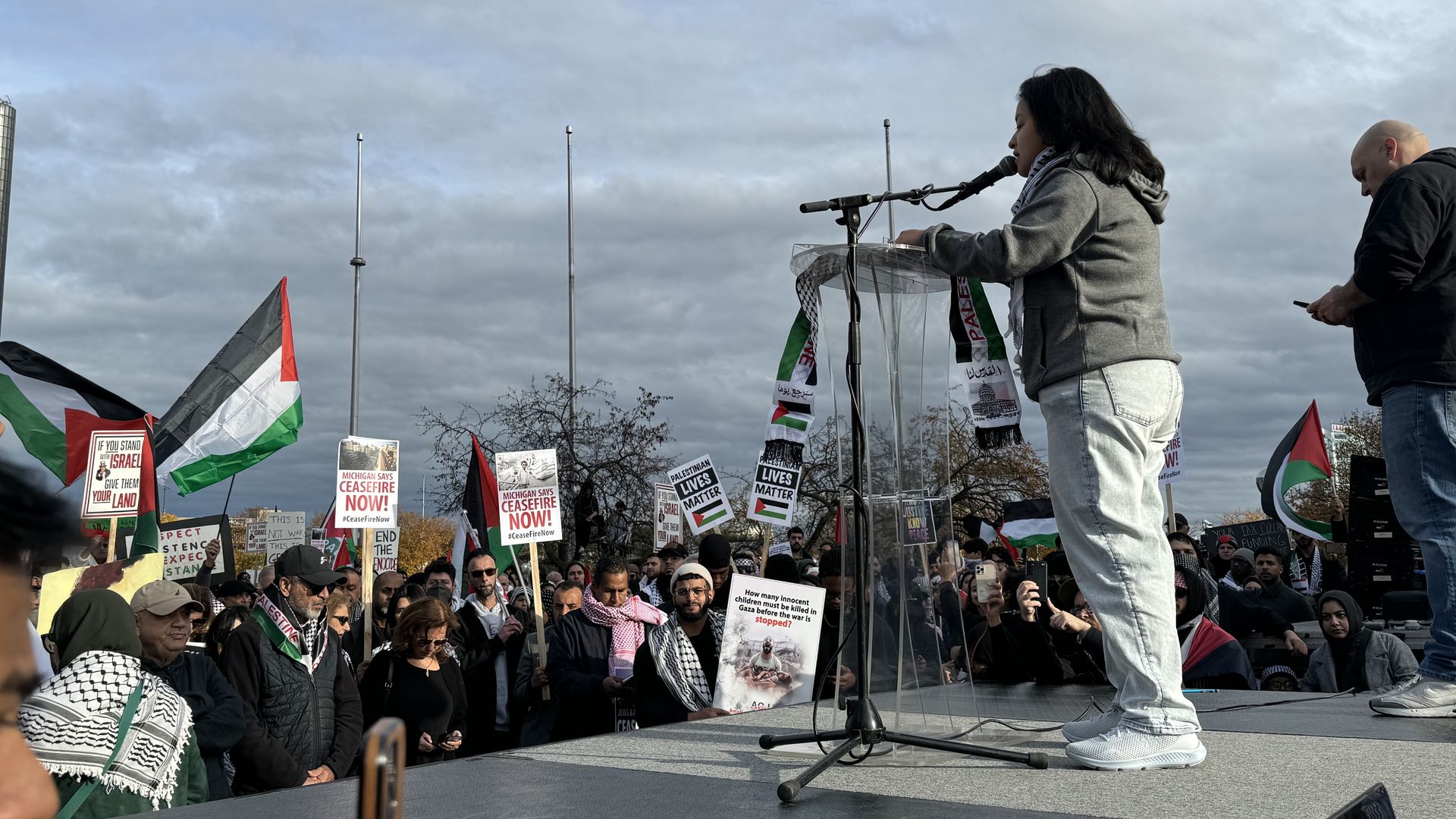 Detroit City Council members voted 7-2 to support a resolution calling for a ceasefire in Gaza as the death toll in the Israel-Hamas war passed 13,000 people this month.
Driving the news: Dozens of residents urged the City Council to pass the measure Tuesday, giving impassioned public comments supporting the resolution introduced by councilmember Gabriela Santiago-Romero.
Santiago-Romero called Israel's bombardment in Gaza a genocide at last month's downtown rally in support of Palestinian civilians.
The resolution states, in part, that Detroit's City Council "condemns all acts of violence aimed at Israeli and Palestinian civilians, and mourns the loss of all civilian lives and hostages."
The resolution also calls for the release of hostages and that humanitarian aid be allowed into Gaza.
Why it matters: Detroit's is the latest city council to consider a symbolic resolution related to the Israel-Hamas war.
The Michigan cities of Dearborn, Dearborn Heights and Hamtramck have all passed resolutions calling for a ceasefire in Gaza.
What they're saying: Most commenters at Tuesday's City Council meeting called in to support the resolution, with many arguing that the region's ethnic makeup makes the war a local issue.
"There are people in my mosque who have 30, 40, 50 family members that have been killed. It is your job to speak for them," Imran Salha, imam at the Islamic Center of Detroit, told councilmembers speaking in support of the resolution.
"Self-defense does not justify the violation of international law," Santiago-Romero said during the City Council meeting. "I know where I want to stand when future Detroiters look back on history."
Catch up quick: Santiago-Romero has been working with colleagues after an initial draft introduced last month didn't get enough support from others on the council, who asked her to draft a "more neutral" statement, she told the Free Press.
Details: Councilmembers Mary Sheffield, Mary Waters, Santiago-Romero, Angela Whitfield Calloway, Latisha Johnson, Scott Benson and Fred Durhal III voted yes, while James Tate and Coleman Young Jr. voted no.
Public commenters interrupted Tate after he said Israel has the right to defend itself and shouted at Young in frustration, prompting council president Sheffield to call a point of order following the vote.
Threat level: The clashes come amid rising discrimination against both Muslims and Jews.
The ADL reports antisemitic incidents increased 388% Oct. 7-23 versus the same period in 2022.
In the four weeks following the Hamas attack, CAIR reported a 216% increase in complaints of anti-Muslim or anti-Arab bias compared with 2022.
Go deeper