A $100 billion pledge shows the broken promise of climate finance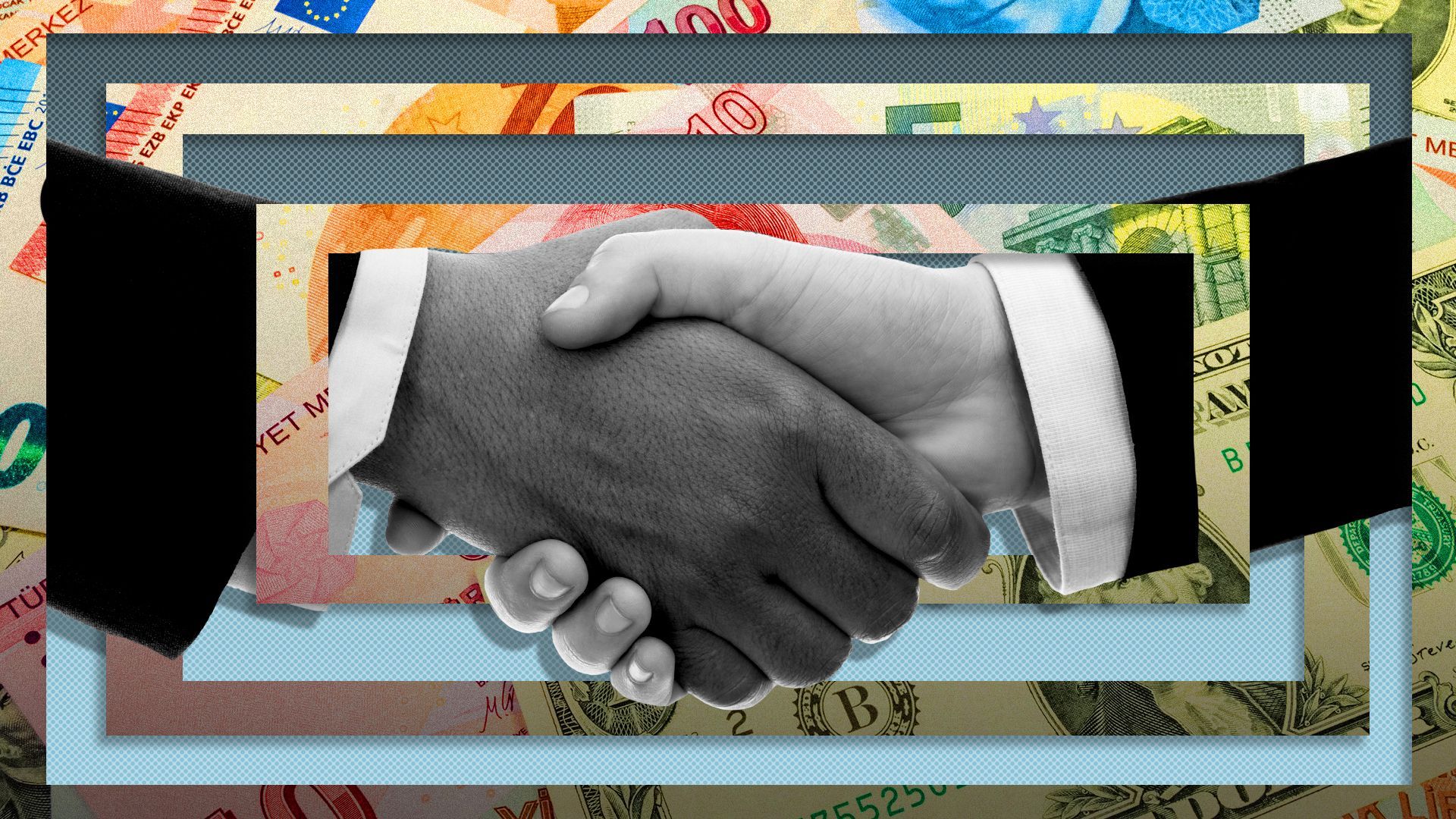 In 2009, during a United Nations climate summit in Copenhagen, developed countries made a commitment.
Zoom in: They promised that, by the year 2020 and lasting through 2025, they would provide $100 billion annually to developing nations to help them withstand the effects of climate change and mitigate emissions.
Driving the news: Preliminary new data from the Organization for Economic Cooperation and Development (OECD) indicates that industrialized nations likely met the $100 billion threshold only sometime last year.
Counting and classifying this money isn't cut and dried, given different types of government and private financial assistance.
For example, Harjeet Singh, head of global political strategy of CAN International, criticized industrialized countries for relying too much on loans that must be paid back.
Why it matters: The persistent failure to meet this funding commitment has fed a major trust gap between the Global North and South.
Many nations view it as a threshold issue that must be solved for progress to be made on other thorny agenda items that will surface at the upcoming COP28 climate summit in Dubai. This includes a new climate finance package.
Between the lines: Meeting the goal could be a significant boost for efforts to tackle other challenges at COP28, such as a fund to compensate developing nations for the damage that climate change has already caused, which is known as "loss and damage."
Still, global needs have also grown since 2009. At the time $100 billion seemed huge; now, not so much, given that greenhouse gas emissions have continued to rise and climate change's effects have walloped much of the globe.
$100 billion pales in comparison to the actual needs just for climate adaptation, which a recent U.N. report pegged at between $215 to $387 billion annually through 2030.
Reports released this week showed how significantly climate change is already affecting every corner of the U.S. and how far off track emissions cuts are compared with what is needed to meet the Paris Agreement targets.
What's next: While the $100 billion figure is important, it is a minuscule sum compared with what is needed to adapt to climate impacts and prevent worse warming.
Discussions at COP28 will focus on how to catalyze trillions from public and private coffers to fund the energy transition, assist hard-hit nations, and lower emissions.
For perspective, the U.S., alone now typically sees at least $150 billion a year in direct damages due to extreme weather events alone, some of which are being worsened by climate change. This number is rising with population growth, climate change and other factors.
"We really need to be shifting trillions," said Gaia Larsen, who specializes in climate finance at the nonprofit World Resources Institute.
What they're saying: "I think having this information by the OECD and showing that we have met that goal is an important milestone, but that's what it is. It's a milestone," Steven Guibeault, Canada's minister of environment and climate change, said at a press conference with his counterpart from Germany on Thursday.
"It doesn't solve all of our problems."
"We hope that by having this kind of as a foundation it can perhaps build some confidence on our commitment to work together with developing countries moving forward," said Jennifer Morgan, Germany's special envoy for international climate action.
Canada and Germany released a climate finance statement, echoing the OECD conclusion but going more in depth about future needs, on Thursday as well.
The intrigue: There are likely to be doubts among developing nations about the OECD's estimates, Larsen said.
Along those lines, incoming COP28 president-designate Sultan Ahmed al-Jaber released a skeptical statement.
"I continue calling on donor countries to deliver on the $100 billion in annual climate finance to developing countries," he said. "The announcement by Germany and Canada today is encouraging, but there is still room for further ambition."
Go deeper