Trump's new Latino strategy casts him as victim of socialists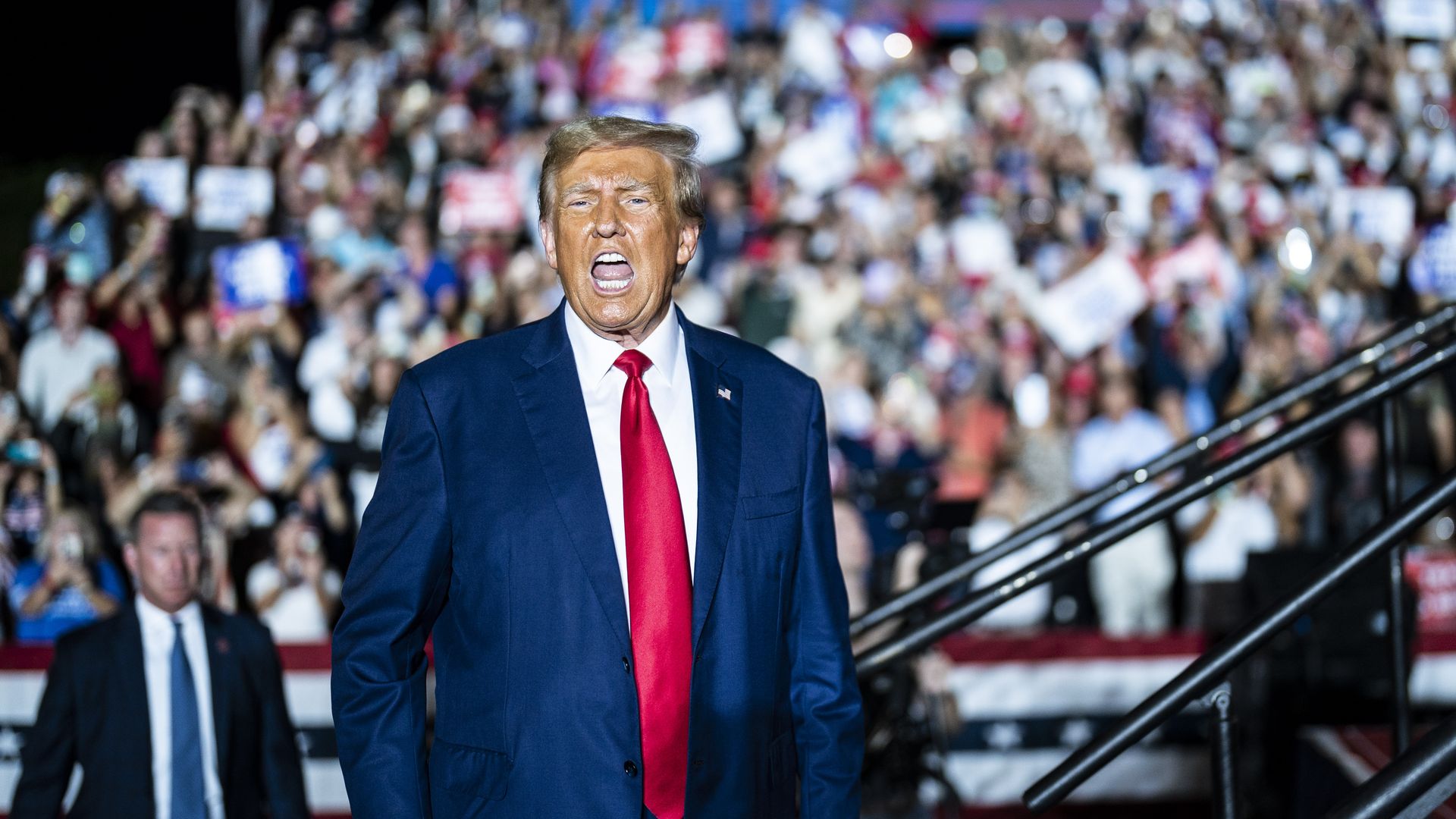 Former President Trump's team is trying to build on the GOP's recent gains among Latinos with a strategy in Florida that's aimed at voters of Cuban, Venezuelan and Colombian descent — and that casts Trump as a victim of overzealous socialists.
Why it matters: Trump's efforts to liken his legal woes and his clashes with Democrats to the difficulties many Latin Americans have faced under socialist and authoritarian rule represent a turn in his push to appeal to the fastest-growing segment of the U.S. electorate.
Zoom in: This strategy was a big reason why Trump chose Hialeah, Fla., as the site of his counter-programming rally during last week's Republican presidential debate.
Hialeah is more than 95% Hispanic, and the vast majority of those residents are Cuban Americans, a conservative electorate that identifies more with Republicans than many other Latino groups.
At the rally, Trump portrayed his "persecution" on felony charges — and what he called his resistance to communism — as similar to what many Cuban Americans and their families experienced during the communist regime of Fidel Castro.
"A lot of folks that fled Venezuela, Nicaragua, Cuba ... understand full well what political indictments look like," said Hialeah Mayor Esteban Bovo Jr., a Trump supporter.
Trump's strategy centers on South Florida, but next year his team also will target Latino voters in South Texas, Arizona and Nevada with Spanish-language ads on the economy and border security.
Hispanics in those three states are more likely to support Democrats than those in Florida. President Biden's team is planning an aggressive campaign for Latinos — particularly in the swing states of Arizona, Nevada and Pennsylvania.
Among Democrats, there's an increasing urgency to attract more Latino voters.
Nationwide, Republicans have made gains among Latinos in recent years, a trend that continued in the 2022 elections, when they got 39% of the Latino vote — their highest percentage since 2004.
Yes, but: In Arizona, Nevada and Texas, Democrats began to claw back Latino support from Republicans in 2022.
Next year's elections could show whether that was a blip in a GOP upswing — or whether issues such as abortion rights have tilted more Latino support in Democrats' favor.
A recent New York Times poll is ominous for Democrats: Biden's lead among Hispanics was in single digits in six swing states polled — Arizona, Georgia, Michigan, Nevada, Pennsylvania and Wisconsin.
Meanwhile, a CBS News/YouGov poll found that Hispanic voters are much likelier to say their finances would improve under Trump than Biden.
Zoom out: Trump's gain in Latino support in his losing run for the presidency in 2020 was one of the key storylines that was largely buried by his claims of election fraud. His 11-point gain among Latinos in Florida helped fuel the swing state's shift to Republican red.
It happened because he courted Colombian Americans and younger Cuban Americans in addition to the older Cubans and Venezuelans who historically have sided with Republicans, said Giancarlo Sopo, Trump's 2020 director of rapid response for Spanish-language media.
For 2024, Trump's team plans to build on a key part of its 2020 strategy: Linking Democratic candidates to socialists and a mix of left-leaning figures past and present — from Che Guevara and Castro to Sen. Bernie Sanders (I-Vt.) and Rep. Alexandria Ocasio-Cortez (D-N.Y.), among others.
Reality check: It's unclear whether Trump's "victim" strategy that plays well in Florida will resonate with Mexican Americans and other Latinos whose families' backgrounds don't involve fleeing authoritarian leaders.
Many Democrats are eager to point out the irony in Trump's Florida strategy: They see him as claiming to be a victim of government overreach, all while planning to dramatically increase presidential powers and seek revenge on his political enemies if he's elected president again.
"Latinos continue to support Democrats overwhelmingly. That being said, we are not taking any of this for granted," Biden campaign manager Julie Chavez Rodriguez told reporters last week.
"Donald Trump talks a big game about his support for Latinos at the same time he defends his cruel policy of separating families," Kevin Munoz, Biden-Harris 2024 spokesperson told Axios.
He added: "Where Donald Trump says he helped Latinos, President Biden has actually delivered by lowering costs and investing in Latino communities and their small businesses."
Between the lines: Biden's campaign unveiled two ads aimed at Cuban and Venezuelan Americans in South Florida last week.
Biden's ads highlight his investment in Hispanic small businesses, his opposition to dictators and his decision to extend Temporary Protected Status for Venezuelan migrants in the U.S.
Editor's note: This story was updated with a statement from a Biden-Harris campaign spokesperson.
Go deeper