Biden faces tricky political calculus on nursing home staffing plan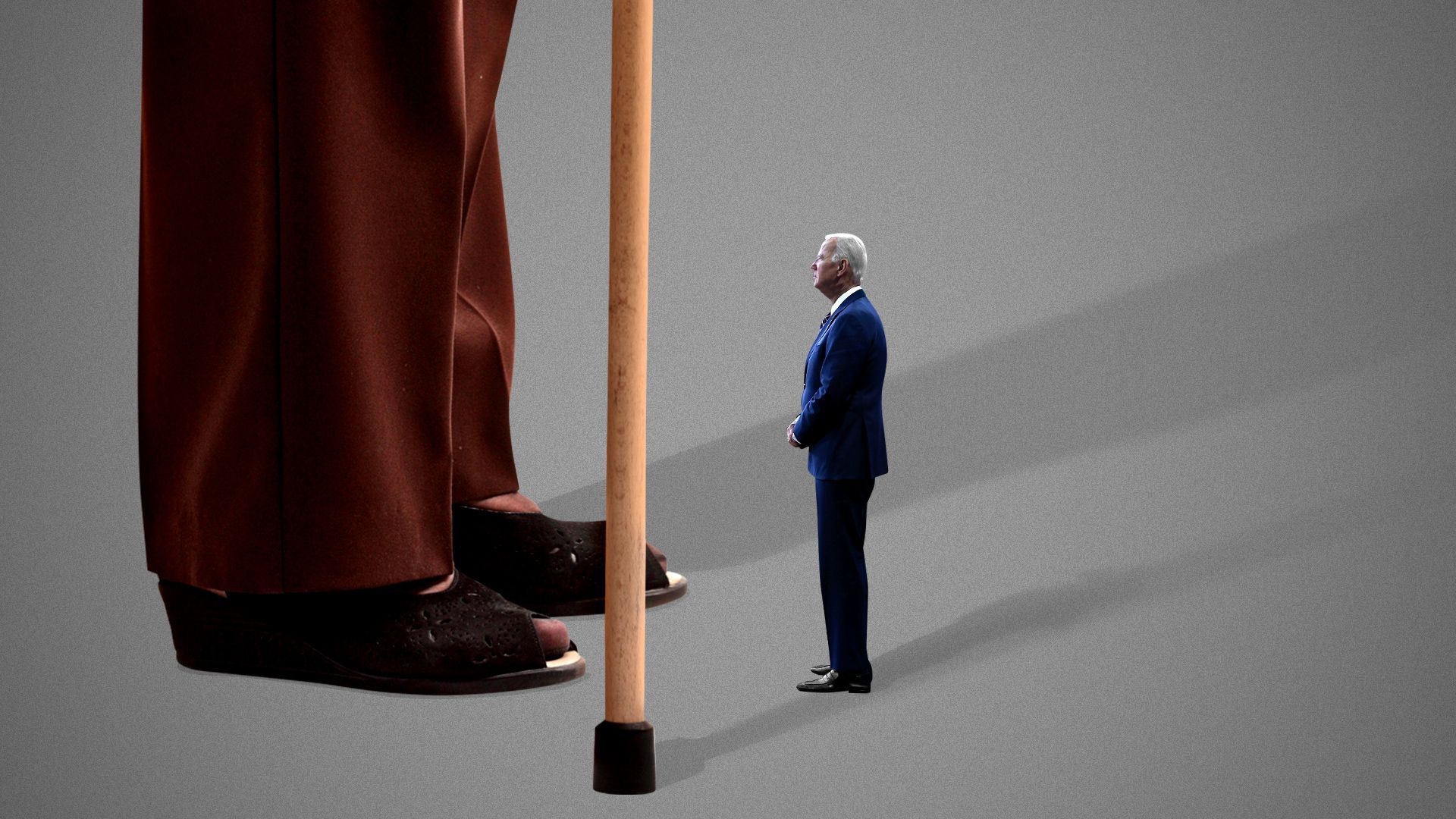 The Biden administration's plan to establish national staffing minimums at nursing homes is shaping up to be a tricky political balancing act.
Why it matters: President Biden has vowed to "crack down" on nursing homes, which were at the epicenter of the COVID-19 pandemic, but his staffing proposal has split members of his own party while facing broad opposition from Republicans.
Some Democratic lawmakers in competitive races next year are urging the administration not to move forward with a plan that they argue could force widespread closures.
But scrapping or watering down the policy could anger progressives, who say it already doesn't go far enough, and spark pushback from unions as Biden courts their support for his own re-election campaign.
Health policy strategists and lobbyists told Axios that the Biden administration is in a tricky position as it tries to balance interests of progressive lawmakers demanding stronger patient protections with those of rural Democrats and the long-term care lobby on an issue many voters find deeply personal.
Catch up quick: Biden pledged in his 2022 State of the Union address that the Centers for Medicare and Medicaid Services would establish minimum staffing standards for nursing homes.
The announcement was a big win for progressives, patient advocates and labor organizers, who had been pushing for better nursing home staffing policies for years.
Research posted by the Biden administration shows higher staffing levels are linked to better nursing home care.
The administration in September proposed a staffing measure amounting to three hours of care per resident per day, including at least 33 minutes from a registered nurse.
It sparked outrage from nursing homes, who said they couldn't afford to hire enough workers to meet the proposed standard, and that there aren't enough people to fill those jobs.
The administration wants to implement the staffing rule over three years for most nursing homes, while rural facilities would have five years. Facilities that can't meet the requirements could apply for a hardship exemption.
State of play: CMS received nearly 47,000 comments on the proposal, and almost no one is completely satisfied.
Nursing homes say if the administration does move forward with the staffing rule, there must be a longer implementation timeline and a broader exemption policy.
The American Health Care Association, a nursing home trade association, wrote to CMS that the requirement "will only result in negative, unintended consequences for residents, staff, and the entire health care system."
Meanwhile, unions and patient advocates are pushing the administration to speed up implementation and tighten proposed exemptions to improve resident and staff safety.
"While there will undoubtedly be costs associated with the implementation of this regulation, the benefits clearly outweigh the costs," wrote the Service Employees International Union, the largest union representing nursing home workers.
The unusual divisions among Democrats on this policy could also complicate things for Biden.
Sen. Bob Casey (D-Pa.), who's up for re-election next year, along with 11 Democratic senators called on the administration to finalize the staffing rule while considering "what additional support may be necessary" for nursing homes to comply.
But Sen. Jon Tester (D-Mont.), who's also running for re-election next year, and Democratic colleagues from states with large rural populations joined with some Republicans to oppose the proposal.
"[W]e are deeply concerned that now is the worst possible time for the United States to establish the nation's first federal staffing mandate for long-term care facilities," they wrote.
Democratic Reps. Jared Golden of Maine and Chris Pappas of New Hampshire led a similar letter with House Republicans.
A spokesperson for CMS said the agency believes the proposed requirements are "balanced, achievable and necessary."
"CMS remains focused on advancing implementable solutions that promote safe, high-quality care for residents, while considering the challenging circumstances some long-term care facilities face," the spokesperson said.
What they're saying: Nursing home experts told Axios said they saw little opportunity for a potential compromise that would satisfy all sides.
Giving nursing homes more money to meet the staffing requirements — and establishing guardrails on extra funds — is one possible approach, said David Grabowski, a health policy professor at Harvard Medical School.
"This is where you really want to thread this needle: finding additional dollars here for those areas that are truly challenging, that have really tight local labor markets," he said.
But he and others said it's difficult to come up with more funding. CMS has already said it will invest $75 million in growing the nursing home workforce.
Meanwhile, the administration on Wednesday finalized a less controversial measure requiring nursing homes to report additional data on their owners, operators and managers.
The transparency provisions are in response to research showing worse resident health outcomes at private equity-owned nursing homes, CMS said.
Our thought bubble: It's not clear how quickly the Biden administration may finalize the staffing rule. The process of going through nearly 47,000 comments could buy officials some time to smooth over divisions.
Go deeper