The fight over nursing home staffing mandates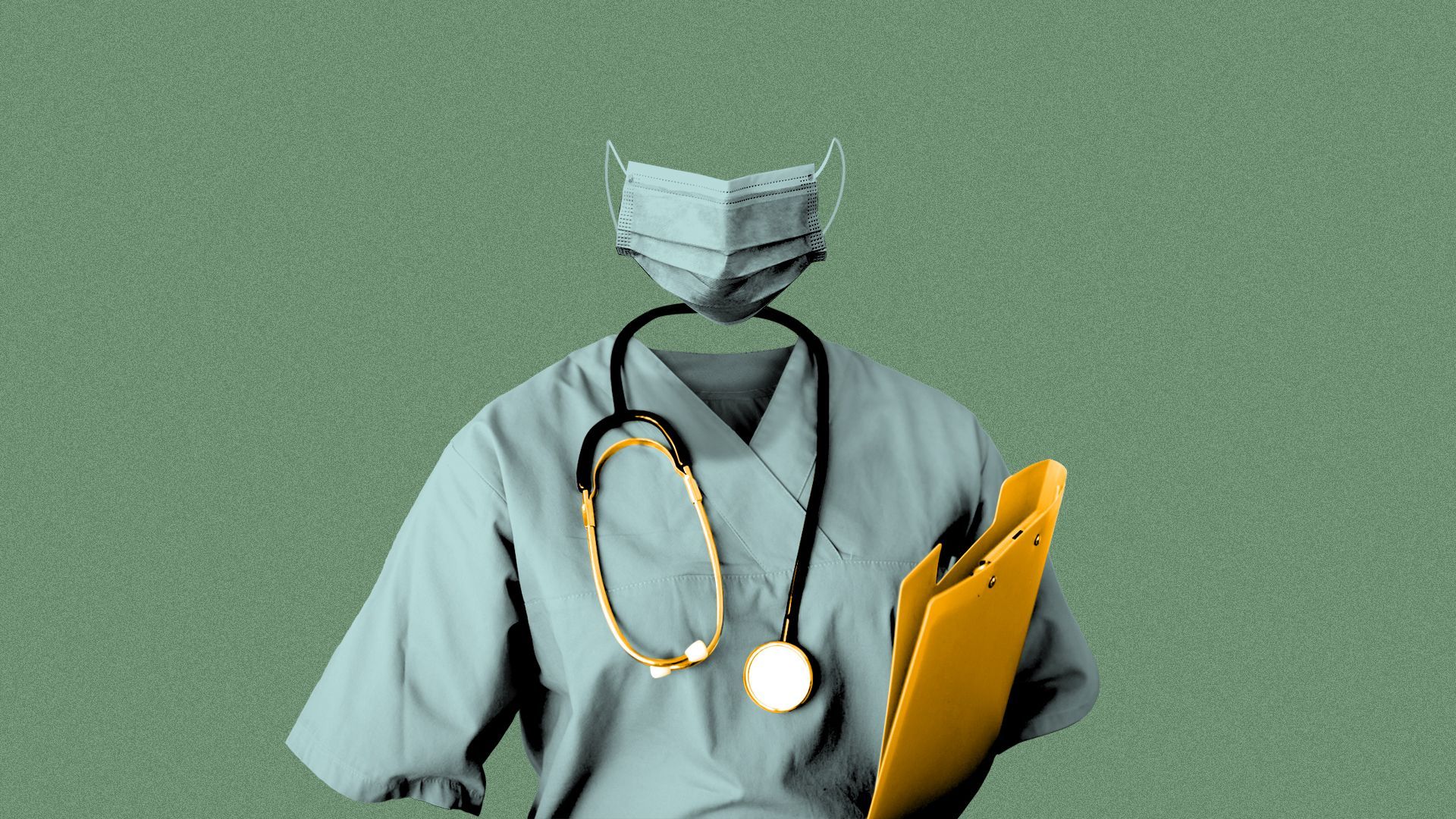 A fight over nursing home staffing mandates is pitting an industry that was at the epicenter of the pandemic against organized labor and some senior lawmakers in Congress.
The big picture: The Biden administration this spring wants to make every facility have enough adequately trained staff to provide high-quality care. But operators say they can't hire people out of thin air after COVID-19 hollowed out the long-term care workforce.
There's never been a federal requirement for minimum number of staffing hours per resident day, despite numerous studies showing high staffing levels translate to better quality care, according to KFF.
Driving the news: The industry's opposition to staffing mandates is rankling lawmakers like Democratic Reps. Jan Schakowsky and Lloyd Doggett, who accuse nursing home operators of diverting federal funds away from patient care to lobbying, per McKnight's Long-Term Care News.
The Service Employees International Union is also mounting rallies around the country and pressing the administration to finalize the reform effort.
"I am tired and frustrated and hurt that people have to live like this," said Shantonia Jackson, an SEIU member and certified nursing assistant in Illinois, who had to care for 31 residents on a recent shift with just one other nursing assistant.
Where things stand: Nursing homes have been understaffed for decades: the Department of Health and Human Services in 2003 found the vast majority of facilities were not meeting state staffing ratios where they existed.
The pandemic experience made things worse. More than 1 in 5 of all COVID-19 deaths in the U.S. took place in long-term care settings. And an estimated 200,000 care workers have left and there are 37,000 fewer beds available in facilities since 2020.
The Centers for Medicare and Medicaid Services is conducting a staffing study and meeting with advocates, nursing home staff and residents to inform whatever standards it devises, per the Washington Post.
But the industry argues any changes will require more spending. "How do they increase that workforce without increasing costs?" said Rodney Whitlock, vice president at McDermott+Consulting, which has nursing home clients.
Leading Age, a group representing nonprofit aging services providers, has called for a Medicaid fee-for-service rate to cover at least 95% of the cost of care if a staffing standard is to go into effect.
Nursing homes already rely heavily on Medicaid: the safety net program is the primary payer for 62% of the nation's nursing home residents, per KFF.
What they're saying: Staffing standards are "not something [the Biden administration] had to do, but they've chosen to prioritize this," said Eric Carlson, director of long-term services and supports advocacy at Justice in Aging.
"Suppose they come up with a staffing ratio that we think is really good: that doesn't mean anything if it's not enforced, it has to be real," Toby Edelman, senior policy attorney at the Center for Medicare Advocacy, told Axios.
The other side: Nursing homes argue that they can't comply with staffing standards when there are no workers to hire.
"To me it feels like we need to put first things first, and the first thing would be how do you stimulate the care economy?" said Clif Porter, senior vice president of government relations at the American Health Care Association, which represents the majority of nursing homes.
Industry lobbyists are focusing their efforts on CMS and other executive branch agencies, with Congress tied up in negotiations on raising the debt ceiling.
Short of providing more federal funding to help nursing homes meet staffing standards, the industry says they will be forced to close facilities, beds or limit access to care.
What's next: The AHCA's Porter sees opportunities for compromise, by phasing in staffing mandates, starting with a pilot program or broadening the definition of staff beyond direct-care workers.
"But at the end of the day, we will need to evaluate the totality of the proposal to determine whether it is realistic, or if it will only reduce access to care," he added.
Go deeper