Biden administration proposes new nursing home staffing standards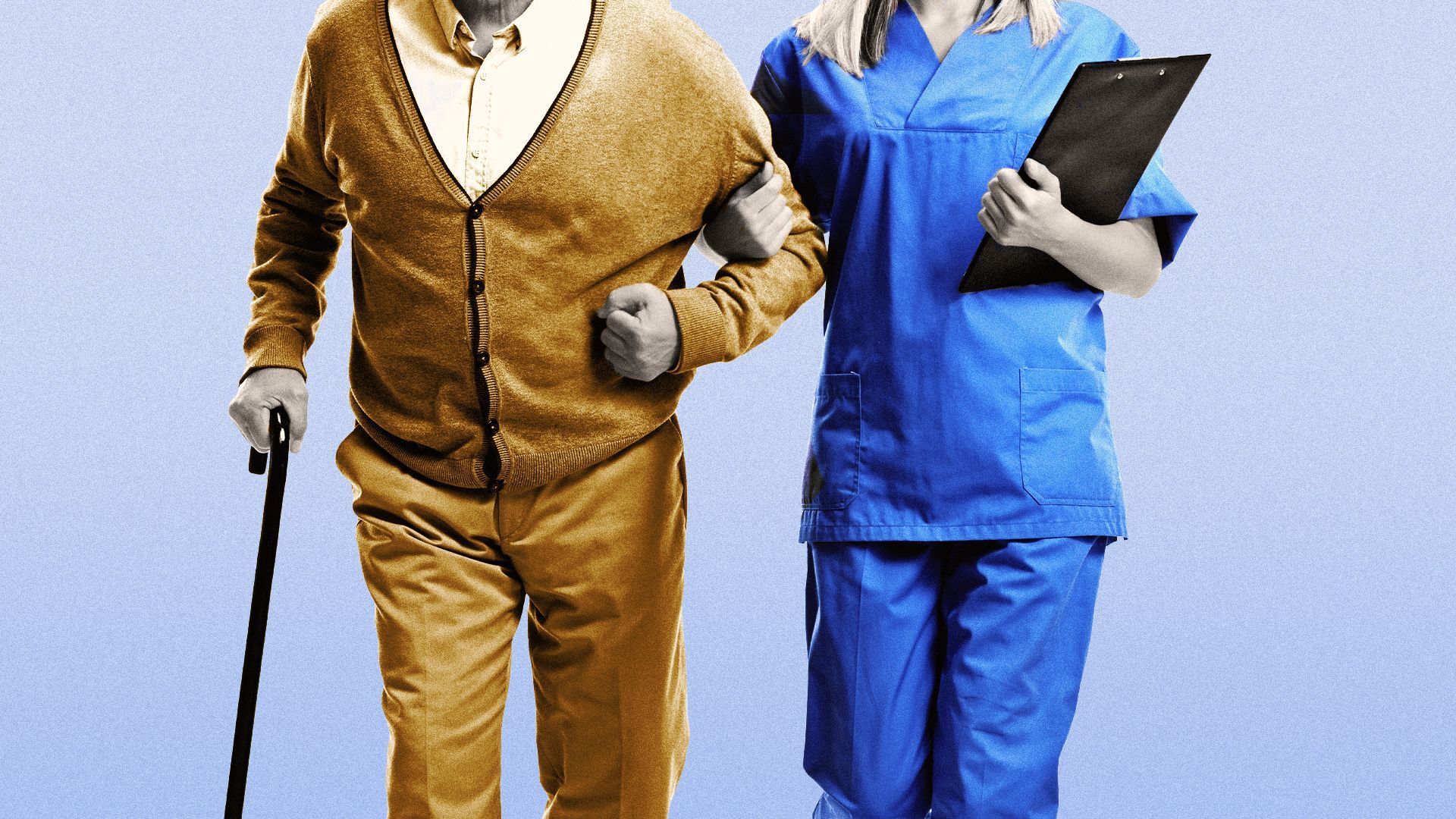 Nursing homes would have to ensure they provide each patient at least 33 minutes of care a day from a registered nurse under a new nationwide staffing requirement the Biden administration proposed on Friday.
Why it matters: The policy is a blow for the nursing home industry, which has said a national staffing ratio would be "impossible to implement" without more funding. But organized labor and some lawmakers in Congress have argued for tough new standards, accusing some operators of diverting funds from patient care.
The details: If the proposal is finalized, nursing homes will also need to provide at least two hours and 27 minutes of care from a nurse aide per resident each day.
Registered nurses would need to be on site at the nursing home 24 hours a day, seven days a week.
CMS plans to implement the policy over three years, with later start dates for rural facilities.
The Centers for Medicare and Medicaid Services, which issued the policy, estimates 75% of nursing homes need to ramp up staffing to meet the standards.
Officials estimate the policy will cost $40.6 billion over 10 years, and that facilities will bear most of these costs, unless insurers increase their rates.
The administration will allow facilities to apply for exemptions. CMS will also accept comments on other options for adopting staffing standards, officials said in a fact sheet.
What they're saying: "To say that we are disappointed that President Biden chose to move forward with the proposed staffing ratios despite clear evidence against them is an understatement," Katie Smith Sloan, CEO of LeadingAge, the association of nonprofit providers of aging services, said in a statement.
Context: President Biden last year directed CMS to come up with a minimum staffing adequacy level for nursing homes to ensure high-quality care for patients.
Biden has made a priority of overhauling the industry after the facilities accounted for a disproportionate number of deaths during the pandemic.
"As a country, we're delivering a clear message to the nursing home industry: no more padding profits on the backs of residents and nurses," Biden wrote in a USA Today op-ed Friday. "If you tell families you'll take care of their loved ones, then follow through."
Unions, who believe the staffing standards will help bring caregivers back to an industry that's struggled to attract workers, cheered the Biden proposal. "The days of irresponsible nursing home owners jeopardizing the health and safety of nursing home workers and residents must end now," SEIU International president Mary Kay Henry said in a statement.
Most states already have their own required staff-to-patient ratios for nursing homes, but this will be the first nation-wide requirement.
A report commissioned by CMS following last year's directive did not recommend a specific staffing level, but noted that research shows nursing homes with higher staffing levels provide better care, Kaiser Health News revealed earlier this week.
By the numbers: Close to 90% of nursing homes had at least moderate staffing shortages as of June 2022, according to a survey conducted by the American Health Care Association, a nursing home trade group that has ardently opposed staffing ratios.
What's next: CMS is accepting comments on the draft policy until Nov. 6.
Go deeper