America's nursing homes fight to find enough caregivers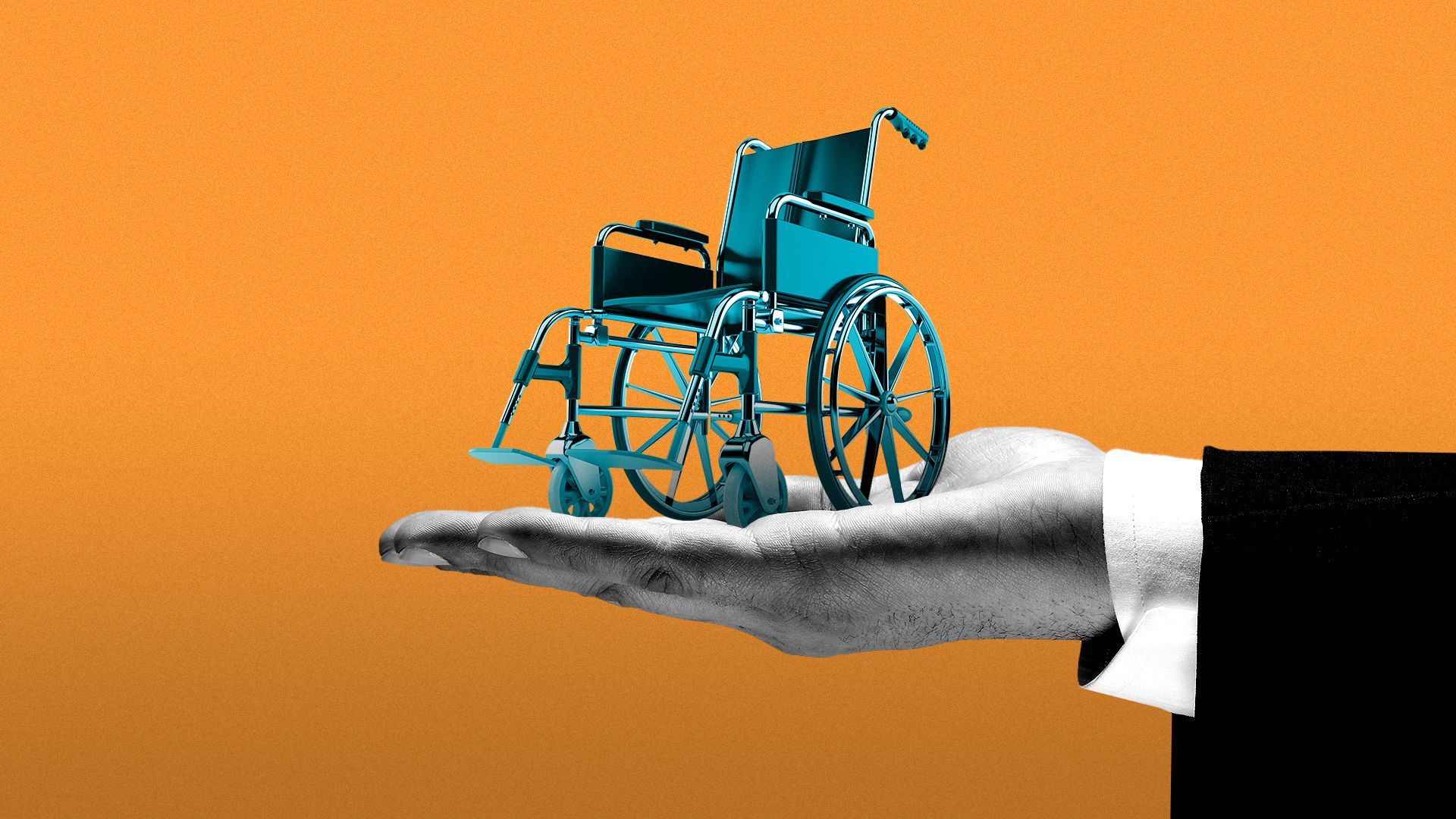 Skilled nursing and assisted living facilities across the country are having trouble hiring enough caregivers, and many have turned to perks like referral bonuses and transportation to lure more talent.
The big picture: The industry historically grappled with high employee turnover for its lower-skilled jobs. But now nursing facilities are facing reputational hits from the pandemic and a red hot market for minimum wage workers.
"We're not just competing with the restaurants and hotels for workers here," said Tina Sandri, CEO of Forest Hills, which offers assisted living and skilled nursing care in Washington D.C. The industry is fighting for hourly and nursing staff amongst each other and other hospitals giving out much more competitive pay right now, Sandri tells Axios.
Zoom out: As more than 10,000 Americans turn 65 every day, BLS has projected the home health and personal care aide workforce to grow more than 20% by 2029, the highest in any industry.
By the numbers: The latest labor report shows that the health care sector lost about 2,400 nursing home and residential care jobs. It was a vast improvement from April which showed a drop of more than 19,000 jobs, but still down.
Some nursing home unions have been advocating for $15 hourly pay. 2020 BLS data show the median hourly wage for home health and personal care aides is $13.02. Median pay for nursing assistants is $14.82 an hour.
The state of play: Medical schools and nursing schools have seen a boost in applicants inspired by front-line "health care heroes," but that glow hasn't extended to hourly-wage jobs, Natalie Seehausen, senior executive director at Vista Prairie in Garnette Gardens, Minn. tells Axios.
"We tend to see the entry-level as still scary for people," she said, referring to the rampant spread of COVID in many nursing homes.
What's happening: Some nursing home managers pointed to the difficulty in advertising competitive wages, weighing their dependence on Medicaid reimbursement rates and how much clients can pay out of pocket. But the demand for workers has required them to increase compensation.
Forest Hills in D.C. and Vista Prarie in Minnesota are among those offering hiring bonuses. Forest Hills is also offering perks for picking up extra shifts and attendance streaks.
An Avamere Family of Companies in Oregon nursing home raised wages from $13.86 to $18 an hour in May, a move its union said would have never happened if the pandemic didn't expose workforce attrition. Union leaders are now advertising the jobs to win back workers who left during the pandemic for work they saw as less risky, such as retail.
Yes, but: The new perks for hiring are a short-term solution to reputation optics that worsened during the pandemic, Tara Sklar director of the Health Law & Policy Program at the University of Arizona, tells Axios.
"They can't just expect to put out a vacancy sign and people are going to sign up," she said. "The whole country saw death for over a year in these facilities."
Several leaders of the facilities recognized the long-term challenges of retention are a tougher fix.
What to watch: The American Health Care Association and National Center for Assisted Living have been lobbying Congress for help to finance more long-term solutions like providing student loan forgiveness, developing assistance programs for affordable housing and childcare and providing scholarships for non-medical caregivers to help become registered nurses.
President Biden has proposed $400 billion to expand access to home care and has advocated for home-care worker unions and higher wages.
Go deeper