Biden and Xi agree to curb fentanyl production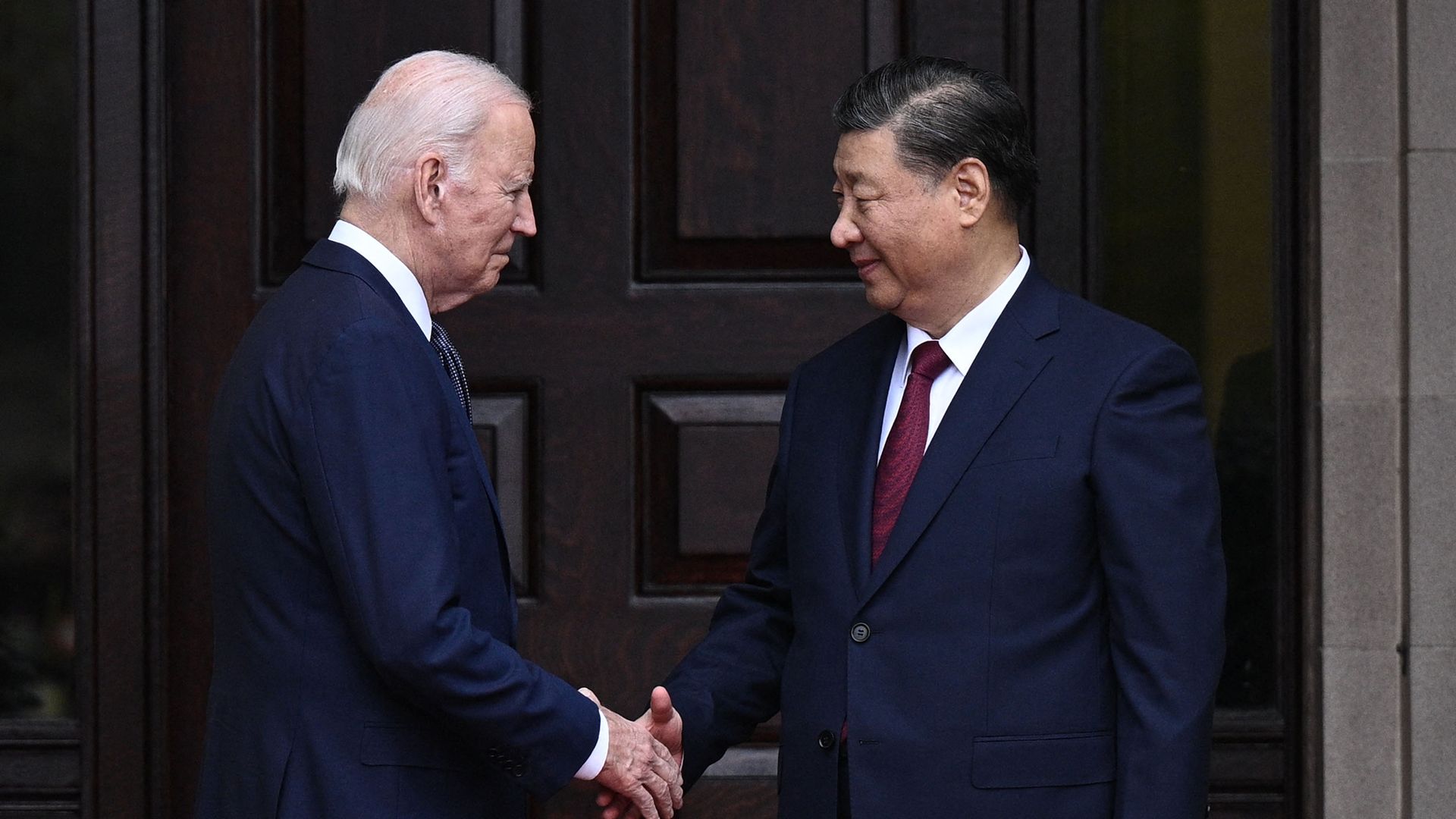 President Biden said Chinese leader Xi Jinping on Wednesday agreed to take steps to crack down on companies in China that produce chemical precursors for fentanyl.
Why it matters: An epidemic of fentanyl-related deaths in the U.S. is worsening as bipartisan consensus erodes about the causes and possible solutions.
The Biden-Xi deal to crack down on a major source of fentanyl to the U.S. could be a domestic win for the Biden administration — both politically and in terms of its effect on the country's fentanyl supply.
Biden said in a press conference after Wednesday's meeting that the agreement is going to save lives
"I appreciate President Xi's commitment on this issue," he added.
By the numbers: Nearly 107,000 Americans died from a drug overdose in 2021, and three-quarters of those deaths involved opioids, per the CDC. The vast majority of opioid deaths were from synthetic opioids, which include fentanyl.
The U.S. overdose death rate involving fentanyl more than tripled between 2016 and 2021, according to a CDC report published earlier this year.
Details: The agreement is aimed at limiting the manufacturing and export of fentanyl precursor molecules from China to Mexico, where much of the synthetic opioid in the U.S. now originates.
In 2019, China banned the production sale and export of all fentanyl-related drugs in most circumstances, but that simply shifted the supply chain around.
Cooperation on fentanyl has previously become entangled in broader geopolitical tensions. Last year, for example, China suspended cooperation with the U.S. on the issue to protest then-House Speaker Nancy Pelosi's trip to Taiwan.
Before that, cooperation had stalled after the U.S. sanctioned a Chinese government entity for its alleged involvement in human rights abuses — a factor in the new agreement as well.
What they're saying: "To be clear, this agreement will not end our fentanyl problem, but it will create challenges for drug traffickers and that's a good thing," said Keith Humphreys, a professor at Stanford University.
"This raises risks for the people who produce the precursor chemicals in China. This will cause some of them to leave the business and others to raise their prices to compensate for the increased risk of arrest," he added.
"Both of those things can cause disruptions in the drug trafficking business."
Yes, but: The impact of the agreement will depend on what kind of law enforcement actions China takes and how long it remains committed to them.
China may "expect greater strategic payoff" than it's likely to get under the deal, said the Brookings Institution's Vanda Felbab-Brown.
"I would expect in a matter of time…the will to be moving robustly against the smugglers of precursors is going to weaken," she said, especially if Beijing is hoping for a reduction in anti-China sentiment.
"The White House won't be able to control the Republican side, especially as we head into elections where the issue of overdose deaths will be paramount for many constituencies," Felbab-Brown added.
Go deeper: China uses DNA to map faces, with help from the West (NYT)
Go deeper