Some Democrats push back in financial regulation fight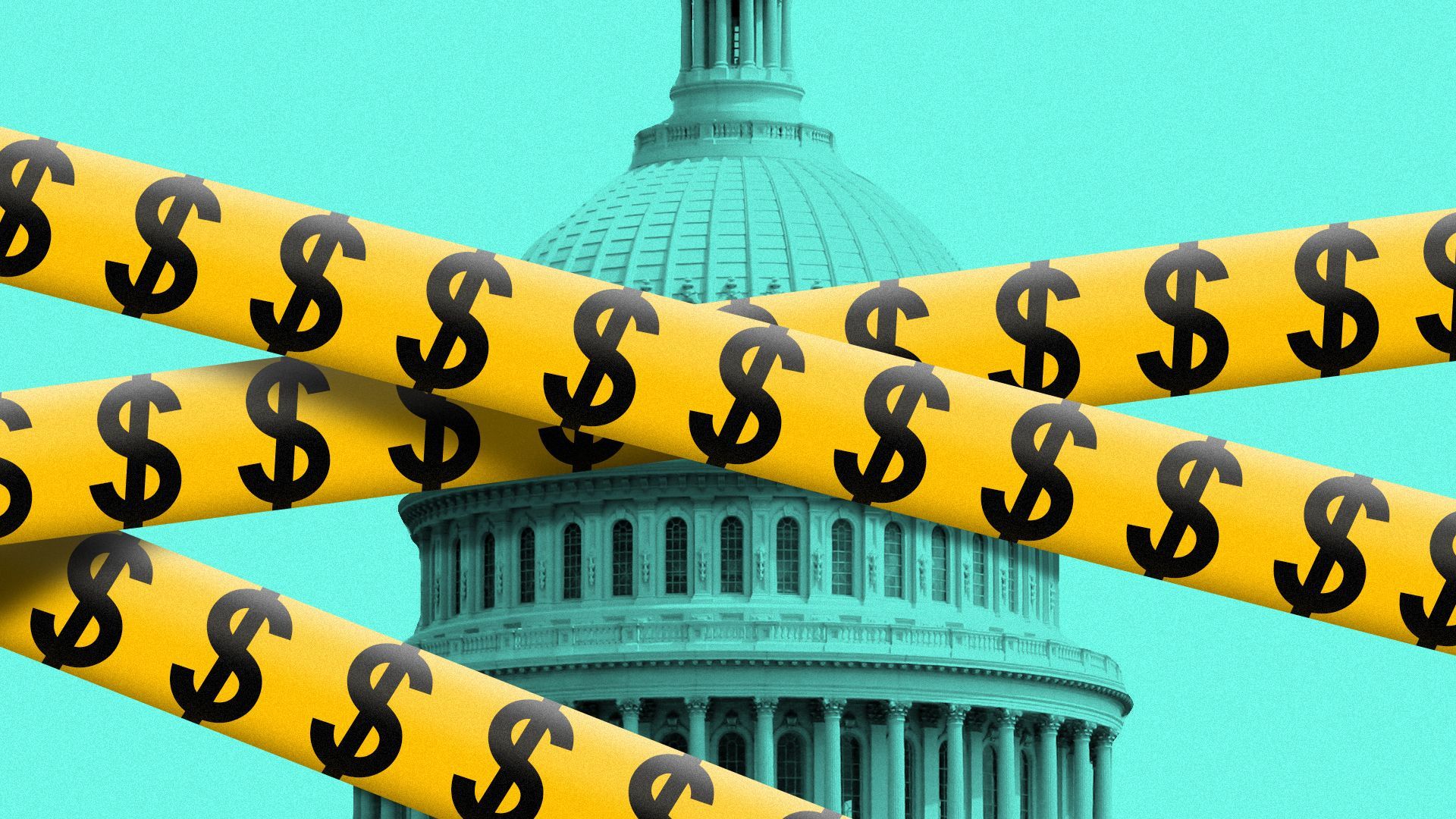 The fight over capital standards for the biggest banks has gotten more interesting, as displayed the last few days on Capitol Hill.
Driving the news: As the Fed and other regulators push to tighten the screws on the largest banks — requiring they hold more capital in hopes of creating a more stable financial system — there is now pushback from at least a few Democrats, who worry about the knock-on effects for their priorities.
It suggests a more fluid political backdrop as bank regulators look to finalize the so-called Basel III endgame suite of rules.
Republicans and the banking industry have been dead-set against the proposals all along, but now they have important allies to whom the Biden appointees voting on the rules will likely pay more heed.
State of play: The proposal was introduced over the summer; last month, the comment period on the rules was extended until mid-January amid complaints that the original timeline was rushed and didn't allow stakeholders to study the rules properly.
Two days of testimony by leading bank regulators this week displayed some shifting of the political ground.
Details: Democratic Sen. Jon Tester of Montana complained that the rules could damage small businesses by cutting off the flow of credit.
Sen. Chris Van Hollen, a Maryland Democrat, raised the possibility that higher capital standards will stymie investment in clean energy. It comes at a time when higher interest rates are already making some wind and solar projects less viable.
Sen. Bob Menendez of New Jersey emphasized the risk that higher capital requirements for mortgage loans to perceived risky borrowers will disproportionately throttle credit to low-income and minority homebuyers.
What they're saying: "From a small business standpoint, if this rule doesn't work, it's gonna raise hell with the economy of my state," Tester said Tuesday.
"I really want to make sure that you are listening to legitimate concerns," said Sen. Mark Warner of Virginia.
The other side: "Higher capital requirements make banks safer, but they also nip into profits and make it harder for CEOs to pull in multimillion-dollar bonuses," said Sen. Elizabeth Warren of Massachusetts at the hearing.
"The CEOs and their big-time investors have hired an army of lobbyists to stop the new capital standards from ever seeing the light of day," said Warren.
"If we don't get tougher capital requirements, the next time there's a problem, it's taxpayers who will be forced to pick up the slack."
Fed vice chair for supervision Michael Barr and the other Biden-appointed bank regulators leading this charge will face big tradeoffs as they look to revise the proposed rules to reflect incoming concerns.
Between the lines: They have the votes. The Fed's seven-person board of governors, for example, includes five Biden appointees (or four, if you don't count chair Jerome Powell, whom Presidents Obama, Trump, and Biden appointed).
But if the rules are enacted without some bipartisan consensus, they may be more vulnerable to being abruptly reversed when the next Republican president is elected — and alienate centrist Democrats like those who raised concerns in this week's hearings.
Why it matters: The longer the regulators take, the more the rule-making process could stretch into an election year. But if they rush the process, it could add ammunition to potential banking industry litigation arguing that proper administrative procedures were not followed.
"Litigation would slow down the process, and any delay in finalizing or implementing the proposal could increase the risk that a Republican administration (if a Republican candidate wins in 2024) would scrap the proposal," wrote Brian Gardner, Stifel's chief Washington policy strategist, in a note this week.
"Therefore, banking regulators might decide that it is in their interests to modify the proposal in an attempt to avoid possible litigation," he added.
Their choices, he wrote, include watering down the rules to claim victory and potentially avoid being sued, or holding out and taking their chances that Biden is re-elected.
Go deeper