Regulators defend new banking rules proposal in Senate testimony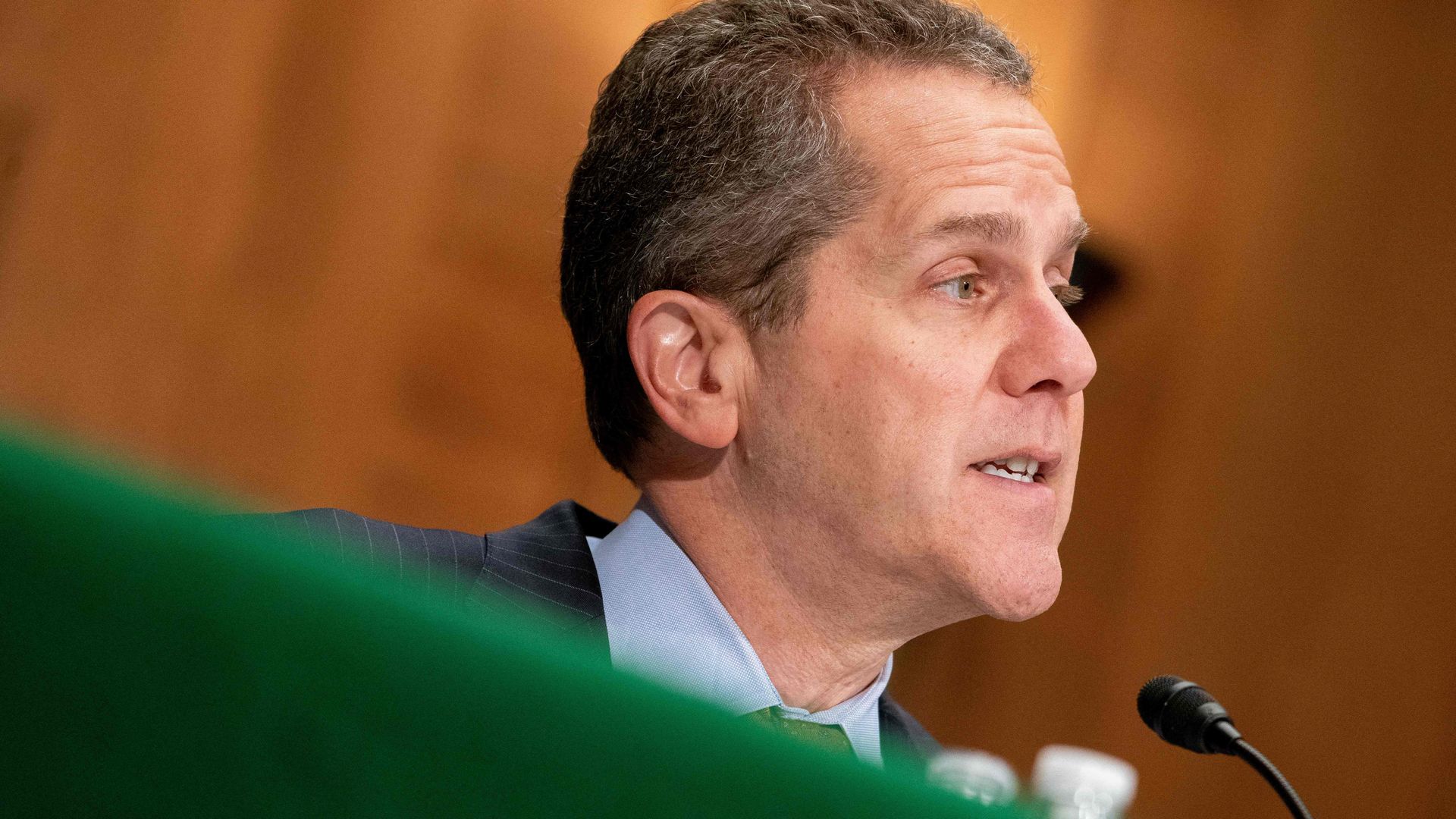 The Federal Reserve's top bank cop, Michael Barr, defended a new proposal by regulators to tighten capital rules for banks — but left the door open for changes in response to criticism before the rules are finalized next year.
Why it matters: The banking industry and many Republicans in Congress have mobilized against the new rules. Opponents say they will constrain lending, hurting lower-income borrowers and small businesses, while proponents say they will make banks safer and avert banking sector crises.
Driving the news: Barr, the Fed's vice chair for supervision, testified before the Senate Banking Committee on Tuesday along with the heads of three other regulatory agencies.
The testimony is part of the banking regulators' regular reports to Congress — and in this session they spent much of their time defending their new regulations.
Catch up fast: The Fed, along with the Federal Deposit Insurance Corp. (FDIC) and the Office for the Comptroller of the Currency, created the proposed rules, known as Basel Endgame.
Key among the changes: a requirement for banks to hold more capital against many of their loans and other risky positions. That could take a bite out of banks' profits.
What they're saying: Barr stressed that the rules would only apply to banks with at least $100 billion in assets — 37 of the 4,000-plus banks in the U.S. banking system.
Both Barr and FDIC chief Martin Gruenberg, who also testified, said that community banks would not be affected by the change.
Most of the capital increases will apply to trading and derivative activities, not to lending, Barr said.
Yes, but: With lending already constrained amid higher interest rates, senators peppered the regulators with questions about whether the new rules would crimp lending even more and hurt the economies in their states.
Senator Mike Rounds (R-S.D.) said the rules would have "detrimental impacts such as limiting the availability of credit for housing in low and moderate income communities, severely restricting small business lending and decreasing the retirement savings of hard working Americans."
Republican Senators sent a letter to the regulators over the weekend outlining concerns like those. It demanded that the Fed withdraw the Basel Endgame proposal altogether.
At Tuesday's hearing, Democratic Senators including Mark Warner (Va.), Jon Tester (Mont.), and Bob Menendez (N.J.) also urged the regulators to explain their thinking on how the rules would impact ordinary Americans.
"I do have some concerns about the proposed changes, and how its impact will be on workers and households and small businesses' access to credit, and the overall vibrancy of our capital markets," Tester said.
In response: Barr said numerous times that he's open to feedback and to revamping aspects of the rule.
"We're quite open to comment, and we want to improve the rule before we get to a final rule," Barr said. "We do care very much about access to credit for low and moderate income borrowers. We hear those concerns and we will very much take those into account as we work to finalize the rule."
"We're deeply sensitive to this issue," Gruenberg added. "I'm hopeful that we'll be able to address this issue in the final rule in a satisfactory way."
What's next: The Basel Endgame comment period has been extended from the original Nov. 30 deadline to run through Jan. 16.
Go deeper