Big banks are about to get safer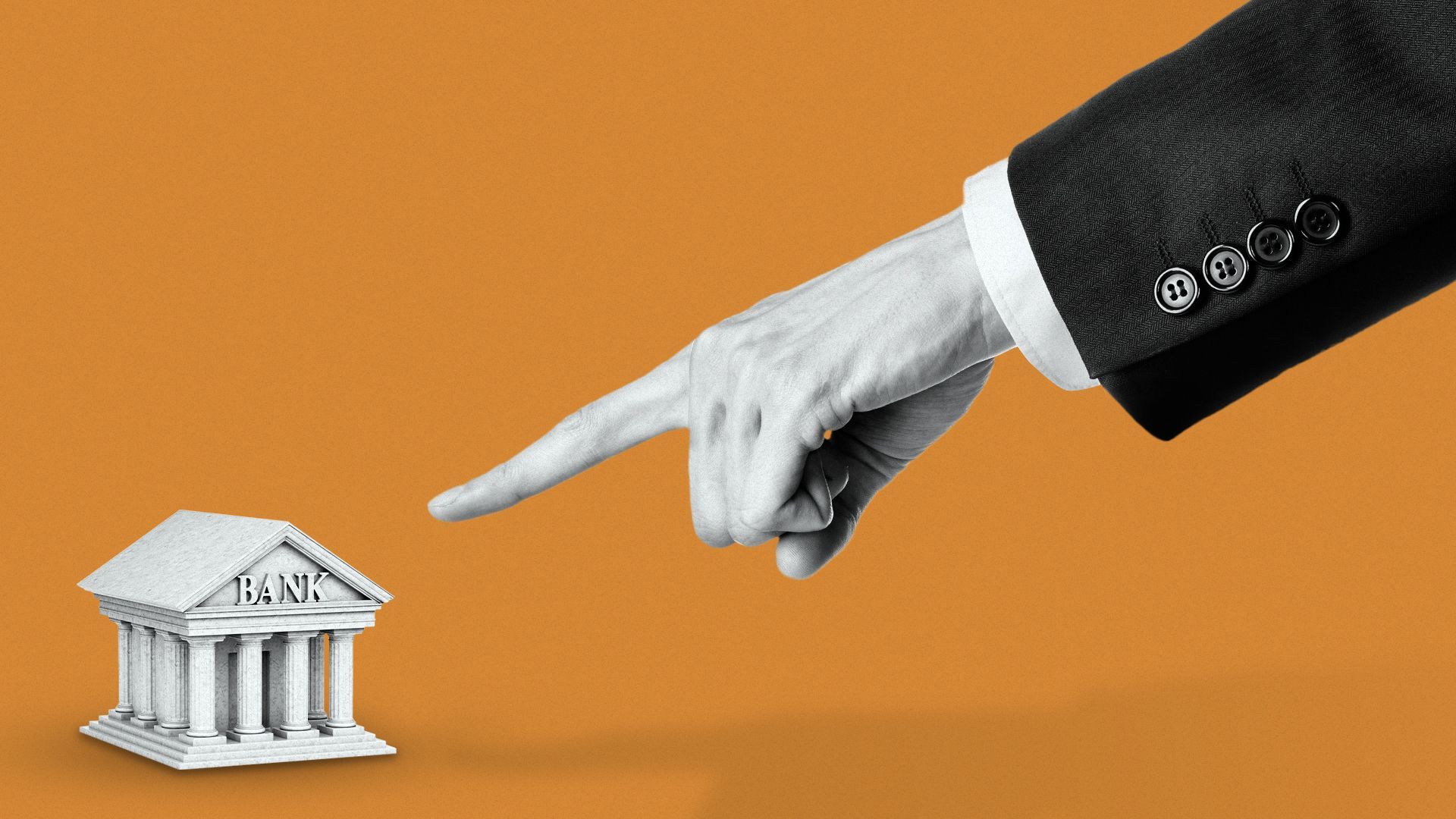 The huge and very risky banking industry is likely to see a major toughening of regulations in the near future.
Why it matters: Just as the FTX debacle gave the SEC all the reason it needed for a crypto crackdown, the 2023 banking crisis has given the Fed justification for forcing banks to increase their equity capital.
Driving the news: The WSJ's Andrew Ackerman reported this week that big banks' capital requirements could be raised by as much as 20% in a proposal from regulators expected "as early as this month."
That number aligns with estimates from TD Cowen's Jaret Seiberg that bank capital requirements will rise by about 2 percentage points on average, with higher raises for the biggest "mega banks."
Current capital requirements range from 7% for some regional banks up to 12% for JPMorgan and 13.3% for Morgan Stanley and Goldman Sachs.
Between the lines: Now is a good time to increase capital requirements, since big banks are flush from a series of good years. JPMorgan's capital stands at $227 billion or 13.8%, for instance, which means a 2.5-point hike in capital requirements to 14.5% would only mean a 0.7-point increase in extra needed capital.
What they're saying: "Empirical research supports the social benefits of strong capital requirements at banks," said Federal Reserve vice chair Michael Barr in December speech entitled "Why Bank Capital Matters."
"Better capitalized banks have the capacity to support the economy by continuing to lend to households and businesses through stressful conditions."
Flashback: The global financial crisis of 2008-09 proved that most of the world's banks were inadequately capitalized.
The world's bank regulators convened in Basel, Switzerland, to fix that problem — and in September 2010 they announced a new set of capital adequacy standards, known as Basel 3.
Basel 3 was — and is — the most impressive feat of regulatory coordination I've ever seen. But even now, 13 years later, it's not fully implemented.
What's next: No one can agree on what to call it — it's variously known as Basel 3.1, Basel 4 or Basel Endgame — but a pandemic-delayed final adjustment of U.S. capital adequacy rules finally seems to be nigh. (Europe already released its Endgame rules in late 2021.)
Loans to commercial real estate in particular might end up requiring much more capital than they currently do, per Seiberg.
The bottom line: The latest increase in capital requirements has been a very long time coming. The recent banking crisis is going to make it much harder for banks to object to it.
Go deeper