Top Fed official recommends tougher rules for large banks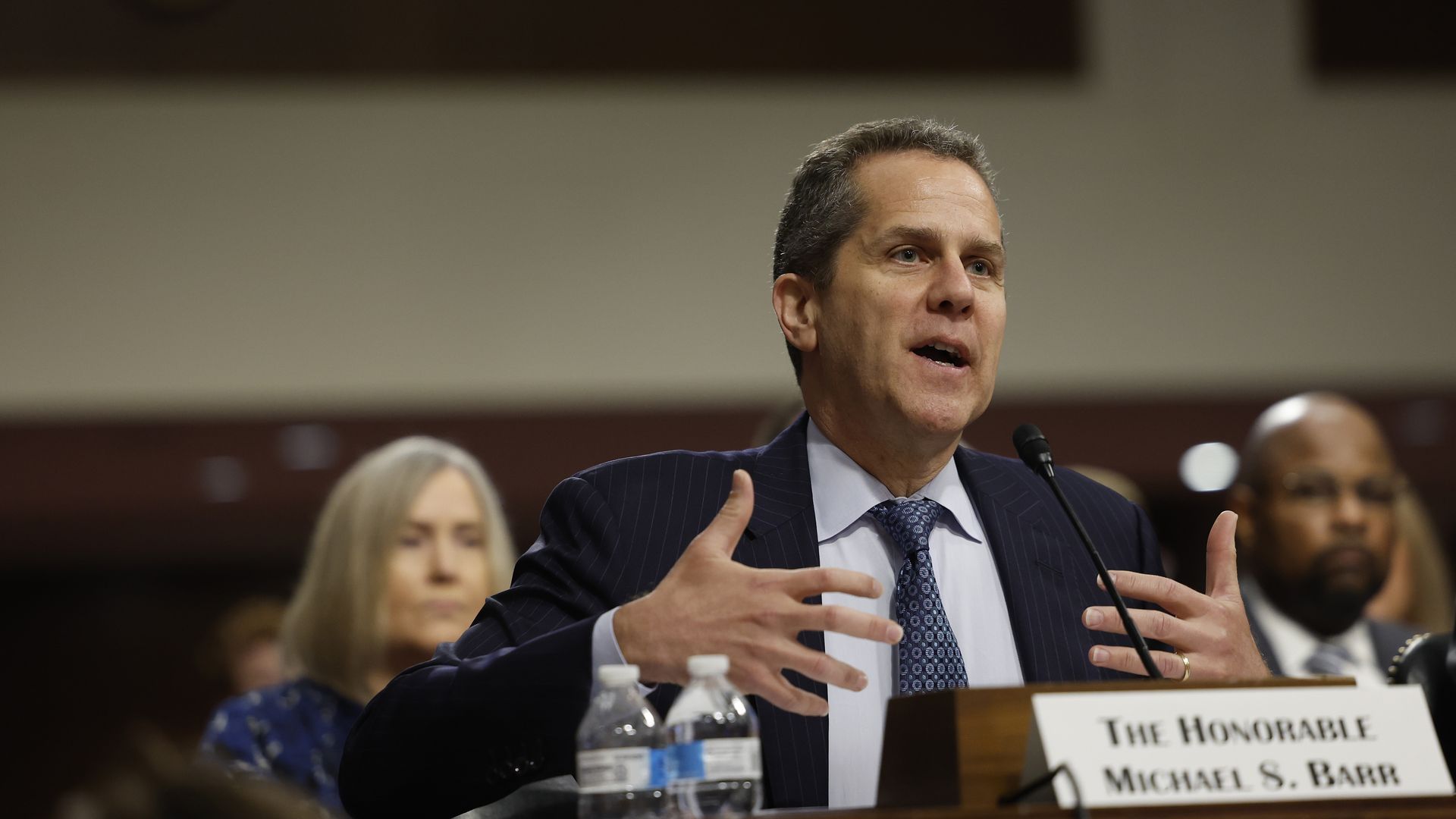 The nation's top financial regulator warned in a major speech Monday morning that a wider swath of America's banks will be forced to beef up their capital.
Why it matters: Nine months ago, Federal Reserve vice chair for supervision Michael Barr started a sweeping review of current capital rules. In the time since, the failure of three large regional banks added urgency to the effort.
The result is a set of proposals aimed at preventing a repeat of those events, and better safeguarding the banking system. Barr offered the most detailed look yet at the tougher regulatory era likely ahead for America's financial institutions.
What they're saying: "The beauty of capital is that it doesn't care about the source of the loss," Barr said at the Bipartisan Policy Center.
"Whatever the vulnerability or the shock, capital is able to help absorb the resulting loss and, if sufficient, allow the bank to keep serving its critical role in the economy," he added.
Between the lines: The nature of the proposals — indeed, Barr suggested some of them would have lessened the blow from Silicon Valley Bank's failure, or helped prevent them altogether — show how this spring's events influenced how regulators think about financial risks.
"In an obvious way, the failures of SVB and other banks this spring were a warning that banks need to be more resilient, and need more of what is the foundation of that resilience, which is capital," Barr said.
The rules are subject to comment and will have a lengthy phase-in period.
The other side: "It really seems like this is recommending knee surgery for a wrist injury," Hugh Carney, a senior vice president at the American Bankers Association, said later at the same event. He argued the recent banking woes were not a result of inadequate capital.
Details: Barr will recommend tougher capital rules for banks with $100 billion or more in assets, roping in mid-sized institutions to tougher rules — not just the global mega-banks like Citigroup and JPMorgan Chase.
"The risk of contagion implies that we need a greater degree of resilience for these firms than we previously thought," Barr said. "[T]he losses posed to society by the failure of a given firm are greater, and the probability that another firm may be a victim to another firm's failure are higher."
Of note: Barr also proposed that unrealized losses (and gains) on security portfolios be taken into account when calculating regulatory proposals — a change that might have made SVB's demise less likely.
He also proposed a long-term debt requirement for banks with $100 billion or more in assets, which Barr said would reduce losses borne by the Federal Deposit Insurance Corporation when resolving banks.
What to watch: Expect more fierce opposition to the higher capital requirements from the banking industry, which has already warned that tougher rules could impact the economy. Republican lawmakers assailed Fed chair Jerome Powell on the topic last month.
Go deeper