Gaza hostage talks focus on length of proposed ceasefire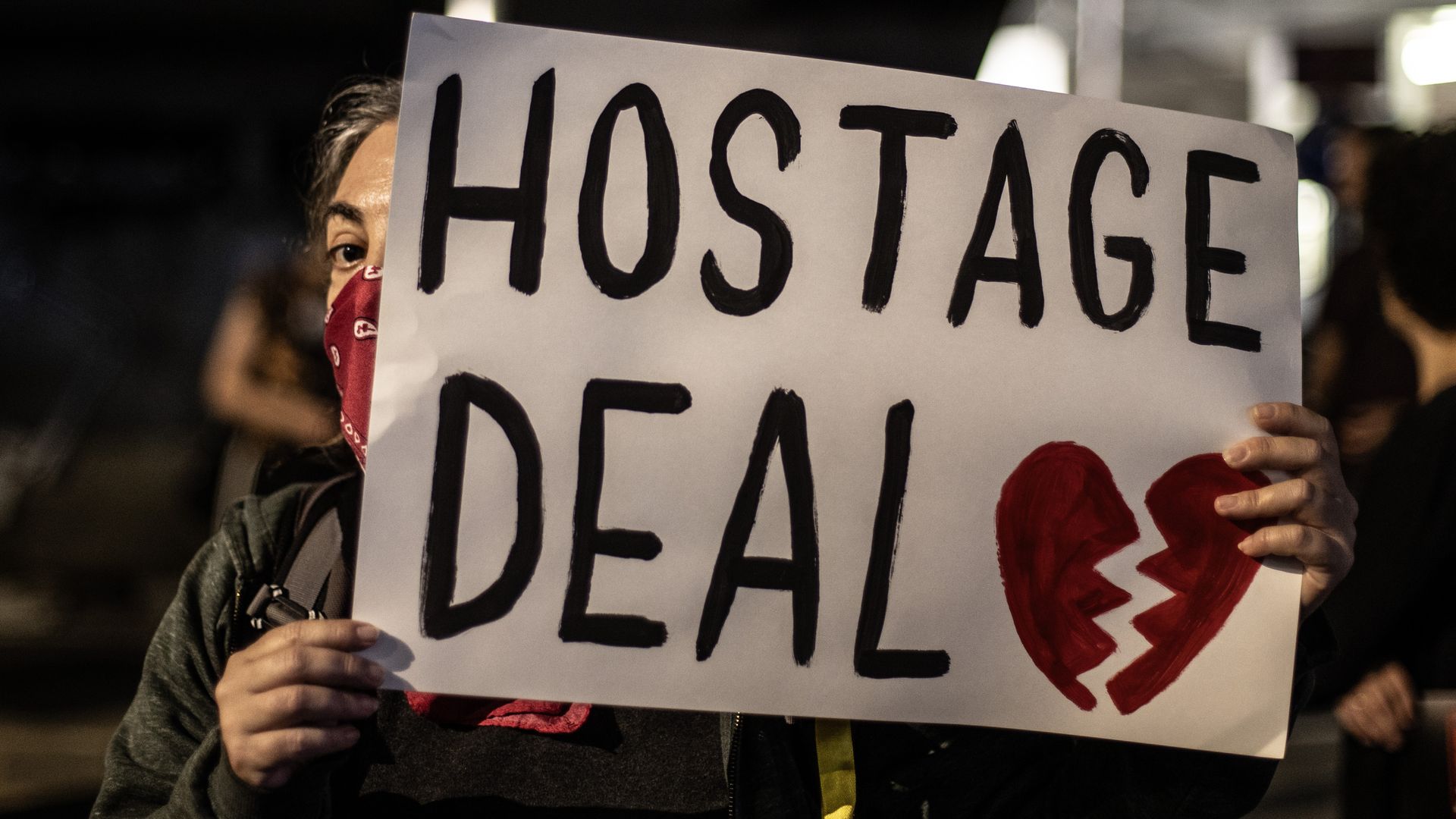 The negotiations between Israel and Hamas over a possible deal to release hostages held in Gaza are focused on how many days Israel would allow for a ceasefire in exchange for Hamas releasing some hostages, three sources with knowledge of the talks tell Axios.
Why it matters: The indirect negotiations — conducted through a mediation effort led by Qatar — represent the most significant diplomatic effort now taking place that could lead to a pause in the fighting that began when Hamas attacked Israel on Oct. 7.
Israel — which after weeks of bombing Gaza now has troops on the ground there looking for Hamas leaders and militants — has said it will agree to a temporary cease fire only if a significant number of the 240 hostages held by Hamas and other factions are freed.
Driving the news: During the talks that have taken place since Israel's ground operation in Gaza began two weeks ago, Qatari mediators have given the Israeli government two proposals from Hamas, according to two of the sources.
The first proposal called for the release of 18 hostages — including women and children — in return for a three-day ceasefire, the two sources said.
The sources added that Israel's war Cabinet rejected that proposal, saying it would agree to a pause in the fighting of no more than 24 hours in exchange for the release of so few of the hostages.
The second proposal discussed in recent days would include a gradual release of a larger number of hostages over several days, during which there would be a pause in the fighting. The sources said Hamas asked for five days; Israel doesn't want any more than three.
Under this plan, on the first day of the ceasefire Hamas would release 50 women and children it's holding in Gaza and can release immediately, without coordinating with other factions who are holding some of hostages.
After that, Hamas would release another 10 hostages every day for the remainder of the ceasefire. If the terror group didn't, the ceasefire would expire.
The sources said that as part of this proposal, Israel would release, in several groups, Palestinian women, teenagers and elderly people being held in Israeli prisons.
Israel also would allow large amounts of fuel into Gaza under UN supervision, for use by hospitals and bakeries, and would commit to allowing 200 aid trucks into Gaza each day. The sources said this would require cooperation from nearby Egypt.
Behind the scenes: The negotiations have been hindered by difficulties in communicating with Hamas leaders in Gaza, one of the sources said.
Another hurdle: Because Hamas doesn't have all the civilian hostages in Gaza under its control, it needs to reach understandings with the Palestinian Islamic Jihad and others when negotiating potential hostage releases.
Several dozen hostages are held by the Palestinian Islamic Jihad and a small number are held by a local gang in southern Gaza called "Al-Shabiha."
State of play: Israeli and U.S. officials say there are unresolved issues in the negotiations, and it's unclear whether a deal can be reached in the next few days.
A source briefed on the issue said the raid on Gaza's al-Shifa hospital by the Israeli Defense Forces angered Hamas and could complicate the talks in the short term.
Israeli Minister of Defense Yoav Gallant said Wednesday the ground operation in Gaza — where the Hamas-controlled health ministry has reported more than 11,000 deaths from Israel's counterattack — is increasing pressure on Hamas to negotiate over the hostages.
"Hamas only understands force," Gallant said. "They are now willing to pay for even a short pause."
What to watch: President Biden's top Middle East adviser, Brett McGurk, and the State Department's senior Middle East diplomat, Barbara Leaf, are expected to visit Doha on Sunday to meet with Qatari's prime minister and discuss the hostage issue.
Go deeper