Hunter Biden lawyers seek to subpoena Trump, alleging bias in his criminal case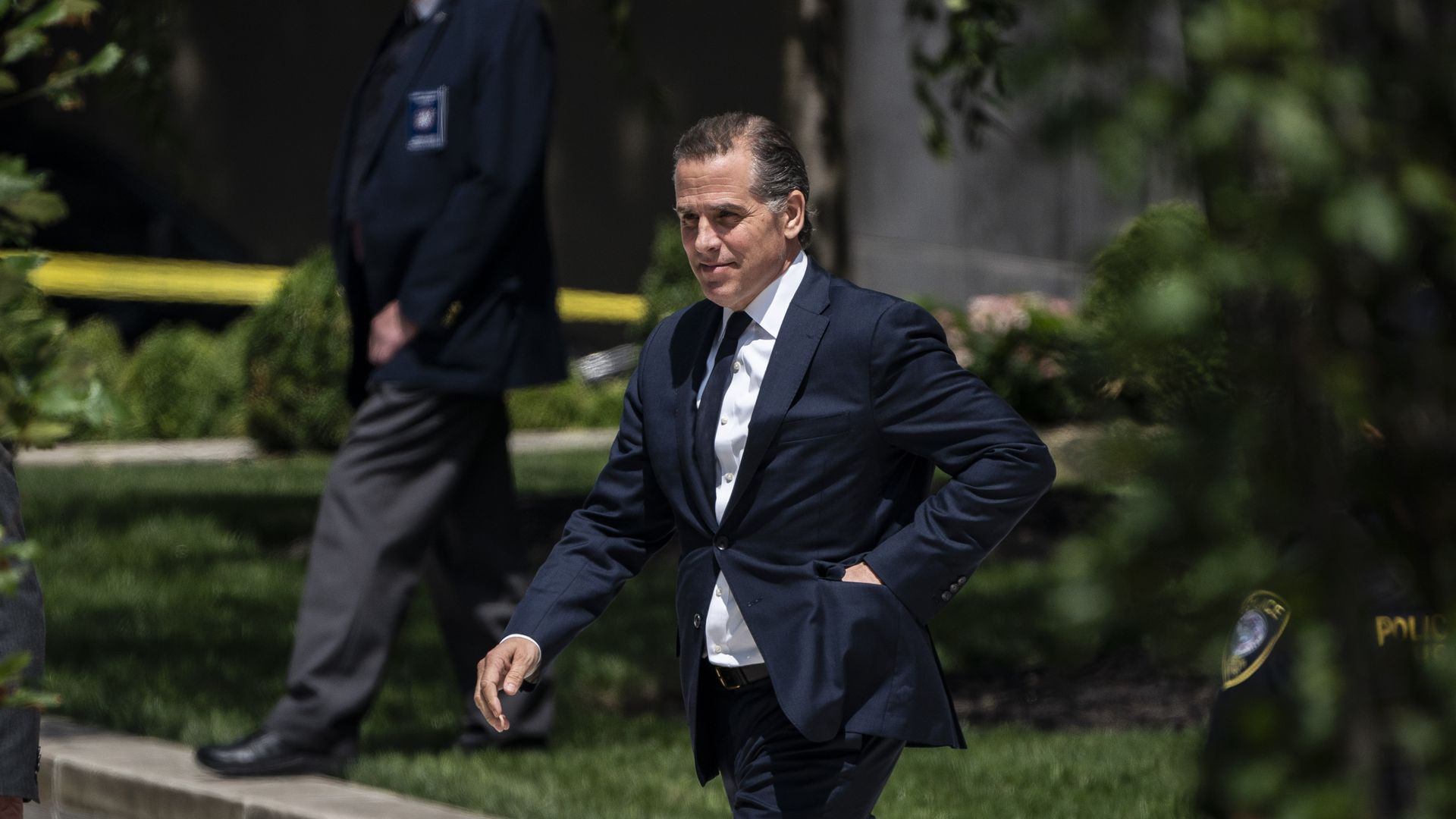 Hunter Biden's lawyers on Wednesday sought subpoenas for former President Trump and some of his associates, including ex-Attorney General Bill Barr.
The big picture: Biden's legal team told a judge it's seeking documents to help prepare his defense in a criminal case related to his alleged illegal possession of a firearm.
Biden's team also sought subpoenas of former acting Attorney General Jeffrey Rosen and former acting Deputy Attorney General Richard Donoghue.
They allege reporting on Trump's communications suggest he "improperly and unrelentingly" pressured the Justice Department to investigate the president's son to advance his "partisan ambitions."
Details: The defense is proposing the subpoenas to seek documents and records, from personal and official platforms, from January 2017 to the present, including:
Communications discussing "formal or informal investigation or prosecution" of Biden, including requests to charge or not charge him.
Communications discussing Biden involving proposed subpoena recipients and any executive branch official, political appointees, Justice Department official, and government agency, official or staff, cabinet member or Trump attorney.
Personal records, including diaries and memoranda, concerning Biden.
Records discussing Biden produced by the proposed subpoena recipient to the House Jan. 6 committee.
State of play: The defense is asking for materials that would help determine whether charges against Biden were brought because of partisan political reasons.
"It would be material to Mr. Biden's defense if pressure had been placed on prosecutors to investigate or charge Mr. Biden for political reasons, based on who he is and not on any conduct," the defense wrote in its request to the judge.
Barr declined to comment, a spokesperson said. Representatives of Trump, Rosen and Donoghue did not immediately respond to requests for comment.
Catch up quick: Biden pleaded not guilty in October to three counts related to alleged illegal possession of a firearm, after an earlier plea deal collapsed.
Context: Rosen assumed the acting attorney general role after Barr, a Trump ally, resigned following the 2020 election. Barr had repeatedly refused to back Trump's claims that the election was stolen.
Rosen then resigned in January 2021 after resisting Trump's pressure to appoint special counsels to investigate matters the former president wanted. CNN reported at the time those included his false voter fraud claims as well as Hunter Biden.
Editor's note: This story has been updated with details throughout.
Go deeper