Kirby: U.S. intelligence shows Hamas using hospitals for military activities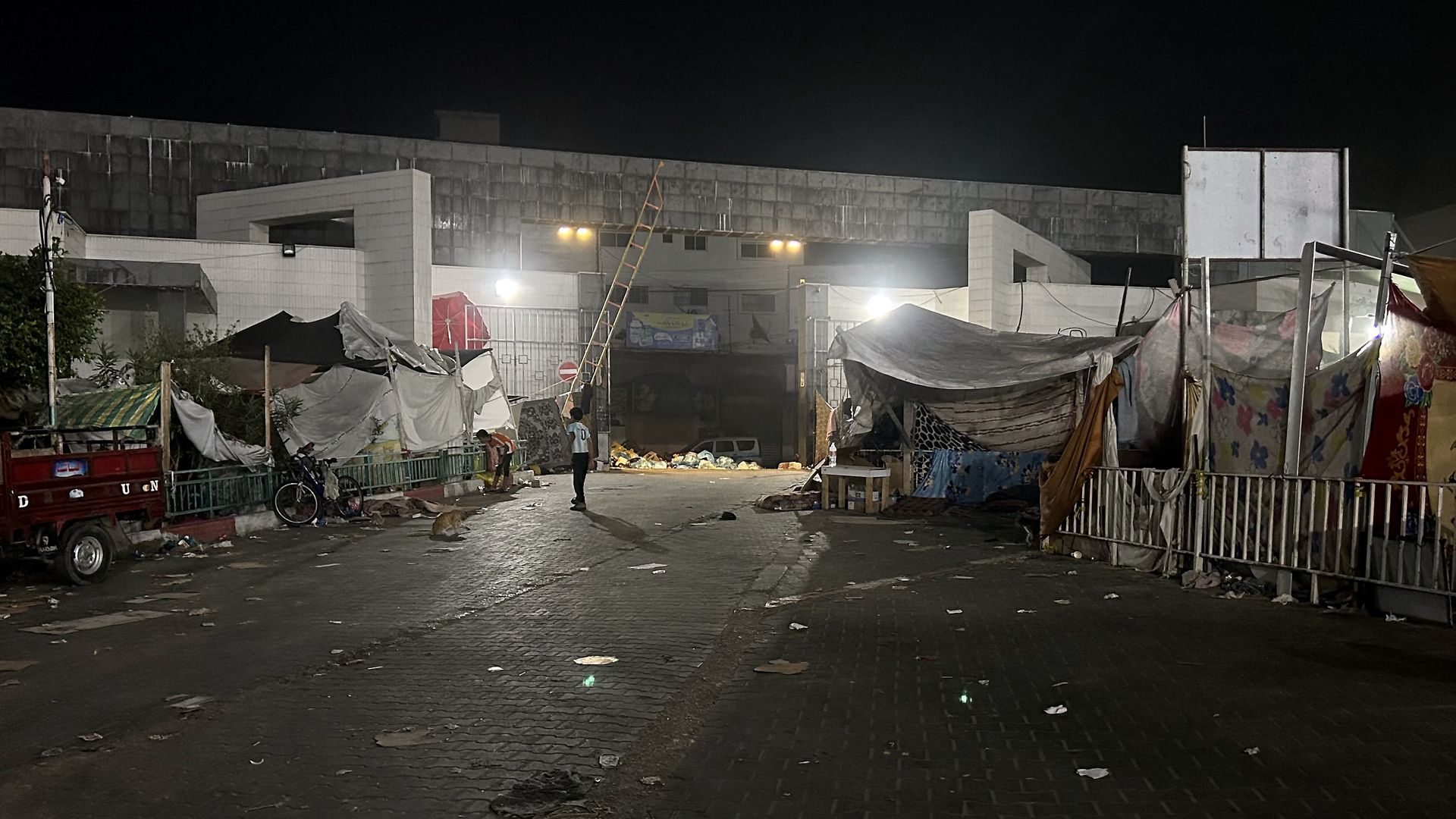 The U.S. has unspecified intelligence that Hamas and other Palestinian militant groups are using the largest hospital in the Gaza Strip and other medical facilities for military activities and holding hostages, National Security Council spokesperson John Kirby said on Tuesday.
Why it matters: The Al-Shifa Hospital has become a focal point in the Israel-Hamas war. Its grounds have become a refuge for thousands of displaced people, while Israeli officials have claimed it houses Hamas' headquarters and parts of the group's extensive tunnel system around Gaza. Hamas has denied those claims.
Conditions at the hospital and other Gaza medical facilities have rapidly deteriorated in recent weeks as the United Nations' humanitarian operations have been impeded by fighting and supply shortages.
Fighting between Israeli ground forces and Hamas militants has also intensified around Al-Shifa Hospital.
Over 10 patients, including six newborns, have died at the hospital in recent days from either fighting or power outages, while dozens of premature babies had to be relocated to an operating room without incubators, according to the UN.
More than 11,200 Palestinians in Gaza have been killed during Israel's heavy bombardment and ground operation, according to the Ministry of Health in Hamas-run Gaza.
What they're saying: Kirby said Tuesday that U.S. intelligence indicates the group has a command center in Al-Shifa, but stressed that the Biden administration does not want the facility or the civilians taking shelter there to be harmed.
"We do not support striking a hospital from the air, and we do not want to see a firefight in the hospital where innocent people, helpless people, sick people are simply trying to get the medical care that they deserve," Kirby said.
Civilian infrastructure like hospitals and other medical facilities are protected during armed conflicts by the laws of war, according to the Red Cross.
But such locations can lose those protections if they are being used to carry out "an act harmful to the enemy," which could imperil health workers and civilians receiving care.
The big picture: Israel has repeatedly accused Hamas of putting civilians in Gaza at risk by intentionally building tunnels and storing weaponry near civilian infrastructure.
In this war and in the past, attempts by Israel to destroy tunnels from the air have often resulted in civilian casualties.
The Biden administration has publicly pressed Israel to do more to protect civilians' lives in Gaza as it continues its air and ground operations against Hamas.
Israel's government has resisted calls for a ceasefire but has begun temporary humanitarian pauses to allow Palestinians in northern Gaza to get supplies or evacuate to the south.
Go deeper: Biden says he believes deal to free dozens of hostages held in Gaza is "going to happen"
Go deeper