Biden, in rare criticism of Bibi, says pause in Gaza fighting should have come sooner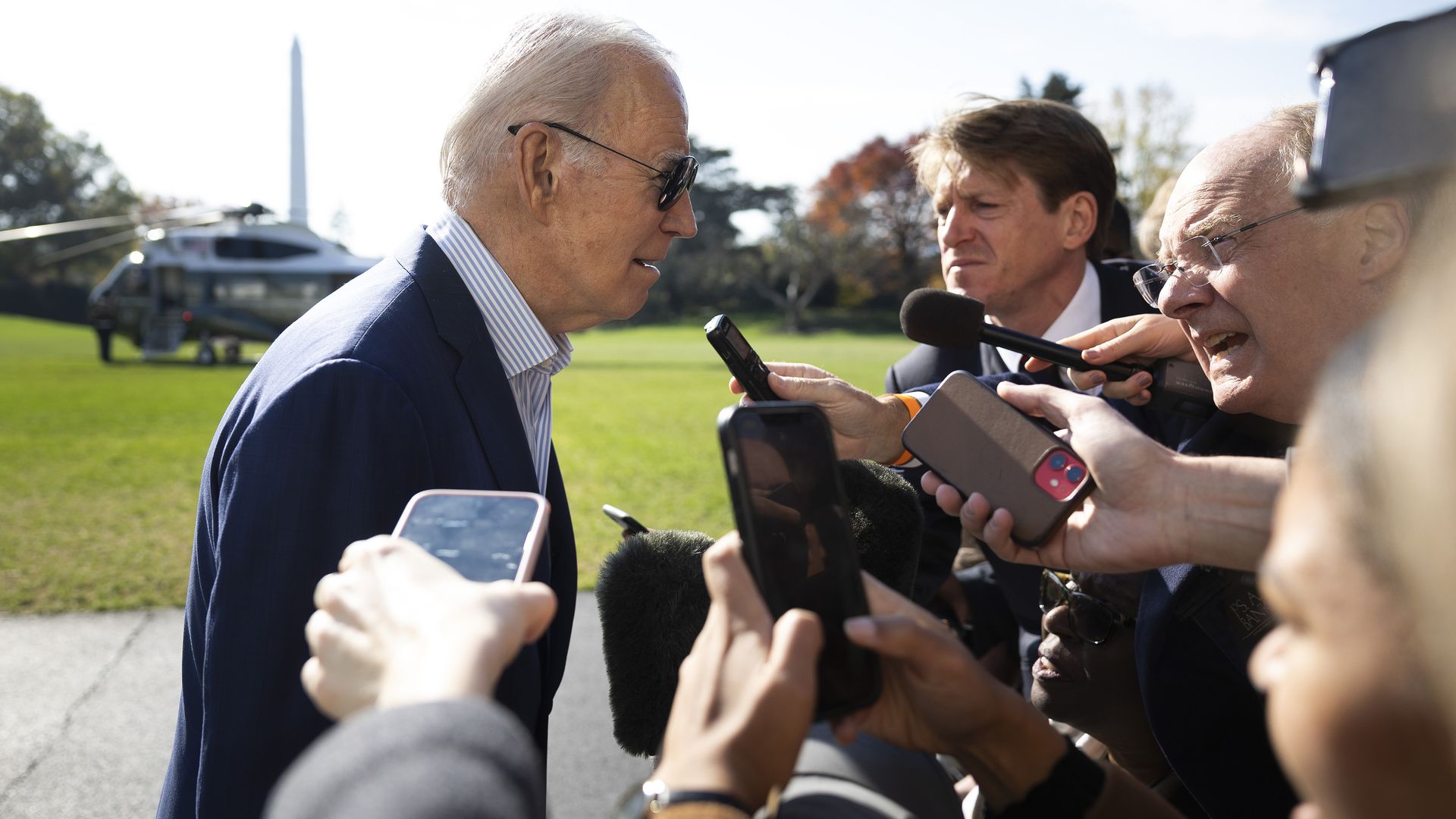 President Biden said Thursday it has taken Israeli Prime Minister Benjamin Netanyahu "a little longer than I hoped" to meet Biden's request to briefly pause the fighting in Gaza, after saying he doesn't believe a full ceasefire is possible.
Why it matters: The criticism was unusual for Biden, who has publicly given Netanyahu his full backing since Hamas attacked Israel on Oct. 7,
Driving the news: Biden spoke to reporters at Joint Base Andrews in suburban Washington before departing for a trip to Illinois. He confirmed an Axios report that he had urged Netanyahu to agree to a three-day pause in the fighting, and said he'd asked Netanyahu for an even longer pause to try to get hostages released.
Earlier, as he was leaving the White House, Biden was pessimistic about a ceasefire in Gaza.
Israel has agreed to start implementing a daily four-hour pause in the fighting in northern Gaza in order to allow Palestinian citizens to relocate to the south, National Security Council spokesperson John Kirby said in a briefing Thursday.
Kirby said Israel told the Biden administration it will announce the pauses three hours in advance and will refrain from military action in certain areas during the pauses.
"These pauses are a step in the right direction in order to allow people to leave to a safe place," Kirby said.
He stressed that the Israeli decision was made after diplomatic efforts by the Biden administration and added that the pauses could help advance the release of the more than 240 hostages being held by Hamas, Islamic Jihad and others in Gaza.
The other side: Two Israeli officials played down the significance of Kirby's comments, saying the Israeli Defense Forces began to periodically pause the fighting in northern Gaza in recent days to allow Palestinian civilians to move to the south.
Netanyahu's office said the fighting in Gaza continues "and there will be no ceasefire without the release of our hostages."
It added that Israel will allow safe humanitarian corridors from northern Gaza to the south, as it did Wednesday.
The big picture: CIA director Bill Burns met Thursday in Doha with Qatari Prime Minister Mohammed Bin Abdul Rahman al-Thani, and with the Israeli Mossad director David Barnea to discuss the efforts to reach a deal to release hostages.
Also Thursday, the Palestinian Islamic Jihad released a video of an elderly woman and a 12-year-old child the group is holding hostage.
The group said in a statement it is ready to release the two for humanitarian reasons when the conditions allow it.
The video seems to be an attempt by the Islamic Jihad to create pressure on the Israeli government.
Biden told reporters he remains optimistic about the chances the hostages will be released. "We're not going to stop until we get them out," he said.
Go deeper