Trump campaign defends "vermin" speech amid fascist comparisons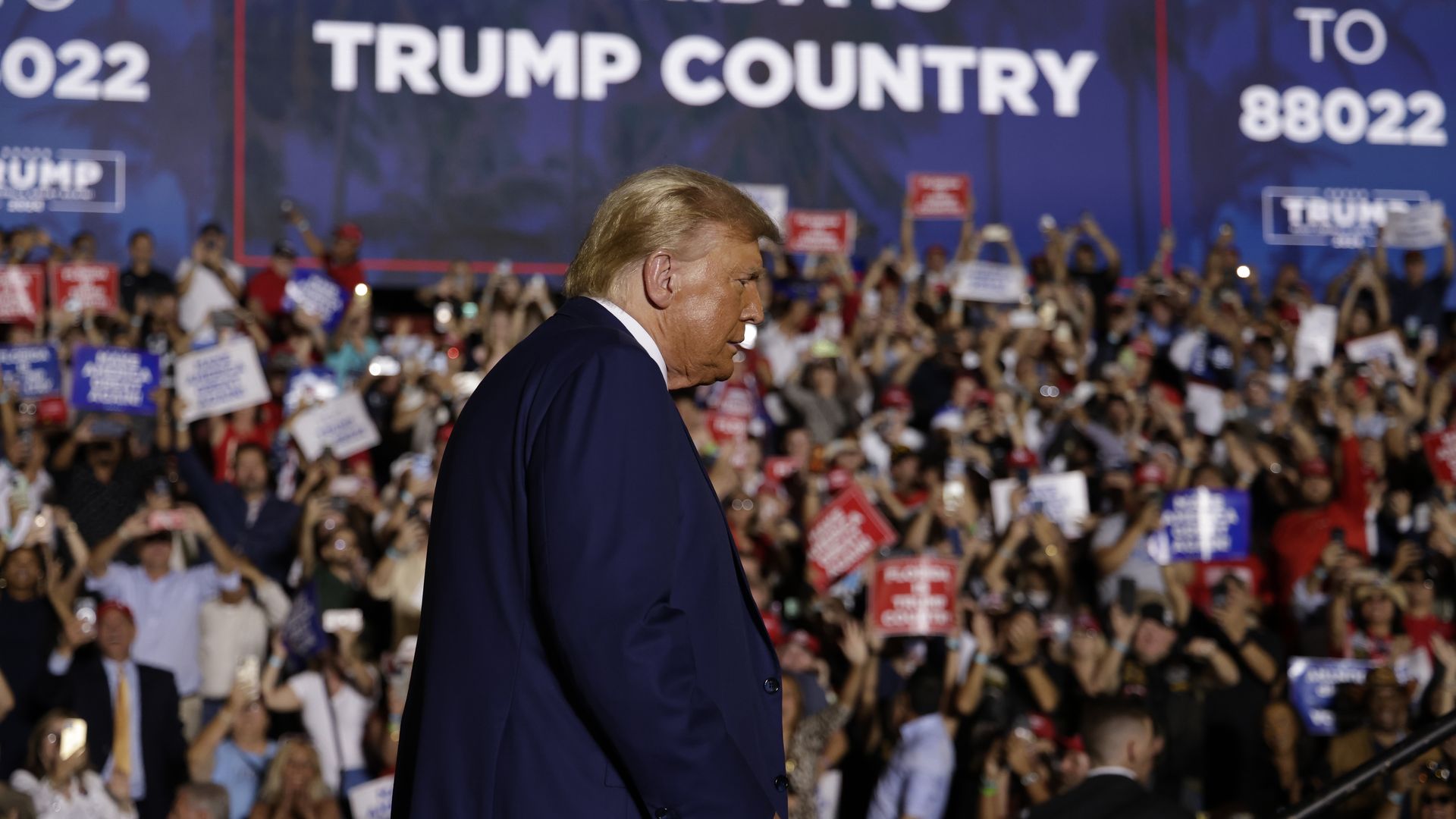 A Trump campaign spokesman defended the former president's use of the word "vermin" to describe his political enemies, calling critics "snowflakes" whose "entire existence will be crushed" if Trump wins in 2024.
Why it matters: Some historians have compared Trump's dehumanizing language — including his claim that undocumented immigrants are "poisoning the blood of our country" — to the rhetoric of fascist dictators like Adolf Hitler and Benito Mussolini.
"[T]o call your opponent vermin, to dehumanize them, is to not only open the door, but to walk through the door toward the most ghastly kinds of crimes," presidential historian Jon Meacham said on MSNBC's "Morning Joe."
"[T]hose who try to make that ridiculous assertion are clearly snowflakes grasping for anything because they are suffering from Trump Derangement Syndrome and their entire existence will be crushed when President Trump returns to the White House," Trump campaign spokesman Steven Cheung told the Post in a statement.
Cheung later said he was referencing their "sad, miserable existence" instead of their "entire existence," the Post noted.
Driving the news: In a Veterans Day speech in New Hampshire on Saturday, Trump vowed to "root out the communists, Marxists, fascists and the radical left thugs that live like vermin within the confines of our country that lie and steal and cheat on elections."
He then posted the same message on Truth Social, including the word "vermin" often used by Hitler and Mussolini to denigrate Jews and their political enemies.
Trump went on to say that "the threat from outside forces is far less sinister, dangerous and grave than the threat from within."
The big picture: Trump's increasingly violent rhetoric — calling for a U.S. military leader to be executed, mocking a near-fatal assault on a congressional spouse, urging police to shoot potential shoplifters — has become a staple of his brand as he faces the threat of conviction in four different criminal cases.
Trump has cast his prosecutions as politically motivated and vowed to exact revenge on his enemies — including the Biden family — if he's elected in 2024.
As Axios reported Monday, Trump's allies are pre-screening the ideologies of thousands of potential foot soldiers as part of an unprecedented operation to centralize and expand his power at every level of the U.S. government.
His top obsession will be the Justice Department, the FBI and the intelligence community, which he openly mused last week he could weaponize against his enemies — claiming Democrats have already done the same to him.
The other side: "On a weekend when most Americans were honoring our nation's heroes, Donald Trump parroted the autocratic language of Adolf Hitler and Benito Mussolini — two dictators many U.S. veterans gave their lives fighting, in order to defeat exactly the kind of un-American ideas Trump now champions," Biden campaign spokesman Ammar Moussa said in a statement.
Go deeper