Doctors grapple with patients' demand for weight-loss drugs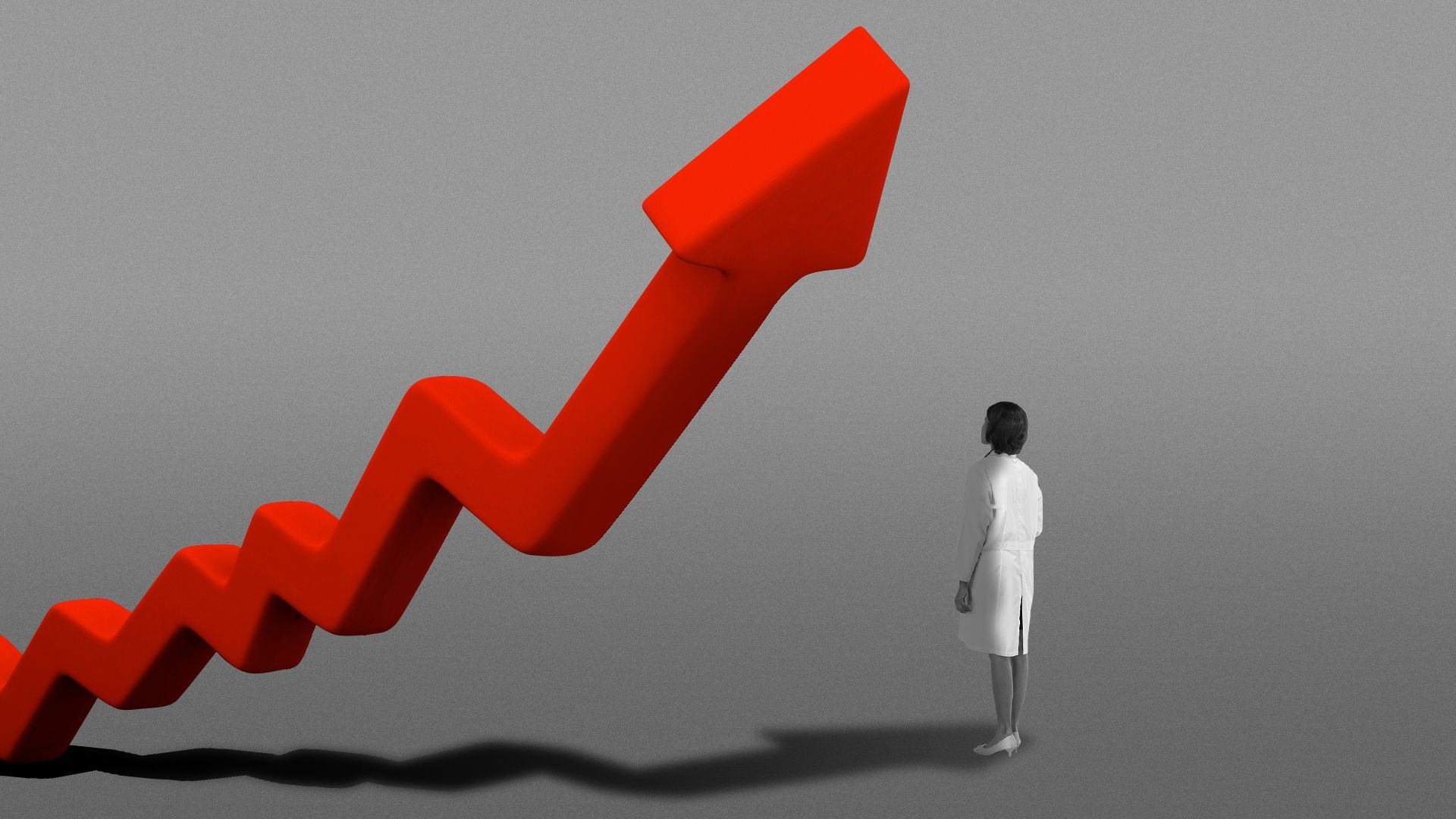 Doctors are getting inundated with patients' requests for wildly popular new anti-obesity drugs, including from many who don't really need them.
Why it matters: Primary care doctors in particular, who typically have little training in obesity, have found themselves as gatekeepers for a class of injection drugs, including Novo Nordisk's Ozempic and Wegovy, that are effective but still face questions about who should take them.
Driving the news: Demand for the drugs, known as GLP-1 agonists, is only expected to grow after Novo Nordisk this weekend presented full data showing that Wegovy could help reduce the risk of serious heart problems by 20%.
That came just days after Eli Lilly's drug Zepbound became the second in its class to be approved by the Food and Drug Administration for weight loss. Like Wegovy, the drug's main ingredient was previously approved as a diabetes medication but had been prescribed "off label" to help people shed pounds.
Both milestones are a "huge game changer," said Ethan Lazarus, a board-certified family medicine and obesity doctor based in Denver.
"Primary care doctors spend a lot of time trying to prevent heart attacks," such as through management of blood pressure, he said. "I think this will move the discussion towards obesity being another tool we can use."
Yes, but: It's also going to make it tougher for physicians already facing heightened demand from patients, including many who are overweight but may benefit from other treatments.
Obesity experts say they typically start with behavioral interventions like exercise and nutrition counseling before prescribing oral weight-loss drugs that have been on the market for years. Then they consider moving to the GLP-1 drugs and bariatric surgery.
"Not everybody has to go on a GLP-1. I think the idea that we're going to put 110 million Americans on a GLP-1 for $1,000 a month is a problem," Lazarus said.
The big picture: While doctors have generally grown comfortable with prescribing GLP-1s for diabetes management, many say they are concerned about the lack of long-term data on the drugs' effects on such a broad swath of the population.
There's a potentially huge market for these drugs, with the U.S. obesity rate topping 40%.
Doctors also have to consider potential side effects when deciding which patients should receive the drugs.
Nausea, abdominal pain, constipation and diarrhea are among the most common side effects, but the drugs have also been linked to more serious impacts such as stomach paralysis and a potential increased risk for suicidal thoughts.
"What you want is to use these higher-potency drugs in the patient with a higher risk, so that the benefits outweigh the risks," Lazarus said.
Zoom in: There are other barriers doctors must weigh, such as limited insurance coverage of the pricey drugs or ongoing demand-driven shortages.
But some doctors who worry dissatisfied patients will switch physicians or look to dangerous sources for black-market products feel pressure to prescribe them anyway.
"It's a horrible position to be in because if the provider does what they think is right, they're usually causing huge disappointment," said Julia Hu, CEO of Lark Health, which helps health plans manage the GLP-1s.
Between the lines: Health experts say they worry about how many patients are stopping the drugs after only a few months.
A Prime Therapeutics analysis in July found 68% of patients who go on GLP-1s for weight loss drop off of them within a year.
Anecdotally, providers say that's often because either patients can't tolerate the side effects or they've hit a weight-loss plateau and believe the drugs are no longer working. It can also be because they've reached their desired weight-loss target, though many go on to regain weight after stopping treatment.
Primary care providers generally don't have the time to manage and support patients' use of the drugs over months. That's fueled an industry that offers prescribing and support services that experts say are important for ensuring patients use the medications properly, but depending on the service may also be juicing demand.
Of note: There is another commonly held concern that the proliferation of GLP-1s is "overmedicalizing" a condition that needs to be addressed structurally, Megan Ranney, dean of the Yale School of Public Health told Axios.
"They get us out of looking at the societal factors — urban planning, lack of nutritious food, etc. — that are causing the U.S. obesity epidemic," Ranney said.
The bottom line: This class of drugs offers a powerful option to fight the nation's obesity epidemic and is changing how we talk and think about obesity.
But GLP-1s aren't the answer for everyone — and if they aren't handled appropriately, it could be costly and harmful for patients.
Go deeper