Employers grapple with the weight loss drug craze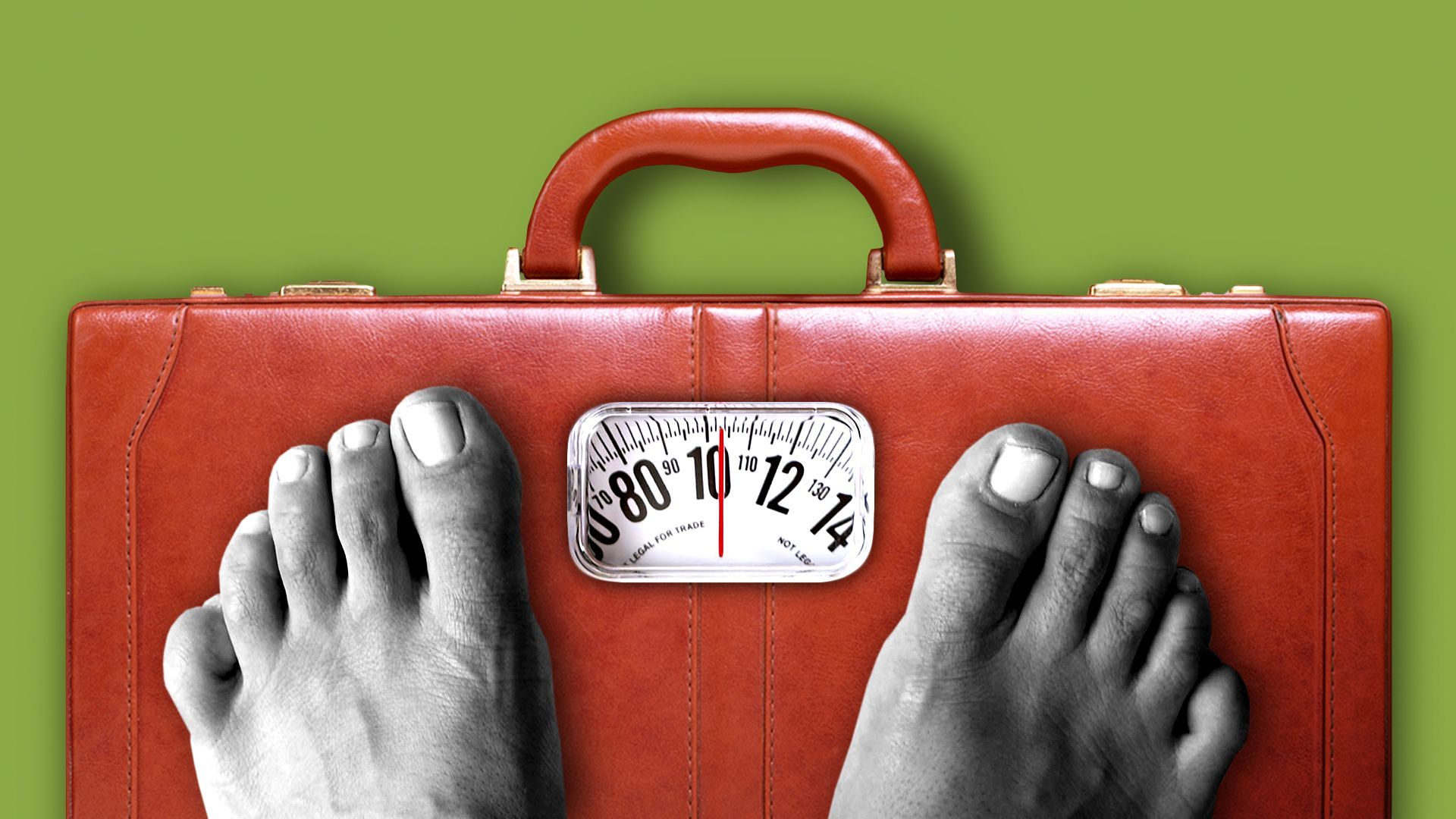 Employers are fielding a surge of demand from their workers for obesity care benefits — specifically, for a buzzy class of weight loss drugs — and it's getting pricey.
Why it matters: The drugs — known as glucagon-like peptide agonists, or GLP-1s — have been found to effectively help people lose excess weight, which is tied to a slew of health conditions that can be costly in their own right.
But the drugs themselves — including Novo Nordisk's Wegovy and Saxenda, which are approved for weight loss, as well as the diabetes drug Ozempic — aren't cheap. And they risk driving employers' and their workers' insurance premiums up.
What they're saying: "When you look at GLP-1s, they now represent a fairly significant amount of the total drug spend," Nadina Rosier, chief product officer for the Health Transformation Alliance, a cooperative of America's largest employers, told Axios.
"They went from being kind of non-existent in a top drug list to now in the top 25," she said.
Semaglutide — sold under the brand names Ozempic, Wegovy and Rybelsus — ranked fourth for total drug expenditures in the U.S. in 2021 at $10.7 billion, up 90% over the year before, according to a study published last year in the American Journal of Health-System Pharmacy.
The big picture: Experts say these drugs could be transformative for many Americans' health, because studies have demonstrated they can help obese people lose as much as 15% of their body weight and keep it off.
"People are talking about this class of drugs being the biggest blockbusters ever," Jeff Levin-Scherz, a managing director for insurance service company WTW told Axios.
Novo Nordisk's GLP-1 drugs could soon be joined in FDA approval for treating obesity by Eli Lilly's diabetes drug, Mounjaro. Meanwhile, a generic for Novo's diabetes drug Victoza is expected to come on the market this summer.
By the numbers: More than 4 in 10 Americans have obesity — up from about 30% in 1999 — and that number is expected to jump to about 50% by 2030.
The CDC estimates the annual medical cost of obesity in the U.S. was $173 billion in 2019, and that medical costs for adults with obesity are $1,861 higher than those adults at a healthy weight.
"There's a lot of good that can come from helping people lose weight and we increasingly understand that when adults are obese, diet alone pretty rarely helps them lose a substantial amount of weight sustainably," Levin-Scherz said.
Between the lines: Employers have long offered coverage for qualifying patients for certain weight loss tools, such as bariatric surgery. But there's growing interest from workers in more comprehensive obesity care benefits, experts tell Axios.
A recent survey from Ro and the Obesity Action Coalition of 1,022 people found that, of those who had obesity, more than half (51%) would stay at a job they didn't like to retain coverage for obesity treatment. Meanwhile, 44% said they'd change jobs to gain coverage for obesity treatment.
"Employers are looking to have benefits that meet consumers' needs," said Isabelle Kenyon, CEO of Calibrate, a company that prescribes GLP-1s as part of a weight management program.
"That's where mental health went over the last 10 years and I think that's where metabolic health goes over the next 10 years which is, who has the right metabolic health benefits for me?"
Yes, but: With such an expansive potential market and such a high per-person cost — Wegovy has a list price of about $1,350 a package — the potential costs that could ripple through the health care system are staggering.
For plan sponsors, "it could be very hard to absorb that new cost," Levin-Scherz said.
What we're watching: Many employers are offering at least some coverage of GLP-1s for weight loss, but are using a number of gatekeeping tools.
About two-thirds of WTW's employer clients currently cover Wegovy for obesity with some restrictions, such as prior authorization and minimum BMI requirements for coverage, Levin-Scherz said.
Many employers are requiring workers who qualify for obesity care to use step therapy — meaning they first try lower cost anti-obesity medications before moving to GLP-1s, Business Group on Health vice president Pamela Rich told Axios.
The bottom line: If prices keep rising as quickly as they are, insurers and employers could get even more restrictive with who qualifies for coverage of these drugs, tightening access even further.
"If we don't end up seeing very dramatic decreases in price, I think there will be a higher level of restrictiveness around these drugs, or employers who are covering it now may decide to no longer cover it because the total amount this could increase the cost of health care is very very high," Levin-Scherz said.
Go deeper