Police arrest 2 men over Trump flagpole, wasp spray assaults on police at Jan. 6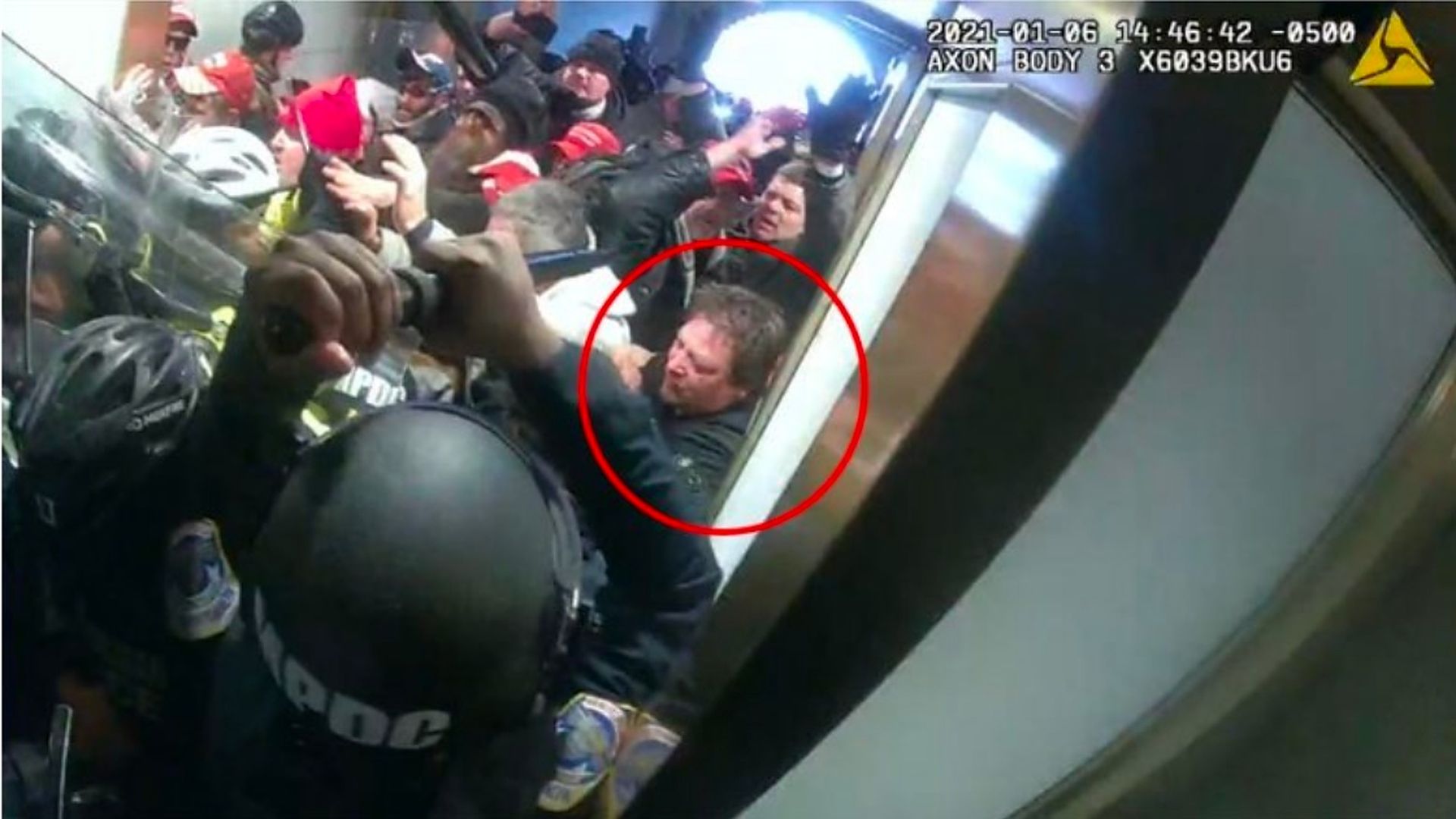 An Indiana man arrested in Indianapolis on Thursday was accused of using a flagpole featuring Confederate and "TRUMP 2020" flags to attack officers and smash through a window at the U.S. Capitol in the Jan. 6 riot.
The big picture: Troy Allen Koen, 53, of Brownsburg, is among more than 1,200 individuals charged in connection with the insurrection — including over 400 charged with assaulting or impeding law enforcement at the Capitol on Jan. 6, 2021, per a Department of Justice statement.
Separately, police arrested William Lewis, 57, of Burbank, Illinois, Thursday on charges including assaulting a law enforcement officer for allegedly deploying "wasp and hornet spray" at officers on three separate occasions and using a police baton "to strike and break at least three glass panes" at the U.S. Capitol on Jan. 6, according the DOJ.
Zoom in: A man identified as Koen can be seen in footage "repeatedly assaulting law enforcement officers guarding the United States Capitol, destroying property valued over $1,000, and participating in the assault against law enforcement officers inside the tunnel," per court documents.
Koen allegedly approached the police line on the northwest side of the West Plaza as officers struggled to contain the mob and "grabbed a bike rack with his hands, and aggressively yanked the barricade away from the police officer," according to the court documents.
"A violent struggle ensued between the police officers and the rioters as the two sides fought to gain control of the barrier. The rioters successfully removed the bike rack, creating a major vulnerability in the police line, and passed the barricade back into the crowd and away from the police officers."
Of note: Prosecutors allege Koen reapproached the police line and took hold of another barricade and a second struggle ensued between police officers and rioters.
A police officer was "knocked forward and dragged down onto the ground" after Koen and the mob allegedly "overpowered" police armed with deterrents including batons and chemical irritants to seize the second barrier.
Meanwhile, the mob overran the police line and the officers retreated to the Lower West Terrace tunnel behind two sets of double glass doors, according to prosecutors.
Koen allegedly approached this tunnel holding the large flagpole and violently jabbed it into the glass, shattering it and enabling the rioters to reach through the broken glass and open the door and push against the officer line.
Prosecutors allege he then disassembled the flagpole into two separate pieces and remained at the forefront of the mob and used the poles to jab into the police line, assaulting officers as rioters continued their attack.
For the record: Koen's charges include assaulting, resisting, or impeding certain officers, destruction of government property, and obstruction of law enforcement during civil disorder, along with several misdemeanor charges.
Go deeper