DeSantis, Haley set to brawl on Republican debate stage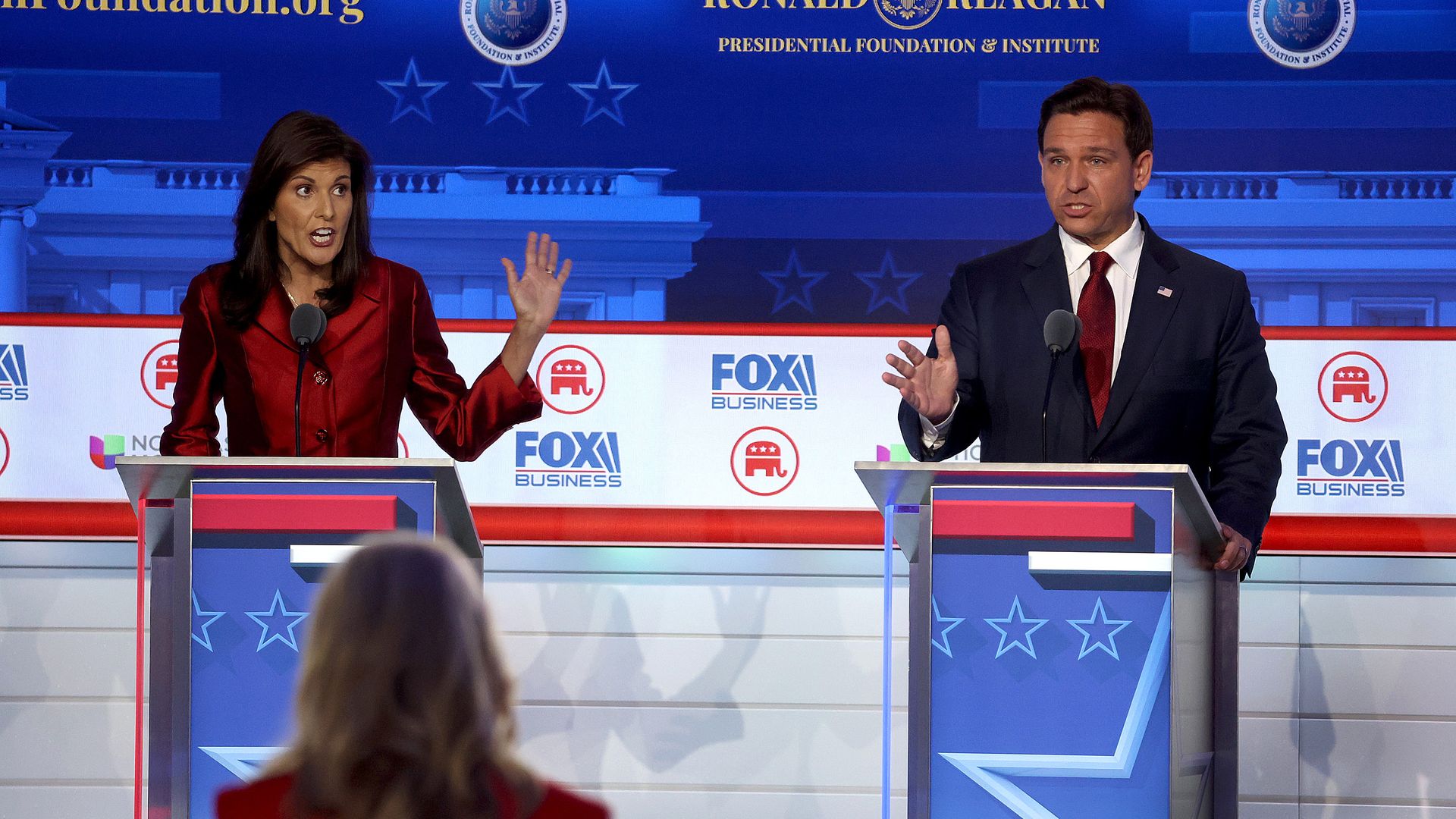 MIAMI — Wednesday's GOP presidential debate is expected to bring fireworks to what increasingly looks like the race for second between Florida Gov. Ron DeSantis and former UN Ambassador Nikki Haley.
Why it matters: Unless the Republican field dramatically consolidates, former President Trump — who is hosting a counter-programming rally down the road in Latino-dominated Hialeah — will skate to the nomination.
A recent poll found DeSantis and Haley are locked in a distant second in the Iowa caucuses, where a dominant Trump showing on Jan. 15 could render the rest of the primary a formality.
Both of the potential Trump alternatives are casting their rival as a "spoiler" with no path to the nomination — setting the stage for Wednesday's melee in Miami.
Driving the news: A memo penned by DeSantis strategists points to Iowa Gov. Kim Reynolds' surprise endorsement Monday as a sign that DeSantis is uniquely positioned to stop Trump from winning big in the first-in-the-nation caucuses.
"Simply put, without Ron DeSantis in this primary, Trump is the Republican nominee," the memo argues.
"Every dollar the Pro-Haley community collects or spends should also be listed as an 'in-kind' contribution on Trump's campaign FEC reports."
The other side: "EVEN IF DeSantis were to do well in Iowa, which is a big 'if' given his current decline, he is in such a weak position in New Hampshire and South Carolina that it doesn't matter. He has no end game," Haley's campaign manager Betsy Ankney wrote in her own pre-debate memo.
Between the lines: The Trump campaign seemingly can't get enough of the feud, blasting out Haley's latest anti-DeSantis ad — "These Boots Are Made for Lying" — and predicting "a battle of losers on the debate stage."
The GOP debate is hosted by NBC News and will be available to watch on NBC and NBC News NOW at 8pm ET.
Go deeper