Disney ups cost-cutting goals by $2 billion as streaming losses decline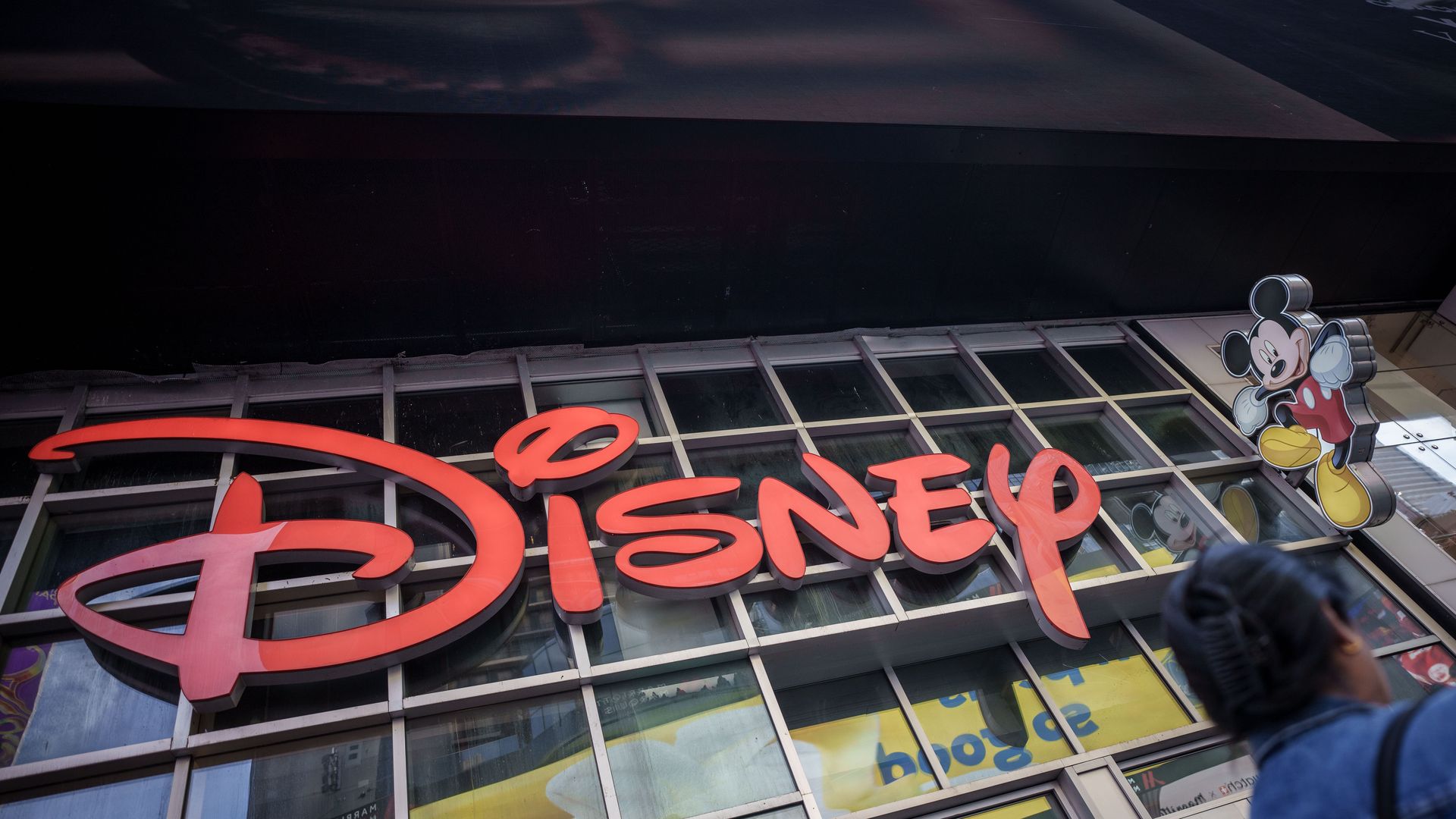 Disney's stock jumped 3% on Wednesday after the media giant beat analyst expectations on earnings and significantly reduced losses within its streaming division.
Why it matters: Disney is under enormous pressure from investors to make its streaming division profitable by its 2024 deadline.
In an interview with CNBC following its fiscal fourth-quarter earnings report, CEO Bob Iger reaffirmed the company's existing guidance that it's streaming services combined would be profitable by its fiscal fourth-quarter next year.
Details: The company shrunk losses within its streaming division last quarter to $347 million, down from $1.4 billion during the same quarter the year prior.
Notably, it increased the average monthly revenue per paid subscriber across nearly all of its streaming services,
Iger credited advancements in Disney's streaming advertising products for helping to increase digital ad revenue on streaming.
The firm's linear advertising business, he said, "is better than many people assumed it would be," but "it doesn't mean it's great." (Most of Disney's peers, including NBCUniversal and Warner Bros. Discovery, reported big linear TV advertising losses last quarter.)
Yes, but: While Disney did increase revenue 5% last quarter compared to the same quarter the year prior, its top line came in slightly shy of what Wall Street was expecting.
Zoom in: In addition to stronger profitability metrics, Disney also beat analyst expectations on subscriber numbers last quarter, adding 7 million Disney+ subscribers,
In total, Disney now has 150.2 million paid streaming subscribers across all of its services, which include Disney+, Disney+ Hotstar in India, Hulu, Hulu with Live TV and ESPN+.
Between the lines: Disney said last week that it has agreed to buy Comcast's 33% stake in Hulu.
On the company's earnings call Wednesday, Iger said the previously-announced app merger of Disney+ and Hulu will launch next month.
Be smart: The positive earnings report should help Disney manage some of the new pressure it faces from activist hedge fund Trian Fund Management and its co-founder activist Nelson Peltz.
Iger told CNBC that he heard from Peltz, but "I don't have specifics about what Nelson is really after, or what he will ask for."
Peltz called off a different proxy battle with Disney in February after Iger announced a restructuring and cost-cutting measures that included 7,000 layoffs in February.
Zoom out: Disney announced Wednesday that it increased its annualized efficiency target from $5.5 billion to to $7.5 billion, suggesting its various cost-cutting measures are working.
It now expects to grow free cash flow in its fiscal 2024 "significantly versus fiscal 2023, approaching levels last seen pre-pandemic," it said.
Iger told CNBC the company would continue to double down on its business units that are driving results, such as parks, streaming and movies.
Disney said in September it would double its investment in theme parks and cruises. Last quarter, the company increased profits in its experiences segment by over 13% year-over-year.
The big picture: Iger returned to Disney as CEO last year amid a reckoning for linear television companies. The acceleration of cord-cutting has forced most TV companies, including Disney, to explore strategic options.
Iger said in July that Disney is considering selling its linear assets which include many of the channels he acquired from Fox Corp. in 2019 and ABC.
Iger gave CNBC an update on that sale process, saying "We are looking in an open-minded way, but that shouldn't in any way suggest that anything is imminent."
Peltz has been vocal about disapproving of Iger's $71 billion acquisition of Fox's entertainment assets and cited the 2019 deal as a major driver of his previous proxy fight.
What to watch: Disney says it's not selling ESPN, but it's looking for a strategic partner to help manage the network's transition into the streaming era.
Iger reaffirmed that Disney is planning to take ESPN out of the cable bundle and sell it to consumers directly. "We feel great about that," he said.
ESPN's 2023 fiscal year was its strongest in terms of overall viewership in four years.
ESPN will launch ESPN Bet, its new sports betting venture with Penn Entertainment, next week.
Go deeper: Disney earnings from the past year:
Go deeper