GOP faces internal opposition on new push to censure Rashida Tlaib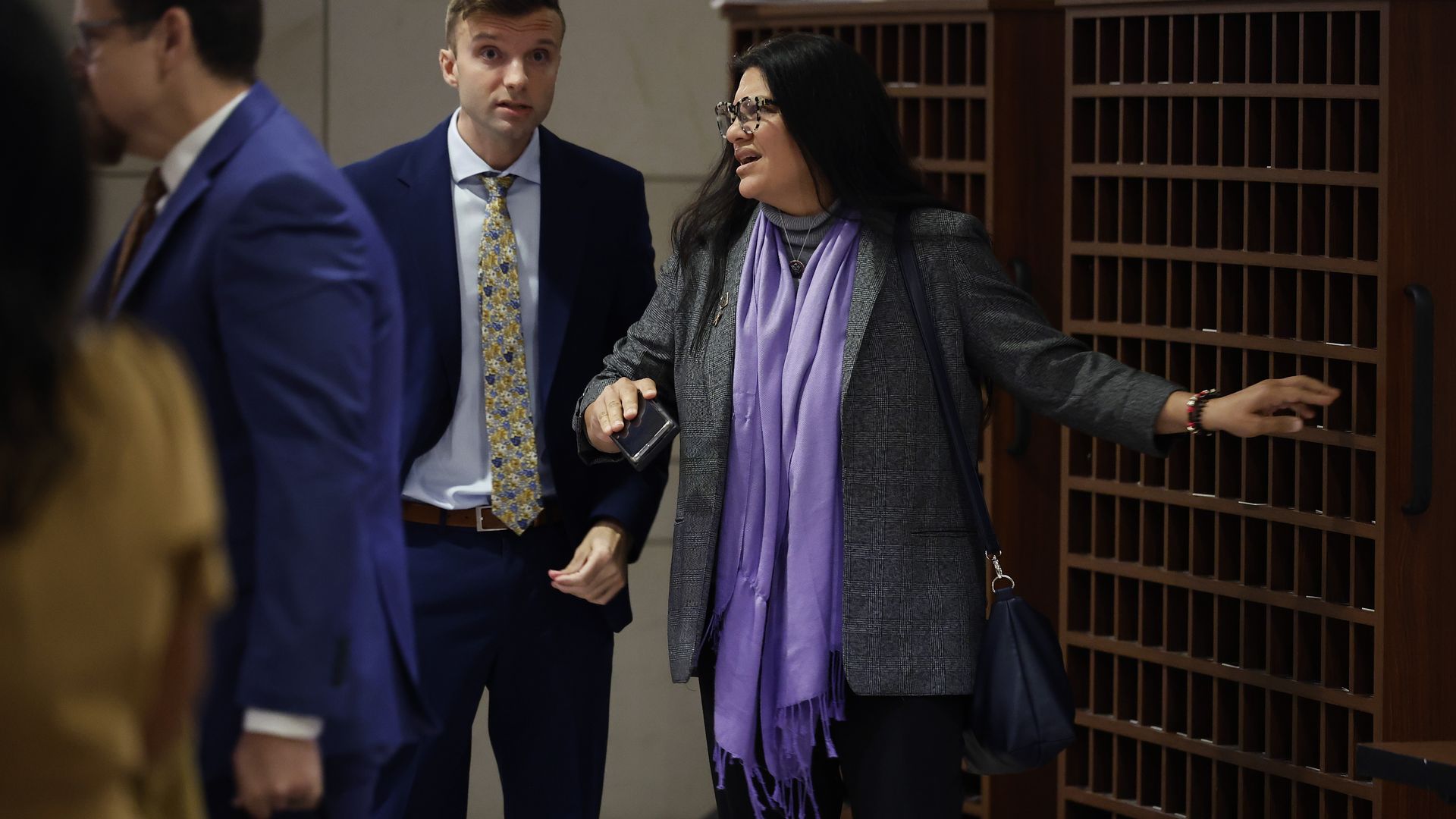 A new push to censure Rep. Rashida Tlaib (D-Mich.) over her statements on Israel still faces opposition from some House Republicans.
Why it matters: Lawmakers in both parties are frustrated at continued efforts to censure members for what are essentially controversial remarks.
Rep. Marjorie Taylor Greene (R-Ga.) tried to censure Tlaib last week, but her measure failed after 23 Republicans voted against it.
Some cited her use of the word "insurrection" to refer to a Capitol Hill protest Tlaib spoke at that called for a ceasefire in Gaza, both others said their concerns center around punishing free speech.
The latest: The House is set to vote Tuesday afternoon on a more restrained measure from Rep. Rich McCormick (R-Ga.), who voted against Greene's resolution last week.
Later Tuesday night, members are slated to vote on another resolution from Greene that swaps out "insurrection" for "illegal occupation" in referring to the protest.
What they're saying: Rep. Thomas Massie (R-Ky.) said he will vote against both measures due to free speech concerns, quipping: "I'm going to censure the next person who introduces a censure."
"We're already seeing this unravel," Rep. John Duarte (R-Calif.) told Axios, pointing to Rep. Sara Jacobs' (D-Calif.) push to censure Rep. Brian Mast (R-Fla.) for comments suggesting Palestinian civilians should be treated as combatants. "This isn't what we need to be wasting our time on," he added.
Duarte noted that while some Republicans' primary concern with Greene's resolution was the "insurrection" language, a "good number of us ... cited specifically the freedom of speech conflict."
Those include Reps. Bill Huizenga (R-Mich.), Tim Walberg (R-Mich.), Glenn Grothman (R-Wisc.) and Harriet Hageman (R-Wyo.).
Rep. Ken Buck (R-Colo.) told CNN: "We should stop this nonsense, we should stop censuring. People are going to have differences of opinion, sometimes they're going to miss the facts. So be it."
Yes, but: Some Republicans who voted against Greene's resolution appear open to voting at least for McCormick's.
"I think his [resolution] has removed that ['insurrection' language]," Rep. Victoria Spartz (R-Ind.) said of McCormick's measure. "I think that one is fine."
Rep. Austin Scott (R-Ga.), who voted against Greene's measure, also plans to vote for McCormick's, a source familiar with his plans told Axios.
The other side: Democratic leadership is trying to maintain the united front their caucus put up against Greene's measure.
House Minority Whip Katherine Clark (D-Mass.) is whipping against both resolutions, according to an email to Democratic offices obtained by Axios.
Some staunchly pro-Israel Democrats appear to be leaning against censure, with Rep. Brad Schneider (D-Ill.) saying: "We have to allow people to have a debate here."
Rep. Jared Moskowitz (D-Fla.), another pro-Israel lawmaker, said on CNN: "If a censure comes on her misinformation on the hospital bombing … and on 'from the river to the sea,' I would support that censure."
Go deeper