The Israel-Hamas war is creating tensions at work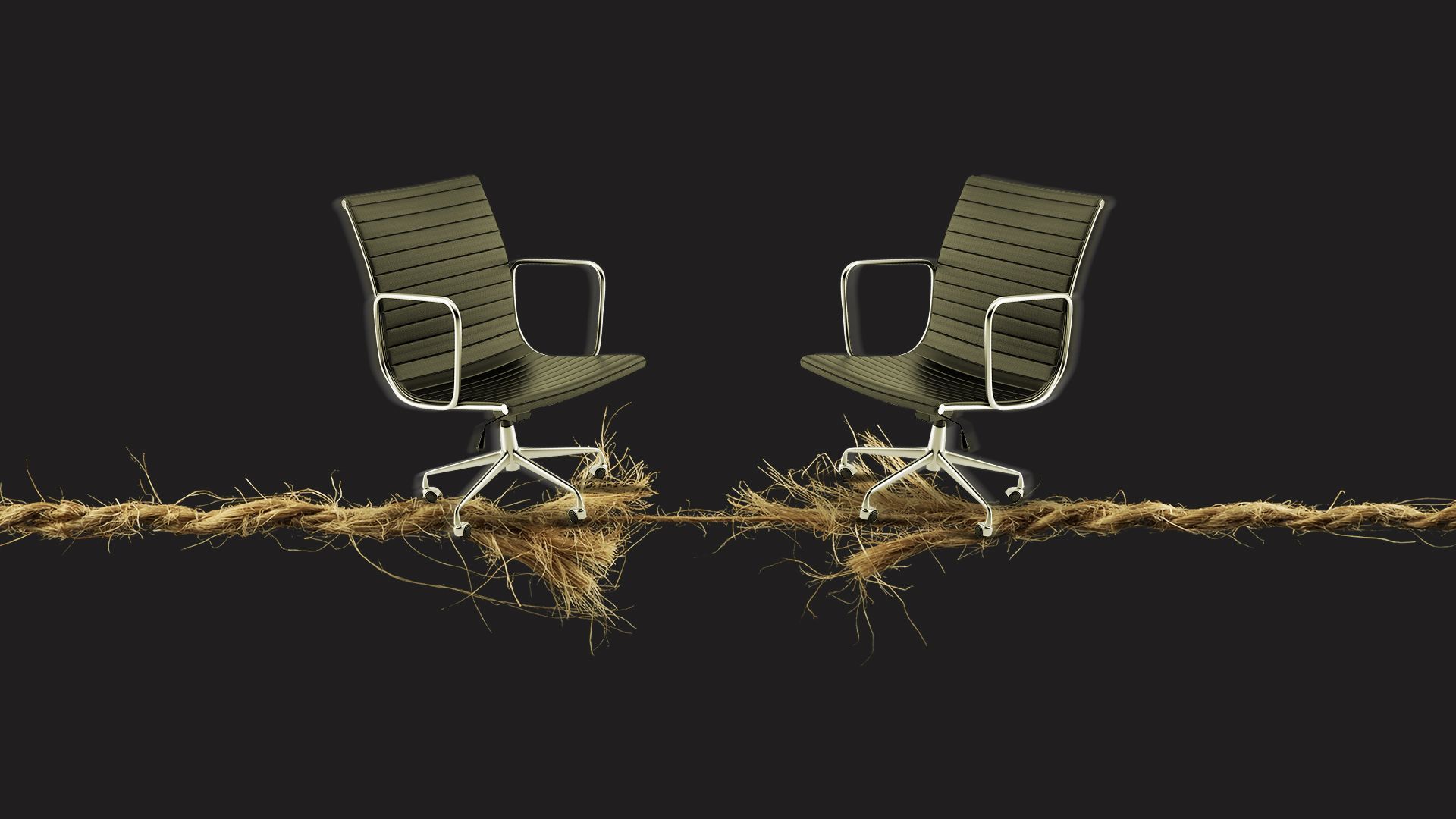 The Israel-Hamas war is stirring up divisive conversations within American workplaces, creating stress for both workers and those in charge.
Why it matters: The situation is adding another layer of complexity to office conversations around diversity, equity and inclusion (DEI) that have become commonplace in recent years — driving apart colleagues who typically land on the same (often progressive) side of most issues.
Zoom in: At some companies, leadership teams are turning off the comments function on various platform to discourage heated conversations, according to reporting from Axios' Eleanor Hawkins.
At one human rights nonprofit in New York, a group chat about the Israel-Hamas war grew so heated, the CEO had to send an email encouraging civility.
"It's creating a lot of stress," said one 31-year-old employee who asked for anonymity due to the sensitivity of the subject. The chat got tense, as colleagues — all working on the issue of human rights — argued over who truly understood the region's history.
What they're saying: "I've never seen the level of extreme tension and pain and hurt between employees in the same organizations, as I'm seeing right now," said Joelle Emerson, cofounder and CEO of Paradigm, a consulting company that works with companies on DEI.
"People are visibly distressed," said Farah Salam-Hottle, the founder of a DEI consulting group called Origins.
State of play: Salam-Hottle has been conducting listening sessions at companies along with a colleague to talk about the war.
They'll bring people together to discuss combatting stereotypes, and building empathy when you disagree with someone.
They're also looking at doing more training for senior leaders, who don't quite get why the conflict is upsetting staff, she said.
Zoom out: For a long time, company cultures were relatively insulated from politics. But since at least 2020, when the murder of George Floyd rippled through seemingly every corner of the country, things have been different.
All kinds of businesses have facilitated conversations about social justice or DEI, or put out messages on social media to express their solidarity.
The situation in the Middle East is proving far more challenging.
Salam-Hottle said she has facilitated workplace talks on horrific events over the years — the shootings in Uvalde, Texas and Buffalo, NY; the rise in anti-Asian hate crimes; the shooting of Breonna Taylor and Floyd's death.
"[But] I don't think I've seen anything or felt anything that has impacted people in such a divisive way," she says.
The war has fractured groups that are typically on the same side. In Hollywood, for example, "a bastion of progressive politics," the war has surfaced divides many didn't realize existed, as the NYT reported.
Zoom out: Employees have been particularly sensitive to the different statements companies are putting out on the conflict — and they're voicing their displeasure to HR and other executives.
Workers at Procter & Gamble, Nike and Instacart all expressed displeasure, in Slack messages or emails to executives, with the way their company has handled the response to the conflict, according to Bloomberg.
"Virtually every organization that I've encountered — or heard about through friends — has had to put out two statements because no one knew how to respond to this," said Salam-Hottle.
Typically, an organization's first response would cite the acts of terror that occurred in Israel but not acknowledge the growing death toll from Israeli strikes in Gaza — leading to a lot of upset, she said.
The core of the issue: Arab and Muslim workers are feeling like their pain isn't being acknowledged, and they fear retaliation at work. Meanwhile, Jewish staffers are feeling concerns over anti-semitism.
"[S]o you have on one side folks who feel like we need more support, and on the other side that feels like the same or you know, we're not getting anything at all," said Salam-Hottle.
Yes, but: A CEO statement is not as important as being able to talk to your manager, one employee at a Fortune 500 told Axios.
An observant Jewish man with family in Israel, he's feeling scared and is in mourning after the terror attacks. He told his boss he's not feeling like himself at the moment — and he might seem off. Talking to him and feeling heard made him feel better.
At the same, there's a fear of retaliation at work for those who sharply criticize Israel. Universities have come under pressure from donors and alumni for students' pro-Palestinian stance. In at least one case, a law student had a job offer rescinded by a prospective employer.
The bottom line: The conflict in the Middle East has ripped through college campuses, and social media sites; it was perhaps inevitable that it come to workplaces as well.
Go deeper