UN chief says Gaza is "graveyard for children" as death toll climbs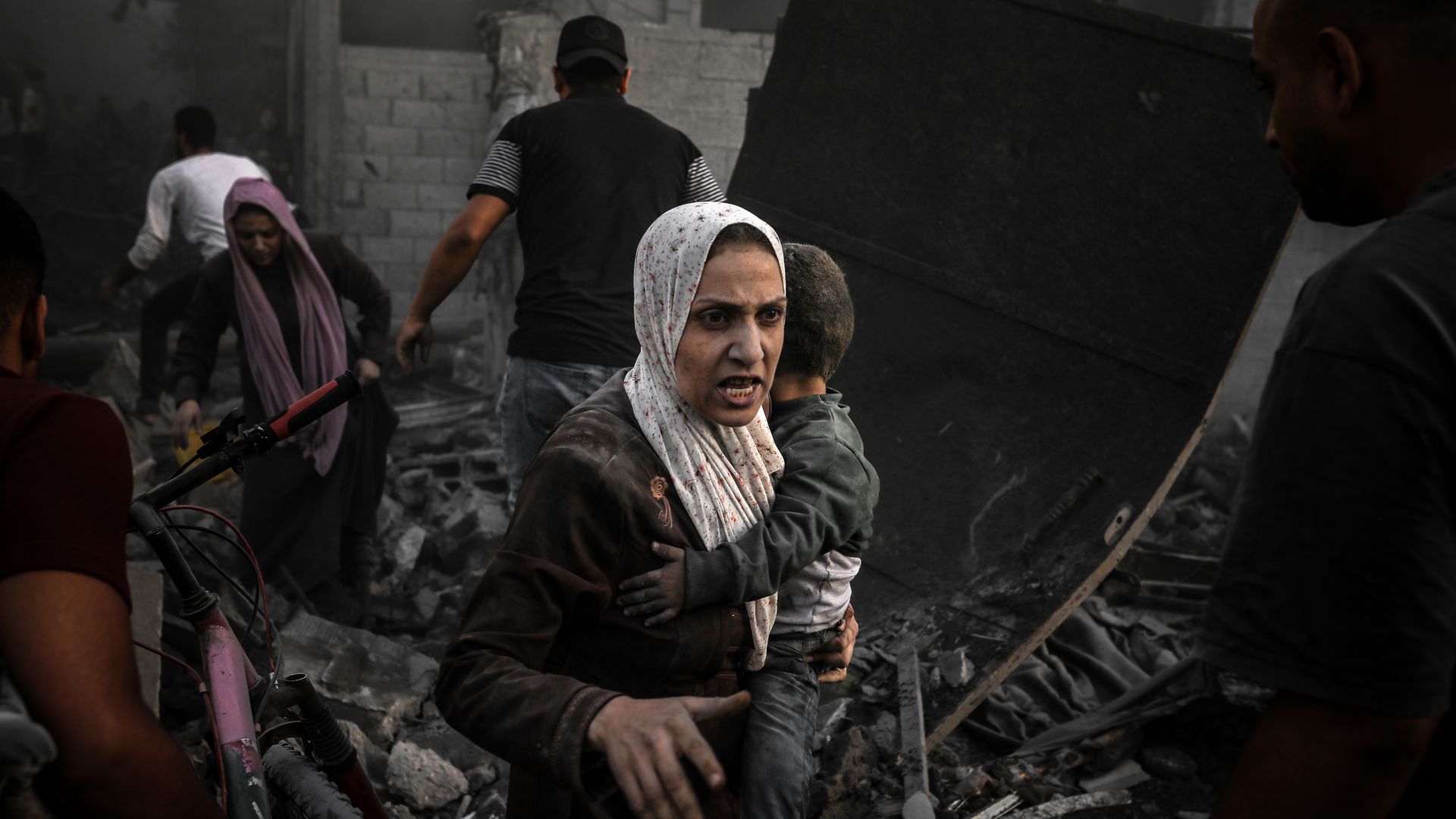 UN Secretary-General António Guterres on Monday reiterated his call for a humanitarian ceasefire in the war between Israel and Hamas in Gaza, saying such a truce is becoming "more urgent with every passing hour."
The big picture: The number of Palestinians killed amid Israel's heavy bombardment and ground operation in the Strip surpassed 10,000 on Monday, according to the Ministry of Health in Hamas-run Gaza. At least 4,104 children are among those killed.
The death toll also includes 88 people who were working with the UN Palestinian refugee agency (UNRWA) — the highest number of United Nations fatalities ever recorded in a single conflict, according to the UN.
What they're saying: 'The nightmare in Gaza is more than a humanitarian crisis. It is a crisis of humanity," Guterres told reporters on Monday.
"Ground operations by the Israel Defense Forces and continued bombardment are hitting civilians, hospitals, refugee camps, mosques, churches and U.N. facilities — including shelters. No one is safe," he said.
He demanded Hamas release the hostages they are holding in Gaza and called on Hamas and other militants to stop launching rockets "indiscriminately" toward Israel should stop.
He also said "Gaza is becoming a graveyard for children."
"Hundreds of boys and girls are reportedly being killed or injured every day," he said.
"The unfolding catastrophe makes the need for a humanitarian ceasefire more urgent with every passing hour."
What's happening: Gaza continues to reel from a worsening humanitarian crisis. Overcrowded hospitals, which are experiencing shortages of medical supplies and medication, are struggling to cope with the number of people who are wounded or sick.
Some hospitals have fully or partially shut down due to shortages of fuel, which has been needed to run backup generators since Israel cut electricity to Gaza early in the war.
A limited number of trucks carrying aid have entered Gaza through the Strip's border with Egypt in recent weeks, but many Palestinians have said they're struggling to find clean drinking water, food and other basic goods.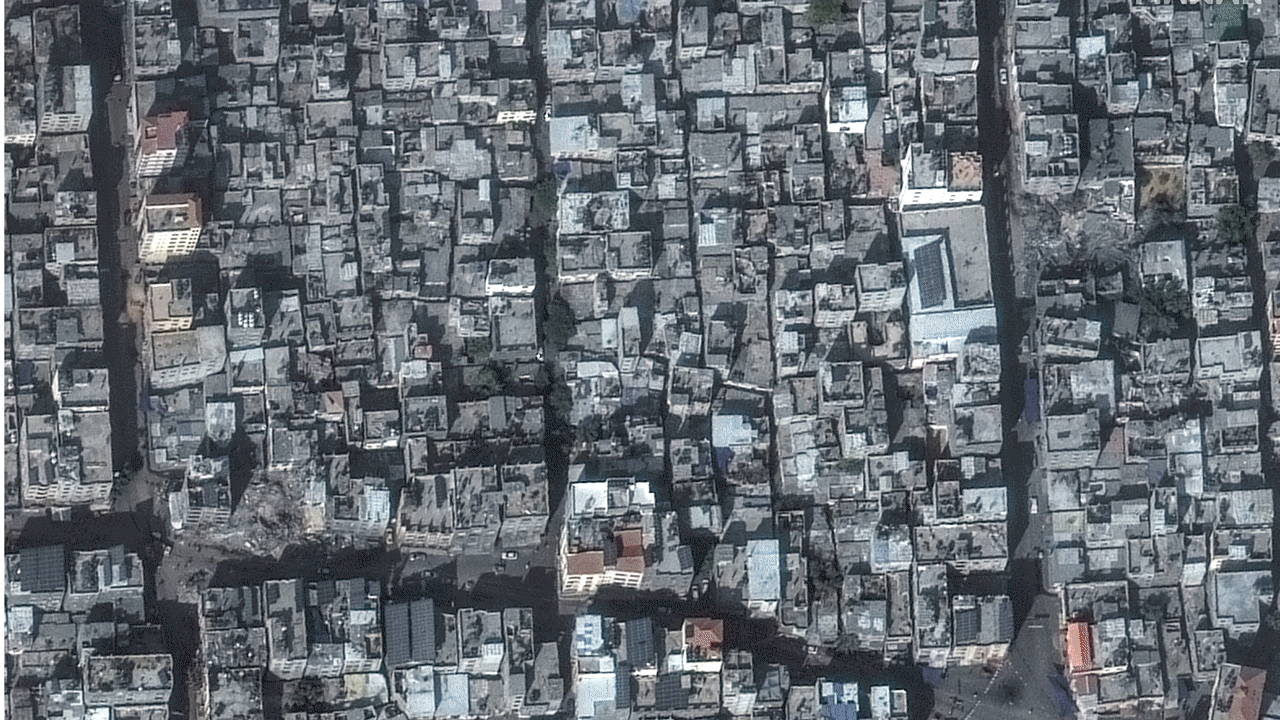 Zoom out: Guterres' comments came a day after the heads of several UN bodies and aid groups issued a joint call for a humanitarian ceasefire.
"For almost a month, the world has been watching the unfolding situation in Israel and the Occupied Palestinian Territory in shock and horror at the spiraling numbers of lives lost and torn apart," the joint statement read.
The leaders called the Oct. 7 Hamas terrorist attack, when 1,400 people in Israel were killed, tens of thousands of people were displaced, and more than 200 people, including children, were kidnapped and taken to Gaza, "horrific."
"However, the horrific killings of even more civilians in Gaza is an outrage, as is cutting off 2.2 million Palestinians from food, water, medicine, electricity and fuel," they added, referring to Israel's siege on the enclave.
They called the siege of Gaza "unacceptable."
"An entire population is besieged and under attack, denied access to the essentials for survival, bombed in their homes, shelters, hospitals and places of worship."
The statement was signed by the chiefs of the UN humanitarian aid office, World Health Organization, World Food Program, UN children's agency, International Organization for Migration, UN refugee agency and other UN bodies. It was also signed by the leaders of several aid groups, including CARE International, Mercy Corps and Save the Children.
State of play: Israeli Prime Minister Benjamin Netanyahu has so far ruled out a humanitarian pause that doesn't include the release of hostages.
The Biden administration has been pushing, saying it could allow for Palestinian civilians to move to safer areas and get aid to those most in need in Gaza, Axios Barak Ravid reports.
But as more time goes on, the calls for a ceasefire continue to grow louder. Tens of thousands rallied at pro-Palestinian protests in large cities worldwide over the weekend, including in New York and Washington, D.C.
The bottom line: "We need an immediate humanitarian ceasefire. It's been 30 days. Enough is enough. This must stop now," the leaders of UN agencies and aid organizations said.
Go deeper: "Survival feels uncertain," Palestinians in Gaza say
Go deeper