Courts take action as police reform stalls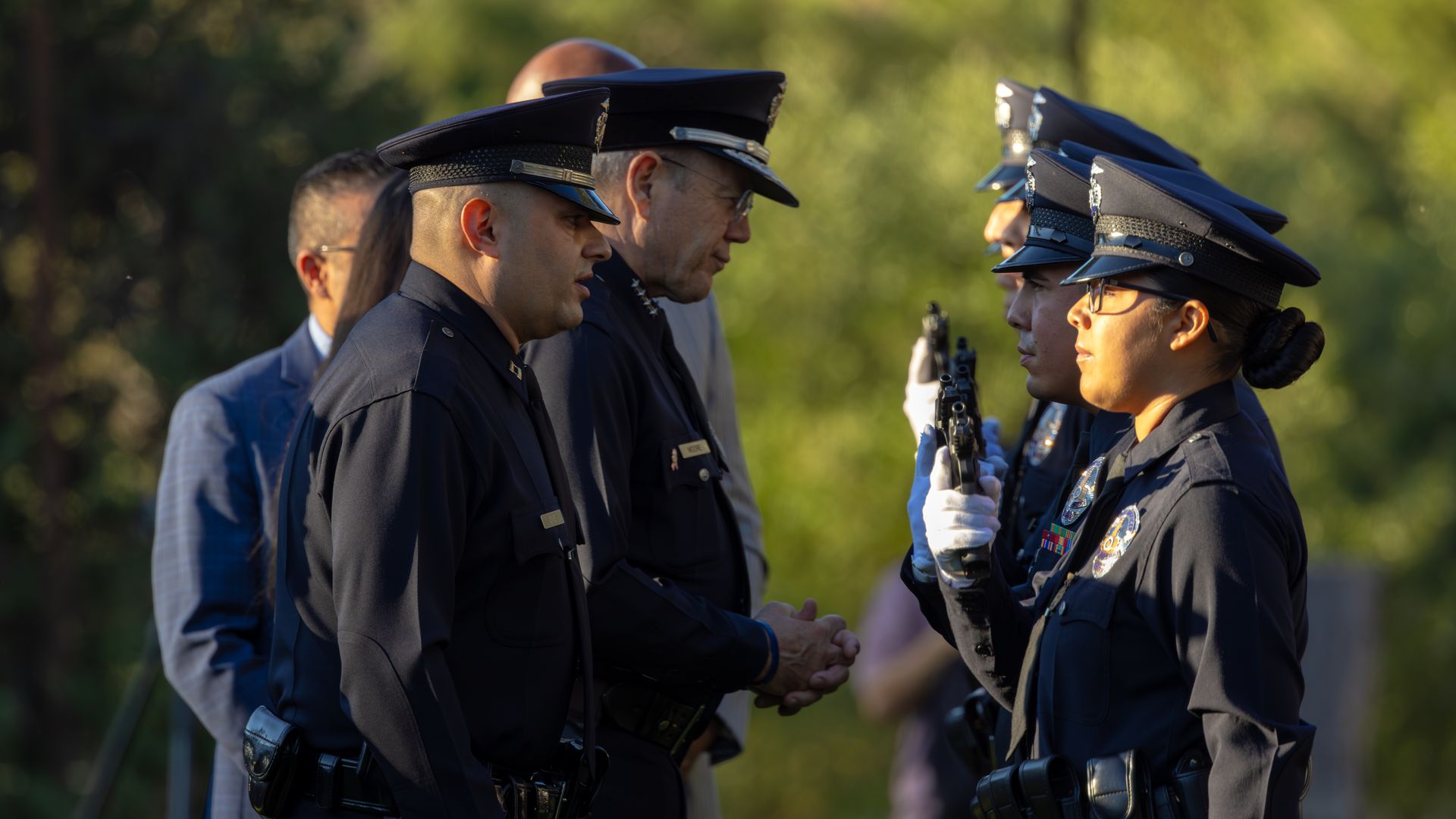 Criminal justice reform has lost a lot of its post-George Floyd momentum in statehouses and at the ballot box, raising the stakes even further when individual police officers go on trial.
Driving the news: The federal trial of former Louisville Metro Police Detective Brett Hankison, in connection with the 2020 killing of Breonna Taylor, began Monday.
The trial of an officer accused of using excessive force was a rare sight not too long ago. But it's becoming increasingly common — and in some cases, even leading to convictions.
The big picture: The murder of George Floyd sparked a plethora of proposals to overhaul the criminal justice system, including ending qualified immunity for officers and drastically changing funding for police departments.
Rising crime and political backlash largely halted that movement. But a handful of reforms passed before the backlash intensified are now making it easier to put police officers on trial.
Details: A Colorado jury this month found an Aurora police officer guilty of criminally negligent homicide and third-degree assault in the 2019 death of Elijah McClain, a 23-year-old Black man whose case drew national attention.
A trial of another Aurora police officer, facing manslaughter and criminally negligent homicide charges in the same case, is also underway.
The trial of three Tacoma, Washington, officers charged in the 2020 killing of Manny Ellis, a Black man, is in its seventh week. The case marks the first time Washington's attorney general has filed criminal charges against officers for the unlawful use of deadly force.
Last week, a judge reinstated all charges against former Philadelphia police officer Mark Dial in the fatal August shooting of Eddie Irizarry.
The intrigue: The gradual but noticeable shift in the courts has been driven by the actions of state and local prosecutors as well as new state laws, Walter Katz, vice president of criminal justice at Arnold Ventures, tells Axios.
"Legislation in places like Colorado and Washington have empowered independent investigations of fatal encounters, which, in turn, has led to more charges being brought when it is believed a crime was committed," Katz said.
Since Floyd's murder, some states increased the authority of their attorneys general to conduct individual investigations as well as pattern and practice investigations, Katz said.
Zoom out: Last week, California Gov. Gavin Newsom signed a new law prohibiting medical examiners from using "excited delirium" as a cause of death after a fatal police altercation.
The term, which police have used to assert that suspects possessed "superhuman strength," has been criticized as racist and not scientific.
In 2021, Washington Gov. Jay Inslee (D) signed a dozen bills aimed at curbing police misconduct and boosting accountability.
New Mexico enacted a law that allows people to sue police officers and other government officials for violating their rights under the state constitution without having to overcome a qualified immunity defense.
Yes, but: Police unions still hold considerable influence in local and state elections and may resist some reforms, Marc Levin, chief policy counsel for the Council on Criminal Justice, tells Axios.
Those unions have strong get-out-the-vote arms and can sway close races, Levin said.
However, Levin said, some officers who are repeatedly involved in excessive force cases are no longer insurable — which also makes them unemployable.
What's next: The Biden administration is stepping up reviews of troubled police departments after the Trump administration halted them.
The Biden administration also promised to aggressively pursue federal civil rights violations where states still balk at charging officers for excessive force.
Of note: Former Louisville detective Kelly Goodlett pleaded guilty last year to federal charges of falsifying a search warrant and trying to cover up what happened in the killing of Breonna Taylor.
Former Louisville Detective Joshua Jaynes and former Sgt. Kyle Meany also are facing federal civil rights and obstruction charges.
Go deeper