Hurricane Otis slams Acapulco, Mexico, as Category 5 storm, dissipates inland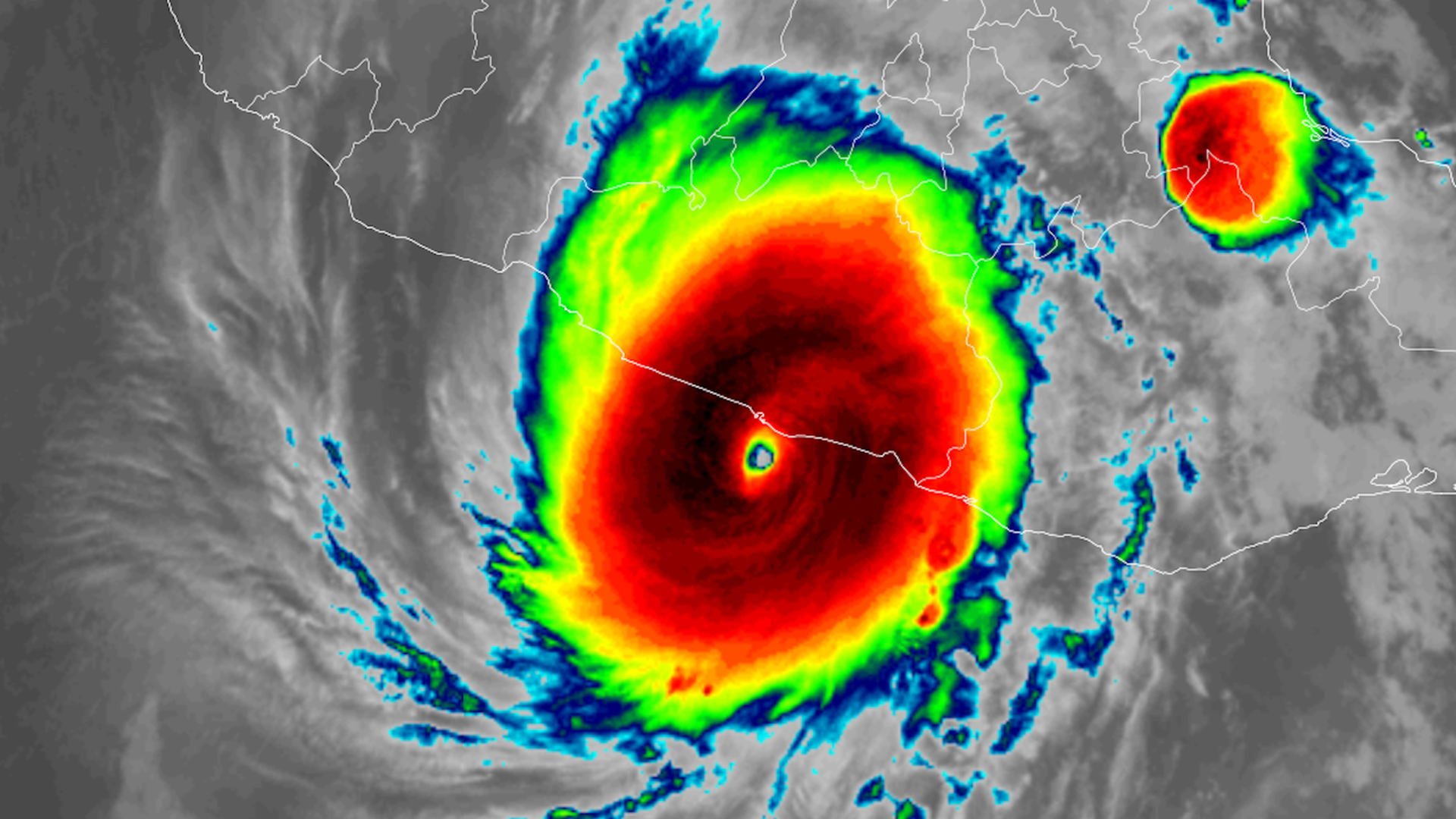 Hurricane Otis made landfall near Acapulco, Mexico, early Wednesday with maximum sustained winds of 165 mph with and higher gusts, after rapidly intensifying from a tropical storm into a ferocious Category 5 storm in under 24 hours.
Threat level: Forecasters warned ahead of landfall that "catastrophic damage" was likely from Otis, which has since dropped to a tropical storm as it moves inland and weakens amid high terrain.
"A nightmare scenario is unfolding," the National Hurricane Center had said in a forecast discussion late Tuesday.
The hurricane center warned in another update of "life-threatening winds and catastrophic storm surge" after reaching coastal Mexico. "Heavy rainfall from Otis will produce flash and urban flooding," the NHC added.
Hurricane Otis may become the poster storm for the danger of an unexpected bout of rapid intensification.
State of play: As of 5pm ET, the storm had dissipated northwest of Acapulco as it traversed mountainous terrain.
Power outages, extensive building damage as well as flooding have been reported in the Acapulco metropolitan area, with more likely to become evident later this morning.
Images and video posted to social media have depicted severe damage to buildings in the city, which is consistent with the storm's path, though these images have not been verified.
The big picture: The storm "explosively intensified" on Tuesday into the evening, with its maximum sustained winds jumping by 110 mph in just 24 hours — a mark only exceeded in modern times by Hurricane Patricia in 2015, per NHC. It remained a powerful Category 5 hurricane through landfall early Wednesday.
The storm's 12-hour intensification rate of 80 mph was the fastest in the eastern North Pacific during the satellite era, per meteorologist Philip Klotzbach of Colorado State University.
Studies have established a clear link between climate change, with warming seas and air temperatures, and more frequent and severe bouts of rapid intensification in hurricanes.
Other factors including upper level winds were also conducive for rapid intensification.
Between the lines: Tropical cyclones, a class of storms that includes hurricanes, are rapidly intensifying more often and with greater leaps as the world warms, studies show.
Warmer ocean and air temperatures allow the air to carry more moisture, which is fuel for these storms. If the conditions are right, they can take off and jump storm categories in a matter of hours.
In general, forecasts for rapid intensification have improved in recent years. However, forecasters, aided by computer models, did not foresee this historic intensity increase coming.
With Hurricane Otis, unusually warm waters associated with El Niño may also be playing a role in aiding its intensification.
Yes, but: What concerned forecasters about Hurricane Otis is that its intensification was so rapid, and was not anticipated by any official forecasts or major computer models.
As of Tuesday morning — 24 hours before landfall — people in harm's way only expected a tropical storm or Category 1 hurricane.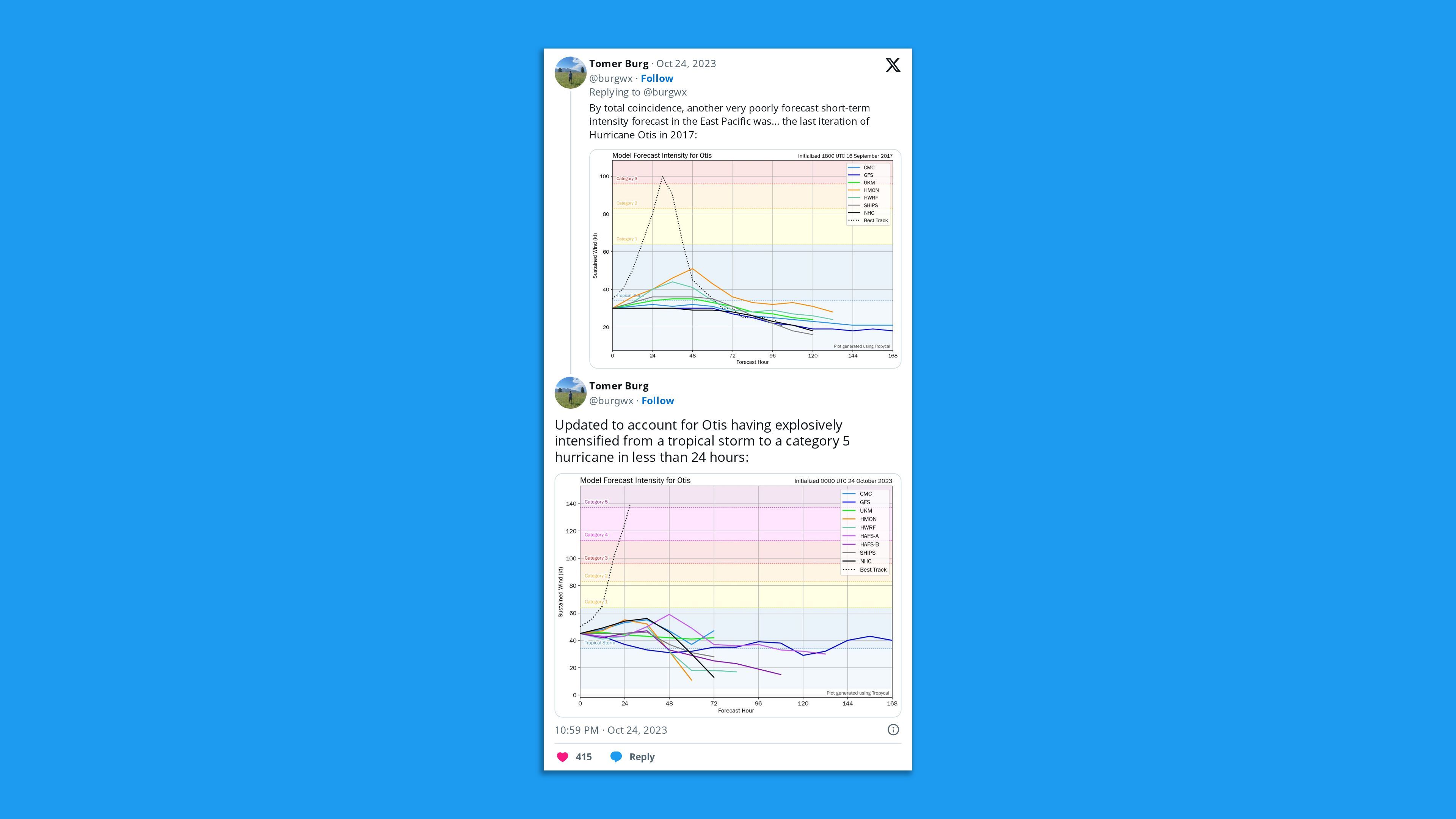 Of note: Otis was the strongest hurricane on record to strike the Pacific coast of Mexico and intensified at one of the fastest rates yet observed in the western hemisphere.
A devastating storm surge likely took take place along and to the east of the center of the storm as it makes landfall, pushing water inland.
Only the most well-constructed buildings may withstand Category 5 winds, and on its current track, the core of the storm struck an urban area of about 1 million people.
What we're watching: Widespread flooding and mudslides are expected as the storm dumps upwards of 15 inches of rain on the southern state of Guerrero. Eventually, the storm could bring added moisture threats to the U.S.
Hurricane Otis is expected to rapidly weaken after landfall due to the higher terrain of Mexico, according to the NHC.
Go deeper: Inside an airborne quest to predict Lee, and other hurricanes
Editor's note: This story has been updated with new developments in the storm's strength and location.
Go deeper