What to know about Tom Emmer, former House speaker nominee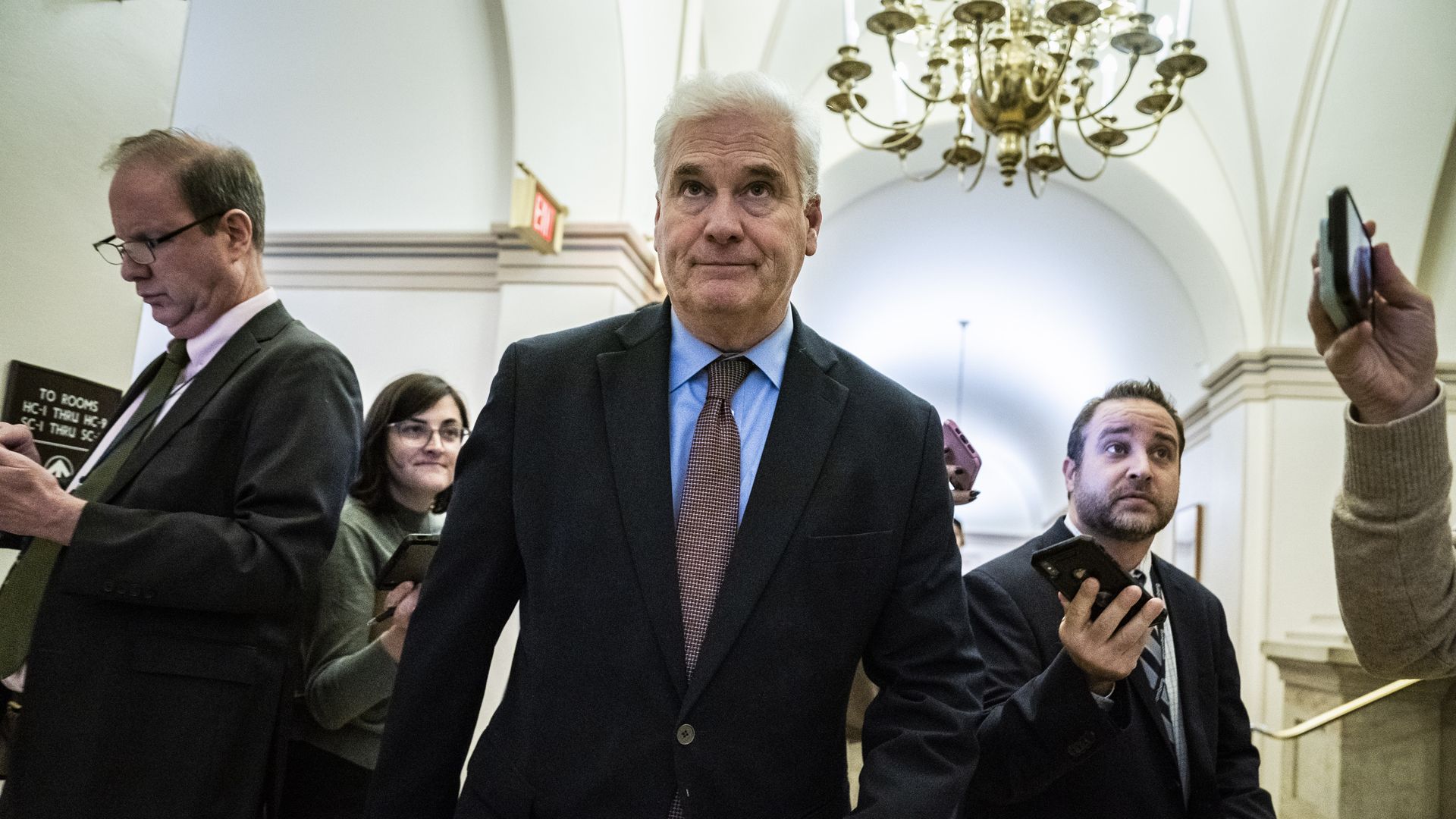 House Majority Whip Tom Emmer (R-Minn.) emerged from a crowded field of GOP candidates Tuesday to become the latest, short-lived nominee for speaker, dropping his bid only hours later.
Why it matters: The GOP stalemate over the next speaker of the House comes as the U.S. contends with multiple global threats and a fast approaching deadline to avert a government shutdown.
Emmer withdrew his candidacy after a roll call vote of Republicans showed he lacked sufficient support.
He had won the nomination with 117 votes. Runner-up Mike Johnson (R-La.) won 97.
Catch up quick: Following the historic ousting of Rep. Kevin McCarthy (R-Calif.) from the speakership earlier this month, House Majority Leader Steve Scalise (R-La.) and Rep. Jim Jordan (R-Ohio) both failed to secure the gavel, highlighting House GOP divisions.
What is Emmer's background?
Emmer, 62, has been a member of the House of Representatives since 2015, and is currently serving his fifth term in the House. He is the highest-ranking Republican among the candidates currently vying for the speakership.
Emmer represents Minnesota's sixth congressional district, where he won reelection handily in 2022.
He was elected to serve as Majority Whip last November following a hotly contested race in which he narrowly beat out Reps. Jim Banks (R-Ind.) and Drew Ferguson (R-Ga.).
Emmer previously served two terms as the chair of the National Republican Congressional Committee (NRCC), where he helped Republicans win back the majority.
After earning a bachelor's degree from the University of Alaska-Fairbanks and a law degree from the William Mitchell College of Law, Emmer practiced law for several years before opening his own law firm, according to a biography on his website.
Prior to joining Congress, Emmer served in the Minnesota state House between 2004 and 2008.
He and his wife Jacquie Emmer have been married since 1986 and have seven children.
Where does he fit into the GOP landscape?
In a Dear Colleague letter over the weekend, Emmer called on Republicans to come together to "undo the damage Democrats have done and expand our conservative majority."
Who's supporting him?
Even before announcing his bid, Emmer received a high-profile endorsement from McCarthy, who told Punchbowl News Friday that Emmer was the "right person for the job."
McCarthy doubled down on his endorsement Sunday, telling NBC News' "Meet the Press" that Emmer "sets himself head and shoulders above all those others who want to run."
"Emmer has a really broad array of support geographically, members from all over the country and  also in terms of ideology," one Emmer ally told Axios of his bid.
What's Emmer's relationship with Trump?
Former President Trump, the frontrunner in the 2024 Republican presidential primary, continues to exert significant influence among Republicans. Yet Trump has reportedly told allies he opposes Emmer's bid for speaker, Politico reported.
Emmer's allies are trying to counter the anti-Trump narrative, in part by pointing to Emmer's support for Trump's 2016 and 2020 presidential bids, per Politico.
Although the two reportedly had a "polite conversation" over the weekend, Trump took to Truth Social on Tuesday to blast Emmer, saying electing the majority whip would be a "tragic mistake."
"He never respected the Power of a Trump Endorsement," Trump added.
Last year, Emmer denied that the NRCC had suggested to any candidates that they distance themselves from Trump, adding that the former president had been a "fantastic ally."
Editor's note: This story and headline have been updated with new developments, including that Emmer withdrew his candidacy.
Go deeper