Democrats sharpen knives for Jim Jordan speakership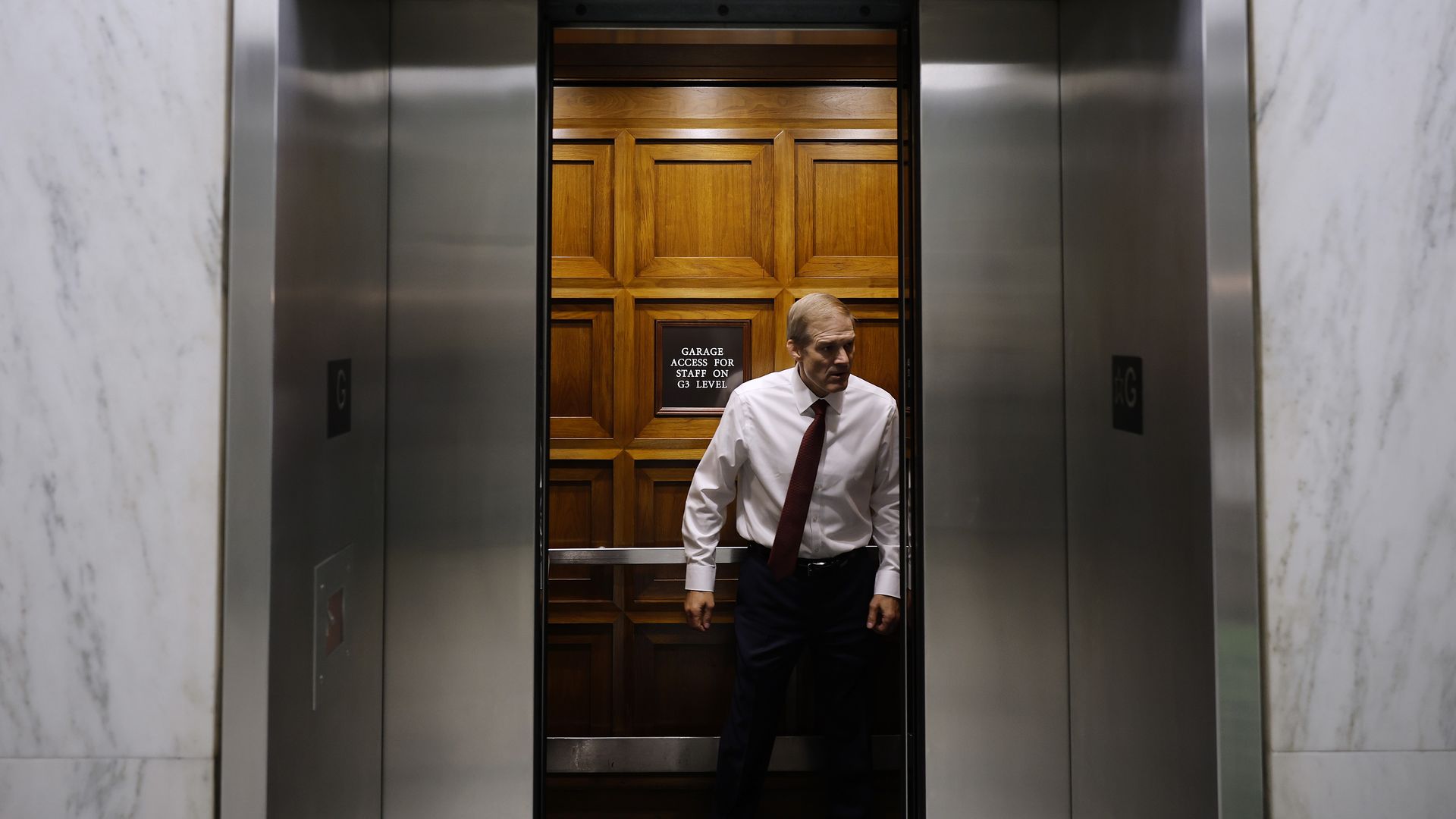 Democratic lawmakers, operatives and ad-makers are preparing to make swing district House Republicans own Rep. Jim Jordan (R-Ohio) on the campaign trail.
Why it matters: The House Judiciary Committee chair and GOP speaker nominee appears to be within striking distance of winning the speakership on Tuesday after flipping several of his Republican detractors.
Driving the news: House Majority Forward, House Democrats' issue advocacy nonprofit, is pre-empting the speakership vote with robocalls targeted at 11 GOP-held districts urging them to vote against Jordan.
The ads take aim at Jordan's vote to decertify Pennsylvania and Arizona's 2020 electoral votes, his opposition to abortion and his support for cuts to welfare, health care and education.
Among the targets are eight Republicans in districts President Biden won in 2020, as well as House Republican Conference Chair Elise Stefanik (R-N.Y.).
House Majority PAC spokesperson CJ Warnke said if vulnerable House Republicans want to vote for Jordan, "House Majority PAC welcomes it with open arms and we will take back the House in 2024."
State of play: Jordan, a co-founder of the right-wing Freedom Caucus and longtime Republican leadership antagonist, has in recent years rebranded as a staunch leadership ally as chair of the Judiciary Committee.
After Rep. Kevin McCarthy (R-Calif.) was removed as speaker this month, Jordan emerged as a credible candidate to replace him.
Jordan sought to strike a pragmatic tone in a letter to colleagues on Monday, which included a pledge to "tirelessly work to defend and expand our majority and help every Republican member back at home."
What we're hearing: Viet Shelton, a spokesperson for the Democratic Congressional Campaign Committee, told Axios that GOP centrists who vote for Jordan "are hand-delivering the DCCC content for ads ahead of next year[.]"
A New York Democratic operative said if the six Biden-district Republicans in their state vote for Jordan, "We'll eviscerate them."
What they're saying: "We want to try to do everything we can to oppose Jim Jordan for reasons that are obvious," said Rep. Dan Kildee (D-Mich.), a member of Democratic leadership who represents a swing district.
But, Kildee added, Jordan "will be a disaster for the Republican brand. Doubling down on extremism is not a ticket to the majority."
Swing district Rep. Greg Landsman (D-Ohio) told Axios: "Folks back home, in Cincinnati and [Southwest] Ohio, don't agree on everything, obviously, but we're very pro-democracy, pro-freedom, bipartisan and pragmatic. ... That's not what Jordan represents[.]"
Between the lines: Another swing district Democrat, speaking on the condition of anonymity, said whether they use Jordan on the campaign trail "ultimately ... depends on how awful he is."
"If he turns out to be a statesman ... we will look stupid," they said. "I don't see that happening."
The lawmaker also expressed bafflement at the notion that vulnerable Republicans are planning to vote for Jordan: "What the hell [are] these swing district [Republicans] thinking?"
The other side: Biden-district Republicans signaled they are undeterred by Democrats' impending attacks.
"I will support Jim Jordan so that we can rejoin the fight to stop socialism in the USA," Rep. John Duarte (R-Calif.) told Axios.
Another Biden-district lawmaker, speaking on the condition of anonymity, contended that Democrats "had the ads either way," no matter who replaced McCarthy.
Go deeper