Inside Biden's meeting with Jewish leaders addressing Hamas attack in Israel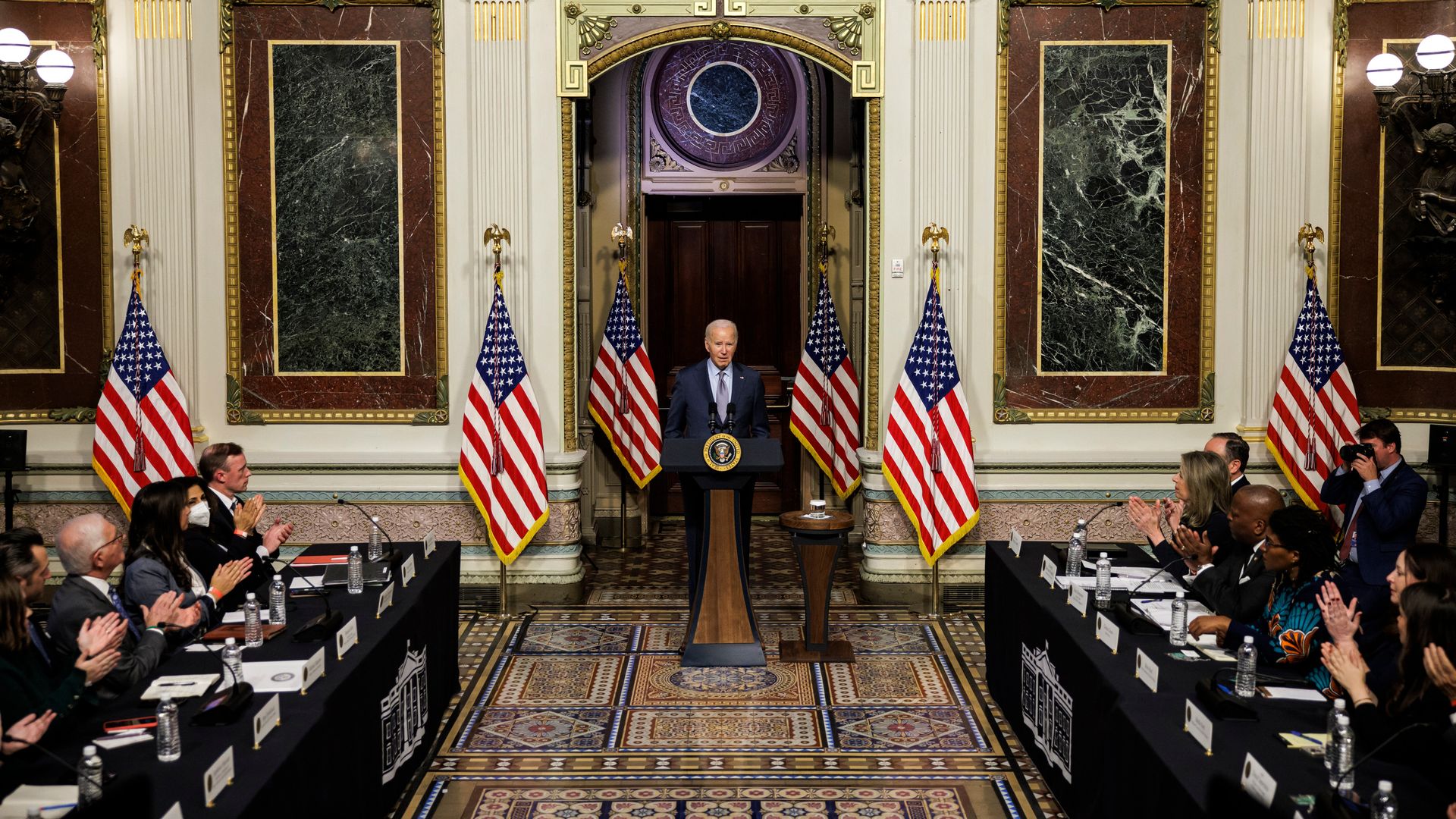 President Biden, second gentleman Doug Emhoff and other officials convened a closed-door roundtable meeting with more than two dozen Jewish community leaders to offer support and discuss what the administration is doing in the wake of Saturday's Hamas terrorist attack in Israel.
Why it matters: The conversation comes as the attacks and ongoing fighting in Gaza spark concerns about a possible surge in hate crimes against Jews and Muslims in the U.S. and the challenges of getting Americans in Israel home.
Details: Biden and Emhoff gave public remarks before a private meeting that also included national security adviser Jake Sullivan, Homeland Security adviser Liz Sherwood-Randall, domestic policy adviser Neera Tanden, senior Biden adviser Steve Benjamin, and 26 community leaders.
Behind the scenes: Sullivan told the group that the administration was "moving heaven and earth" to get munitions, interceptors and Iron Dome replenishments to Israel as quickly as possible and to find the money to make sure that Israel has what it needs, even without a fully functioning Congress, according to two people who were in the room.
A third person who attended the meeting said Sullivan stressed that the administration is about to finalize a supplemental aid package for Israel for Congress to approve once a new speaker is elected.
Sullivan also highlighted that one of the administration's goals is to get the Arab world to publicly and diplomatically disassociate the Palestinian people from Hamas, according to two of the sources.
The White House did not immediately respond to a request for comment.
Administration officials shared actionable tips for addressing antisemitism in the U.S., including who to contact at the FBI. They suggested taking screenshots of antisemitic posts on social media and explained ways the Department of Education Office of Civil Rights is acting "aggressively" to address antisemitic issues on campuses, two of the sources said.
Jewish leaders and administration officials agreed on the need to create clear pathways for Americans to leave Israel in an organized, efficient way at a time when commercial carriers are canceling their flights.
Some Jewish communal organizations also emphasized the need for Jews in the U.S. to head home to Israel and asked specifically for private charter tickets to remain an option — a request that administration officials seemed to be open to.
The intrigue: There were a lot of misty eyes in the two-hour meeting that several attendees described as filled with humanity.
With Biden in the room, Nathan Diament, executive director of public policy at the Union of Orthodox Jewish Congregations of America, noted the stark contrast in the administration's response compared to 80 years ago, when Jewish community leaders and rabbis struggled to get an audience with then-President Roosevelt during WWII.
When Biden addressed the issues of the hostages that Hamas is holding in Gaza, he paused at one point to ask Sheila Katz, CEO of the National Council of Jewish Women, who was visibly upset, "Are you okay, kiddo?"
Katz — who personally knows some of the hostages taken by Hamas — told Axios she's appreciative of the personal gesture.
What they're saying: "It's a really important meeting at a time when Jews around the country are feeling alone. Being able to feel as though that was acknowledged by the highest point of power in the United States was tremendously impactful," Julie Fishman Rayman, senior director of policy and political Affairs at the American Jewish Committee (AJC), told Axios.
The big picture: The White House last year announced an interagency group charged with developing a national strategy to combat antisemitism amid a rising tide of vitriolic rhetoric spewed by high-profile public figures.
The meeting between Jewish groups and administration officials who are part of the task force was originally scheduled to be a check-in on the administration's progress but was later expanded following Saturday's attacks in Israel.
Go deeper: Biden says U.S. "made it clear" to Iran it should not intervene in Hamas-Israel war
Go deeper