Brazil's Supreme Court considers decriminalizing abortion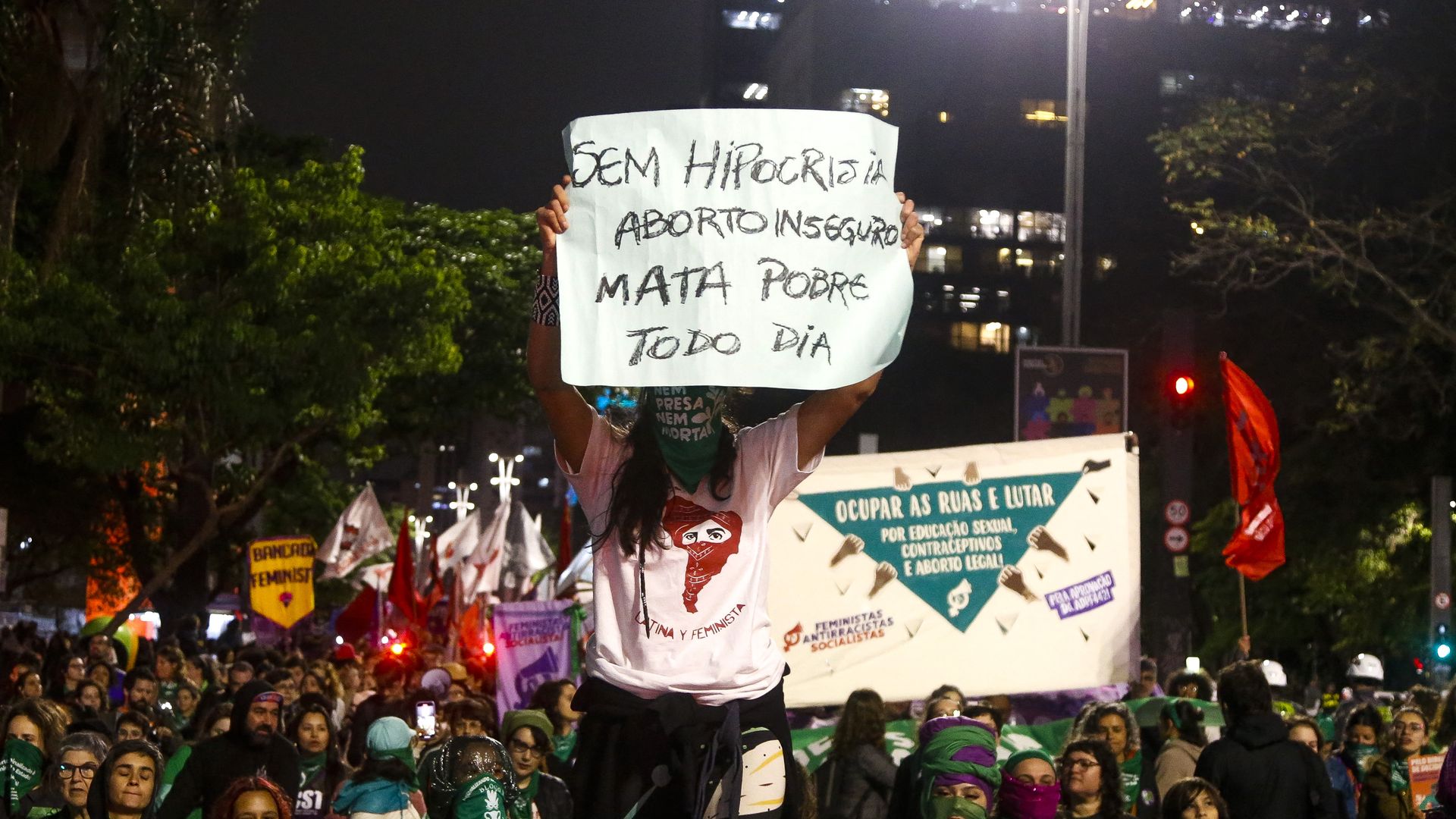 Brazil's highest court is debating whether to decriminalize abortions that occur in the first 12 weeks of pregnancy.
Why it matters: In Brazil, Latin America's most populous country, religion runs deep, yet polling shows support for a total ban has waned. The country could follow in the footsteps of other major Latin American countries that have expanded abortion rights over the past few years.
The most recent polls show support for prohibiting abortion in Brazil dropped from 41% in 2018 to 32% last year.
What to know: The issue is before the nation's Supreme Court through a special legal review process triggered last month by Chief Justice Rosa Weber, who retired Monday after voting to legalize abortion.
Weber argues in a 129-page document that the criminal code provisions and precedent on abortion are unconstitutional as they violate health rights and women's autonomy.
Yes, but: It's not clear when the rest of the 10 justices will vote
Other cases triggered through the same review mechanism, such as the recognition of same-sex unions, lingered for years before the court ruled.
The new chief justice, Roberto Barroso, has said he might use a rule allowing him to delay a vote for at least three months while public debate on the matter continues.
Zoom in: The only exceptions to Brazil's abortion ban are cases involving a risk to the pregnant person's life, a victim of statutory rape or a fetus that has anencephaly.
But even in those exceptional cases, women have difficulty accessing safe abortions because many doctors fear prosecution and because of the high cost of traveling to a nearby clinic, says Laura Molinari, coordinator of the group Nem Presa Nem Morta (Neither Jailed Nor Dead).
"Most women do not have that opportunity," Molinari says.
She adds that the country's Afro-Brazilian, Indigenous and most impoverished populations — who also have less access to reproductive planning and health services — are particularly impacted.
State of play: Brazilians who are prosecuted for having abortions face up to three years in prison, while doctors who aid them face up to four.
It's unclear how many people have been charged or prosecuted for having an abortion because there is no national database.
But according to a 2021 investigation by independent news outlet Catarinas, 300 people were charged from 2015 to 2019. There wasn't information on the outcome of those cases.
The most recent national data on abortion, from a 2021 survey carried out by anthropologist Débora Diniz, found that one in seven Brazilian women 40 years or older — about 15% of all women — have had an abortion.
More than half of them said they terminated a pregnancy when they were 19 years old or younger.
What they're saying: Reproductive rights activists say that after years of working to overturn the law, the fact that abortion is up for debate is a win.
The debate is an opportunity to get "rid of stigmas by showing abortion is happening regardless and the impacts of it being illegal," says Carla Angelini, a university researcher in São Paulo and member of Católicas Pelo Direito de Decidir (Catholics for Choice).
Activists say keeping up social attention and pressure on the topic will be key so the court's debate isn't paused indefinitely.
"We can't afford to wait much longer for this matter to be voted on," Molinari says.
Subscribe to Axios Latino to get vital news about Latinos and Latin America, delivered to your inbox on Tuesdays and Thursdays.
Go deeper