EMILY's List head Laphonza Butler picked to fill Feinstein's Senate seat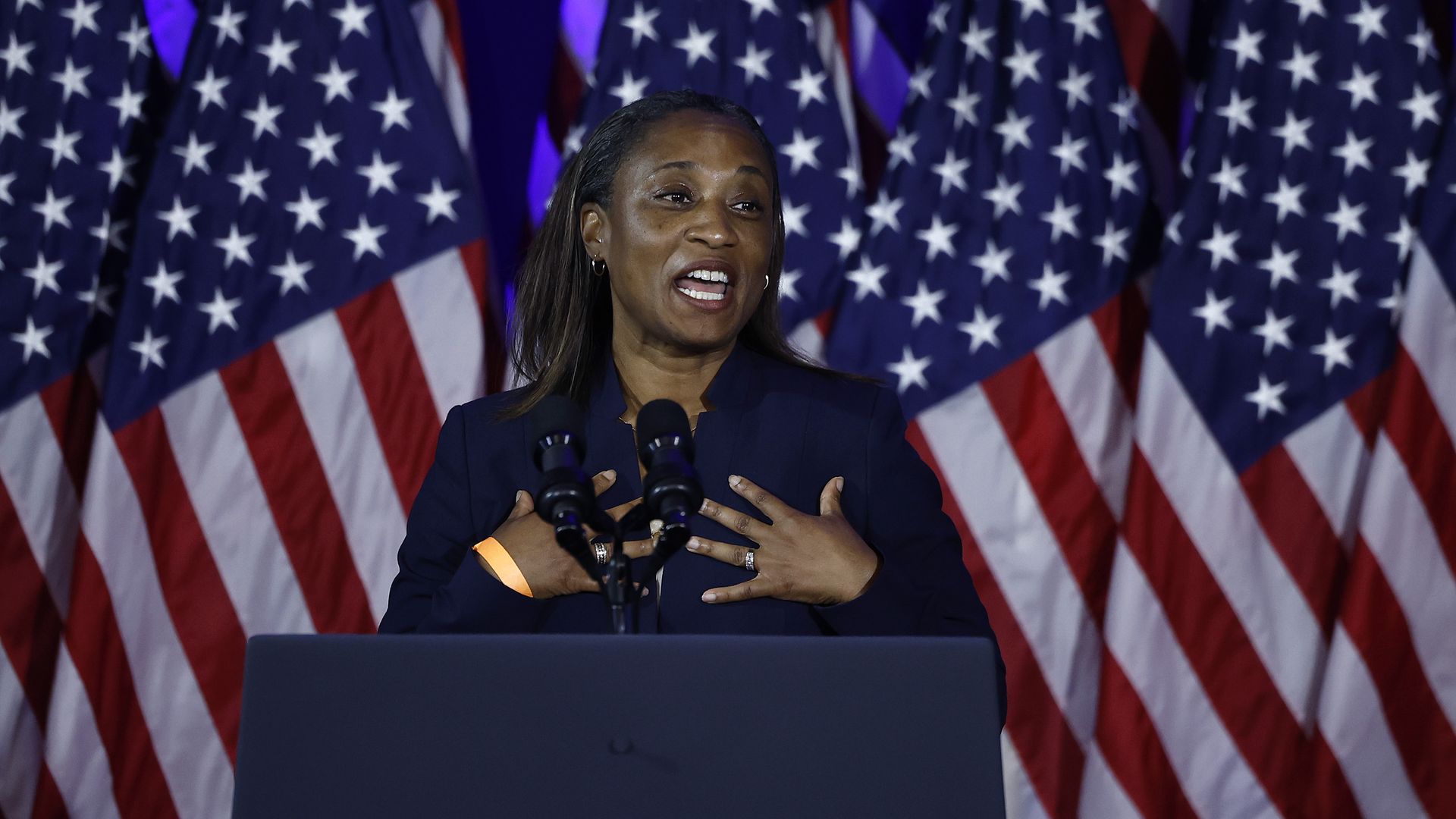 California Gov. Gavin Newsom has selected Laphonza Butler, the president of EMILY's List, to fill the U.S. Senate seat held by late Sen. Dianne Feinstein, his office confirmed to Axios.
Why it matters: The swift appointment, first reported by Politico, means Senate Democrats will be back to full strength headed into battles over spending and judicial appointments this week.
In appointing Butler — whose group raises money to help elect Democratic women who support abortion rights — Newsom is emphasizing the importance that abortion rights will have in Democrats' 2024 election strategy.
What they're saying: "Reporting is accurate," Newsom spokesperson Izzy Gardon said of the Politico report. "Statement and more information to come."
Zoom out: The appointment comes just three days after Feinstein's death at age 90, which left Democrats with just a one-seat majority and vacancies on key panels including the Senate Judiciary Committee.
Between the lines: Butler's appointment fulfills Newsom's pledge to appoint a Black woman to the seat — and could douse complaints about him picking a placeholder to hold the Senate seat only until the 2024 election.
Rep. Barbara Lee (D-Calif.) who is running for the seat in 2024 along with Rep. Katie Porter (D-Calif.) and Adam Schiff (D-Calif.), blasted Newsom last month for saying he would only make an "interim" appointment.
But Butler, who is in her mid-40s and has significant experience in political strategy and fundraising, conceivably could run for a full six-year term next year.
Zoom in: Born in Mississippi and an alum of Jackson State University, Butler worked as a union organizer and was president of SEIU Local 2015, the largest homecare workers' union in the country.
She also was an executive at Airbnb, an adviser to Uber, and was a senior adviser to now-Vice President Kamala Harris' 2020 presidential campaign.
Butler, who is openly lesbian, will be the state's first openly LGBTQ senator.
The intrigue: Federal Election Commission records indicate Butler lives in Maryland, but Gardon told Axios that Butler is "a longtime California resident and homeowner."
Butler moved to the D.C. suburbs when she became president of EMILY's List in 2021, but she owns a house in California and will re-register as a California voter before being sworn in, according to Newsom's office.
Go deeper