What we know about the saltwater intrusion in New Orleans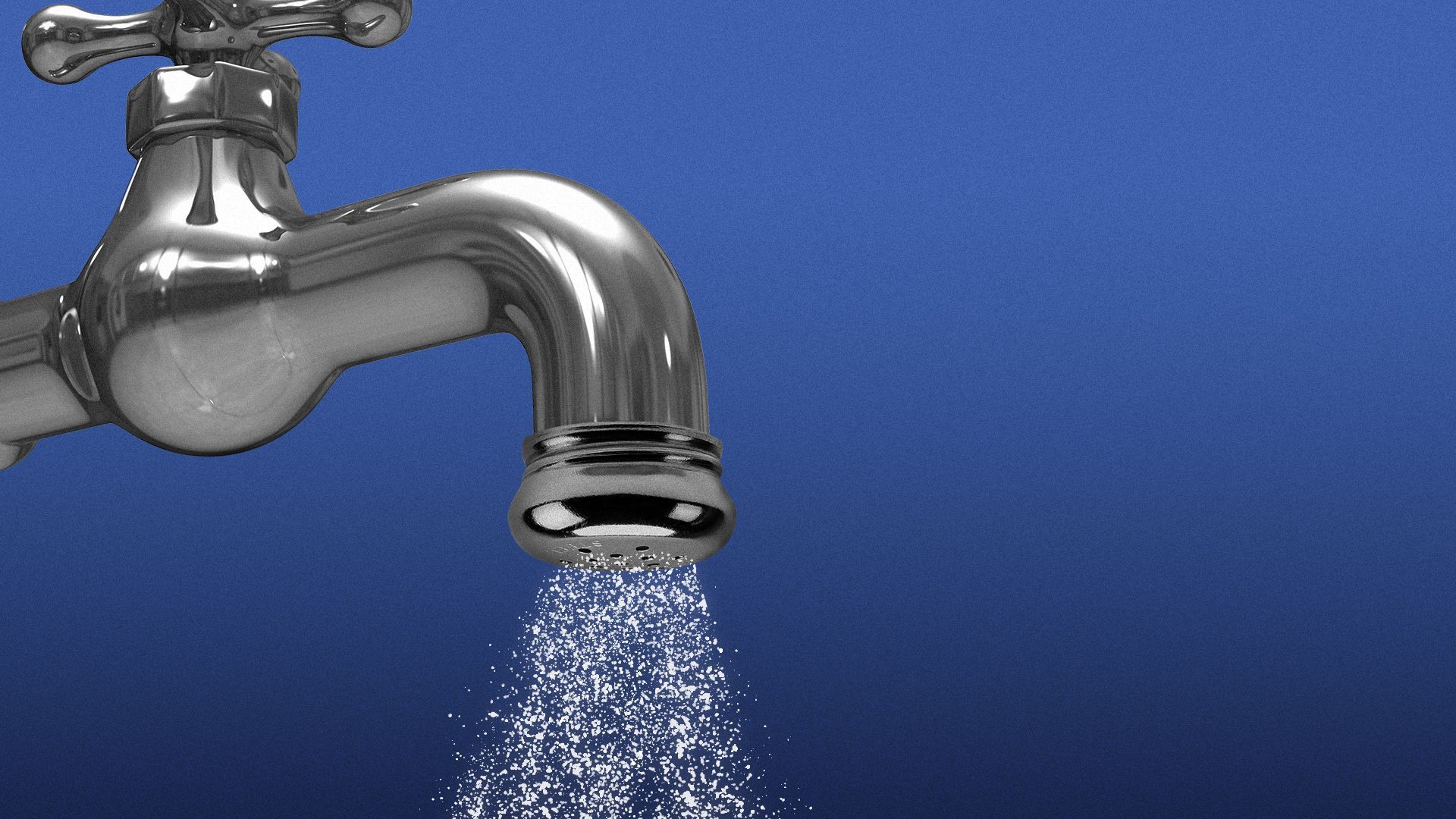 Concern is increasing in New Orleans with every mile a wedge of salty water gains in its slow creep up the Mississippi River toward the city, but there's still much locals and officials don't yet know.
Why it matters: A major American city may not have safe drinking water within weeks due to the saltwater intrusion, and few options are available to mitigate the trouble it'll cause.
Louisiana Gov. John Bel Edwards (D) submitted a request to President Biden on Monday to approve a federal emergency declaration in response to the crisis.
Catch up quick: Many communities in southeastern Louisiana, including New Orleans, draw their drinking water from the Mississippi River, but a drought to our north means low river levels.
The flow of fresh water usually provides enough pressure to keep the salt in the Gulf of Mexico, but as the river level drops, so does the pressure, allowing the salt to head north.
The Army Corps of Engineers can only slow the intrusion — not stop it.
The last time salt reached metro New Orleans was in 1988 when the wedge reached Kenner.
Threat level: Water with high salinity isn't good for people, pets, crops, infrastructure and more.
It's not easy to get salt out of water at home. Boiling doesn't work. Reverse osmosis filters can remove salt but are pricey.
Salt is corrosive and can damage pipes and possibly contaminate water supplies by dissolving heavy metals, like lead.
PVC pipes are more resistant to corrosion than older lead pipes that are common in Orleans and Jefferson parishes. New Orleans is doing an inventory of its lead pipes.
What we know: Communities closer to the Gulf already have salt in their drinking water. The latest forecast has the wedge reaching New Orleans about Oct. 22.
The Army Corps is shipping in millions of gallons of fresh water to dilute the salt at intakes at water treatment plants.
Mayor LaToya Cantrell signed an emergency declaration Friday, freeing up more resources.
If Biden approves the emergency declaration, it would allow more federal dollars to be available to reimburse Louisiana's emergency response efforts and let additional federal agencies assist.
We'll hear more about the state and parish response in the coming weeks.
What we don't know: A lot. For starters, the estimated impact dates are just that — estimates — and they can shift with weather forecasts.
We also don't know when this threat will be over because it wholly depends on rainfall north of Louisiana, primarily in the Ohio River Valley. Forecasters expect a wetter-than-average winter, but that could be months away.
We also don't know how much salinity will make it into New Orleans' water infrastructure.
Because we don't know that, it's also hard to say what you can expect at home with your pipes and appliances.
What you can do: Don't panic, Edwards says. Metro New Orleans has time to prepare, and this is a highly localized problem, so we aren't competing with the rest of the country for bottled water. This isn't the toilet paper crisis of 2020.
Edwards has asked businesses to stock more bottled water, so buy some if it makes you feel more prepared.
Don't use municipal water unless it's absolutely necessary.
What's next: We'll be covering this situation over the coming weeks and talking with experts about how New Orleanians can protect their families and property.
We'll also be talking with leaders about what is being done at the government level, and what it means for residents, hospitals, restaurants, businesses, schools, hotels and more.
Have questions? Email us directly at [email protected], and we'll track down answers to include in future coverage.
Thanks for reading and here's hoping for rain.
Editor's note: This story is being updated as more details are revealed.
Go deeper