Hurricane Lee may bring hazardous conditions to East Coast as it roars north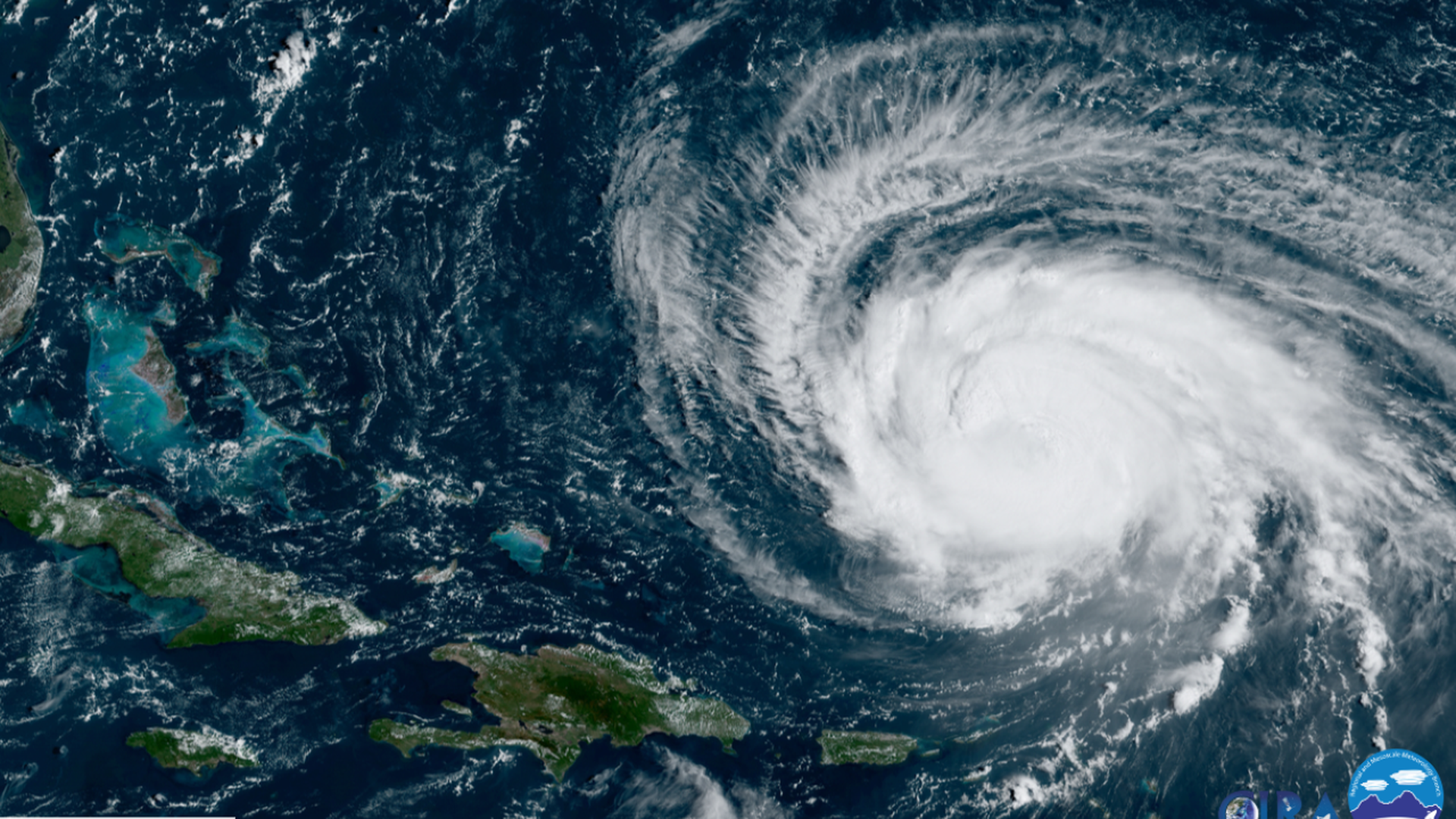 Hurricane Lee grew in size as it remained a major storm on Tuesday after regaining strength to a Category 3 level on Sunday.
Why it matters: Lee missed Puerto Rico, the Dominican Republic and Haiti and is swinging sharply to the right of them. It's expected to tear across open waters to the north, possibly bringing hazardous weather to the Northeast U.S. and Atlantic Canada toward the end of the week, per the National Hurricane Center (NHC).
As it progresses north, it could hit Bermuda with strong winds, rainfall and high surf between Thursday and Friday as it passes to the west of the island.
State of play: The NHC said late Tuesday night the "very large hurricane" had maximum sustained winds of 115 mph and higher gusts — making it a Category 3 storm on the Saffir-Simpson scale.
Hurricane Lee was "lumbering" northwestward at 7 mph some 495 miles south-southwest of Bermuda and a tropical storm warning had been issued for the British island territory, according to the hurricane center.
"Lee is forecast to turn toward the north on Thursday and increase in forward speed," the NHC said late Tuesday. "Some slow weakening is forecast during the next 48 hours, however, Lee is likely to remain a large and dangerous hurricane for the next couple of days."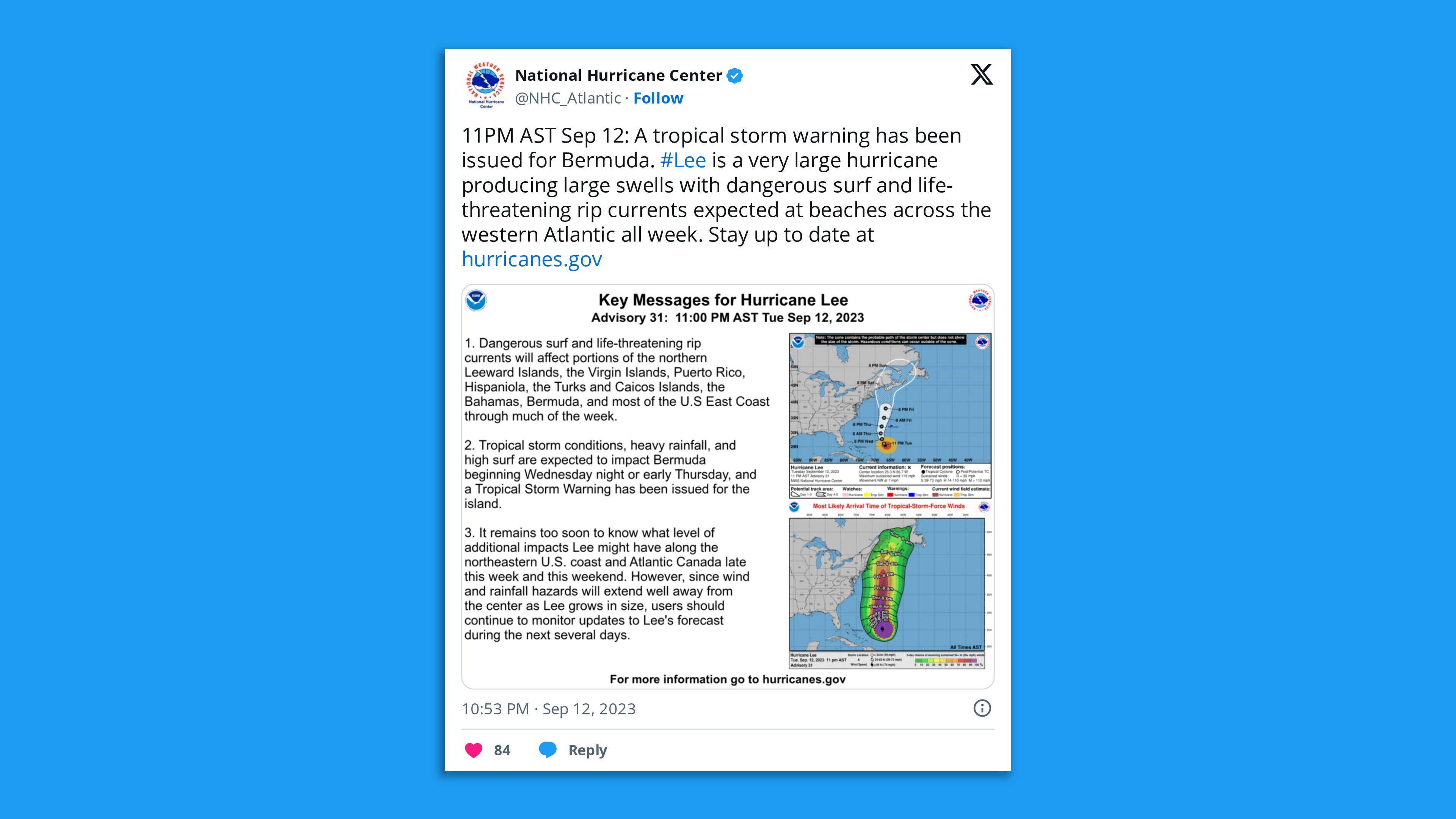 Threat level: Lee will continue to bring dangerous surf and life-threatening rip currents to Caribbean islands and the U.S. East Coast throughout the week.
It's too early to forecast exactly how Lee may impact the Northeast U.S. and Atlantic Canada, though the regions could see wind and heavy rainfall as the storm expands.
It may move into Nova Scotia this weekend, and Cape Cod and the coast of Maine could experience strong winds and rains as well.
Last week, Lee intensified to a Category 5 storm at one of the fastest rates on record before being disrupted by dry air, stronger upper-level winds and other factors, Axios' Andrew Freedman reports.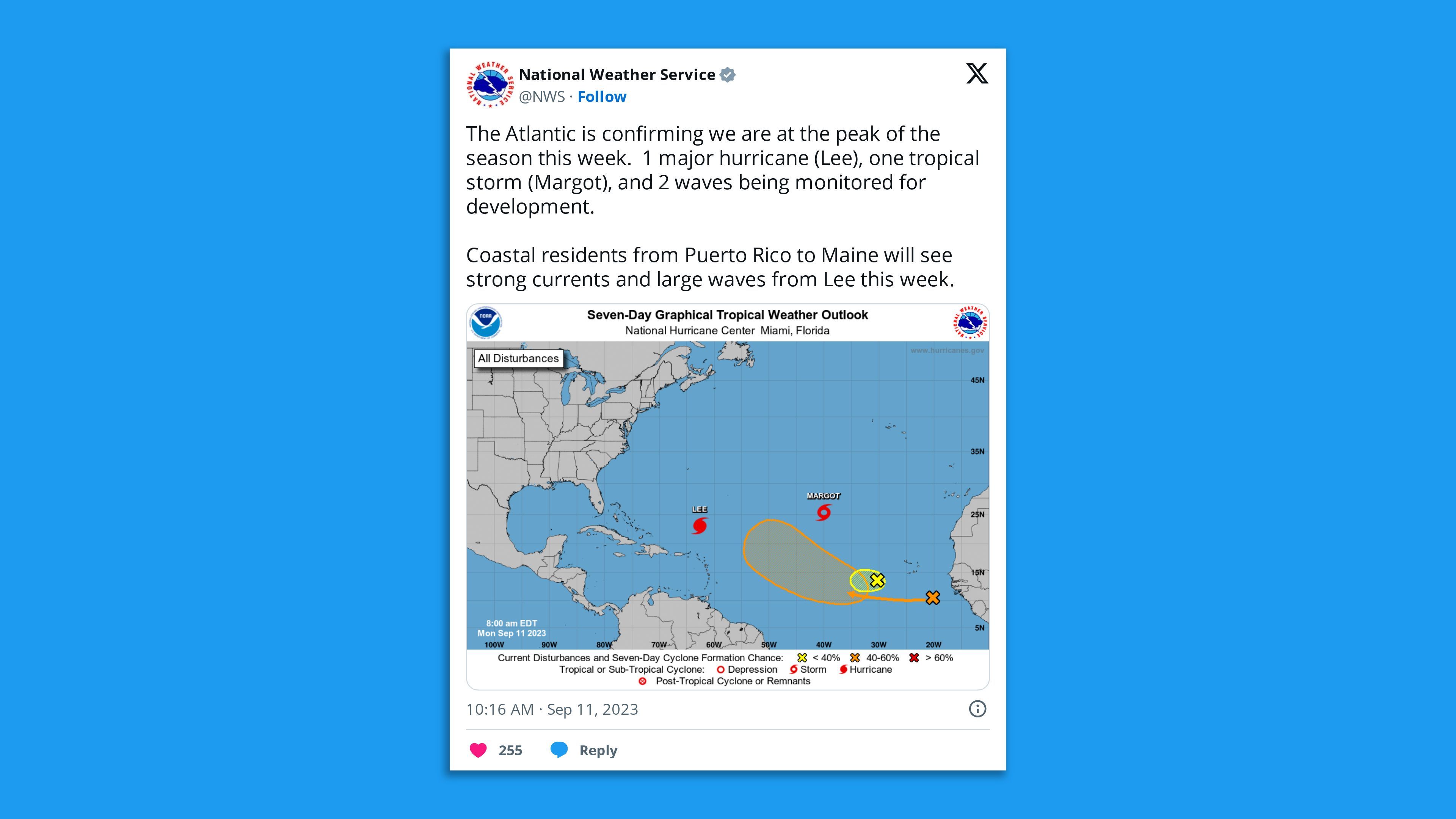 The big picture: The National Weather Service said on Monday that the Atlantic will be at the typical annual "peak" of its hurricane season this week.
Go deeper: Climate change-fueled heat waves swept the world this summer
Editor's note: This article has been updated with the latest Hurricane Lee forecast.
Go deeper