Hurricane Lee brings "dangerous surf" to southeastern U.S.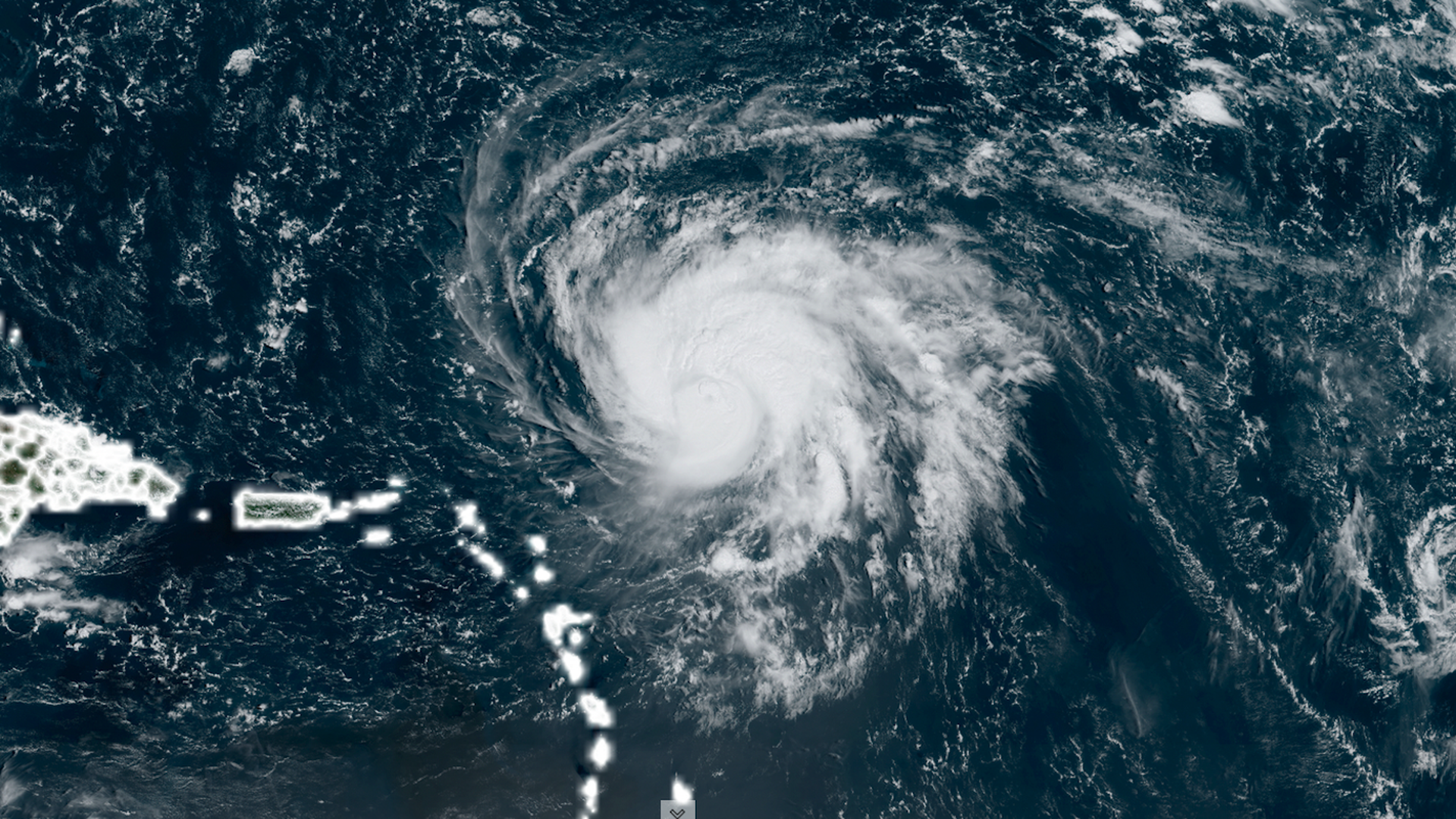 Hurricane Lee restrengthened into a Category 3 storm on Sunday, and it is forecast to slowly re-intensify as it spins west-northwestward in the tropical Atlantic.
The big picture: The powerful hurricane is forecast to stay well north of the Leeward Islands, Virgin Islands and Puerto Rico, and gradually strengthen Monday, according to the National Hurricane Center.
The storm has so far challenged meteorologists by intensifying at one of the fastest rates on record Thursday to reach Category 5 intensity, only to be disrupted by dry air, stronger upper-level winds and other factors on Friday into Saturday morning.
On Thursday, the NHC found the storm made an exceptional intensity leap of 80 mph in 24 hours. The escalation greatly exceeded the 35 mph increase needed to fit the definition of rapid intensification.
State of play: At 11pm ET on Sunday, Hurricane Lee had maintained maximum sustained wind strength of 120 mph recorded at 5pm, as the National Hurricane Center noted that it was "growing larger" and additional strengthening was forecast over the next day or so.
Its center was located about 310 miles north of the northern Leeward Islands, and it was moving west-northwest at 8 mph.
"Swells generated by Lee are affecting portions of the Lesser Antilles, the British and U.S. Virgin Islands, Puerto Rico, Hispaniola, the Turks and Caicos Islands, the Bahamas, and Bermuda," the forecast center said. "These swells are likely to cause life-threatening surf and rip current conditions.
"Dangerous surf and rip currents have begun to reach portions of the southeast U.S. East Coast and are forecast to worsen and spread northward along much of the U.S. East Coast during the next couple of days."
The intrigue: The intensity and long-range track forecasts are subject to considerable uncertainty, NHC forecasters note.
Over the next two days, Hurricane Lee will continue to traverse unusually warm waters, providing energy for the storm to intensify. In addition, atmospheric conditions for intensification may improve once again.
The official forecast calls for the storm to strengthen in intensity once again during the next two days.
Yes, but: Given typical storm track errors this far in advance, it's possible the storm could affect parts of the East Coast and the Canadian Maritimes more directly, the NHC cautioned.
It remains "too soon to know level of impacts for US East coast or Atlantic Canada late this week," the forecast center said Sunday. "Hazardous beach conditions to spread across the western Atlantic this week."
Context: Rapid intensification, while typically seen in the strongest hurricanes, is becoming more common and pronounced as sea and air temperatures increase due to human-caused climate change, studies show.
What's next: Where the storm turns northward midweek next week will be a crucial factor in determining where its hazards will go.
Regardless of the turn location, as Hurricane Lee moves north in response to a high-pressure area to its east and a cold front to its west, it is likely to become a far larger storm, which can generate a greater storm surge and spread rain and wind across a larger area.
While a direct hit in from the Carolinas southward appears unlikely, areas from the Mid-Atlantic to Canadian Maritimes should be closely monitoring the storm, as some computer models show the possibility of more significant impacts in some or all of these regions late next week.
The NOAA will be flying reconnaissance aircraft ahead of the hurricane during the next several days to feed more data into computer models, which could bring the forecast into better view.
Go deeper: New advanced computer modeling helped predict Idalia's intensity spike
Editor's note: This article has been updated with new details on Hurricane Lee's intensity on Sunday.
Go deeper